Start With Live Home 3D Tools
Live Home 3D has a set of tools specifically designed to help you create a perfect 3D model of an interior that can be useful for interior design sketches.
Building Tools
Conveniently draw a room using the Room tool and Straight or Arc Wall tools. Quickly add ceilings and flooring of rectangular or polygonal shapes separately or simultaneously.
Create custom furniture pieces and other objects with the Building Block tool in Live Home 3D Pro. You can change the geometric properties of the Building Block, rotate and flip it, change its shape, smoothness, elevation above the floor level and much more!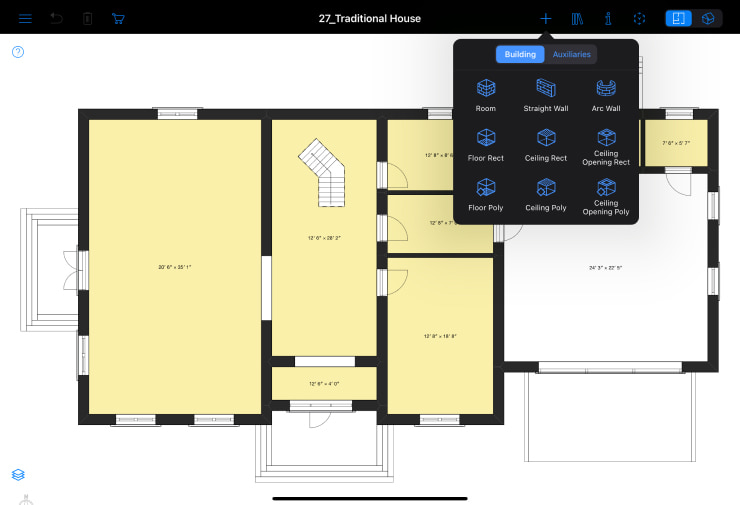 Roof Tool
Live Home 3D creates an AutoRoof for your project, which can be changed to one of the basic types, such as gable, hip, mansard and others. Live Home 3D Pro offers you a fully customizable roof.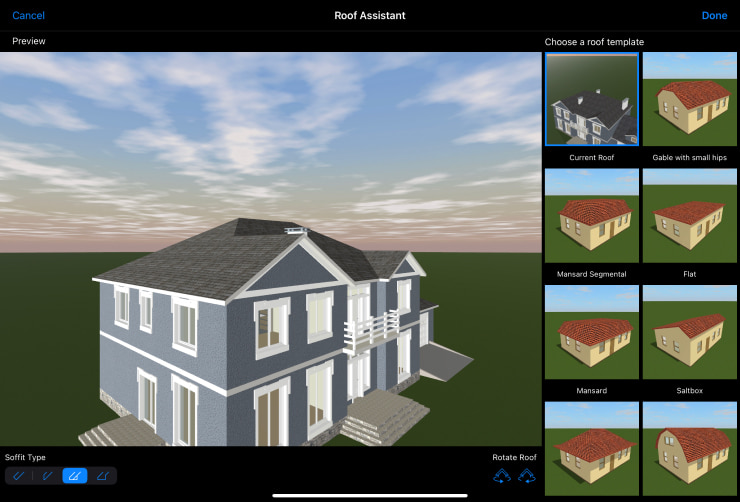 2D Elevation View
Another benefit of Live Home 3D Pro is the 2D Elevation view that displays the side view of walls and roofs. You can drag and drop an image into the app to effortlessly add panels, which can be used to make complex cornices or a sign on the building for your future interior design sketch.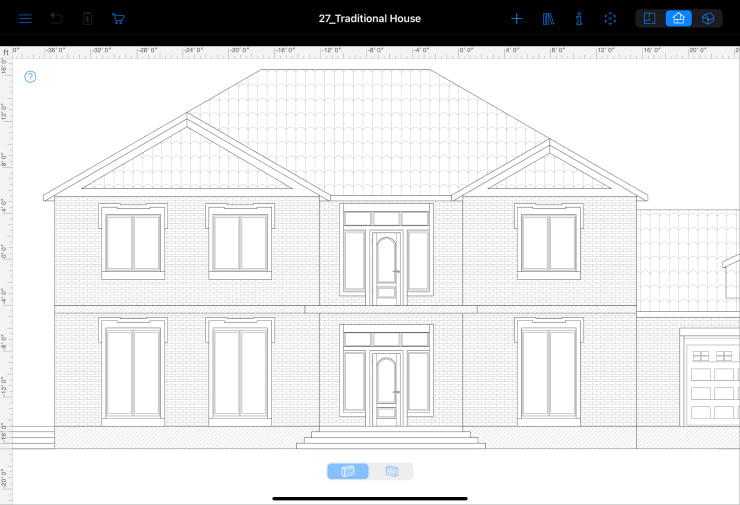 Set the Hard Lights
Live Home 3D provides an exclusive ability to adjust the exact geolocation of your house and set the date and time to let the program precisely determine the sun and shadow positions.
You can also enjoy the dawn and dusk landscapes and regulate the amount of light by working with the daytime and cloudiness parameters.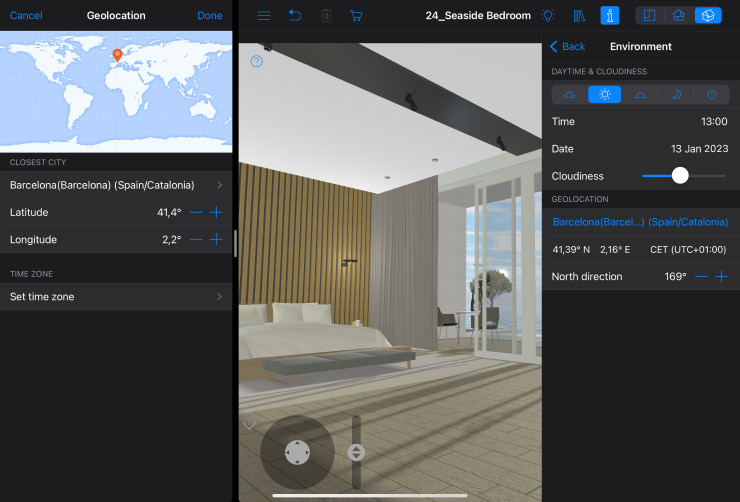 Get the Right Point of View
Set Cameras to specify locations and perspectives in the 3D space. When you select a camera in the app, you instantly see a picture from this camera. Quickly jump to a specified location in 3D to preview a part of your project or to export a snapshot of your design. The default camera angle is 60 degrees, but this number can be reduced or extended up to 90 degrees.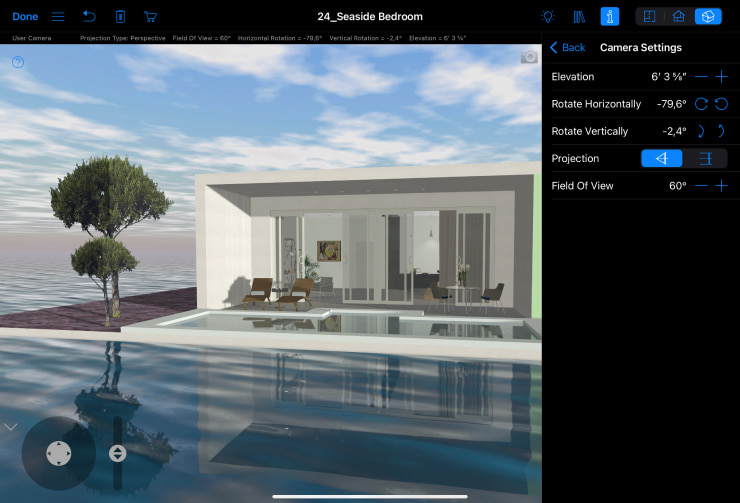 Work With Furniture and Materials
Add furniture, windows and doors onto the 2D plan from the Object Library that has over 2,400 high-quality 3D objects. Turn the object's shadow on or off using the Cast Shadows option. The Material library with 2,100 textures is there to help you create a perfect 3D visualization of your interior designs. You can get even more objects and textures in the embedded store within the app.
The Material Editor of Live Home 3D Pro allows you to experiment with the scale of the material's pattern, change the size of the material and adjust color and brightness. Additionally, you can rotate the material, make it two-sided, adjust the material's roughness or transparency, or add a metallic effect. Play with colors and textures to find the best combinations for your sketch.

Import and Export
Import objects into the application and export your designs in multiple formats like JPEG, PNG, TIFF, BMP and more.

Enjoy Apple Pencil Support
Boost your productivity with the high precision of Apple Pencil. The second generation of Apple Pencil allows you to assign the pencil a double tap to a certain action in the app, for instance, switching to a particular tool.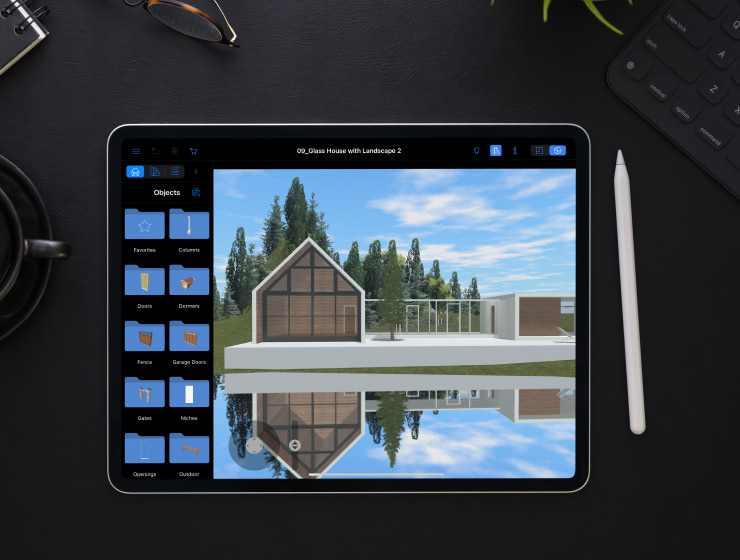 Finish Your Interior Design Sketch in Procreate
The Procreate iPad drawing app can be a perfect solution for digital sketches. It offers 18 versatile and editable brush sets of different categories to fit every style, including sketching. Procreate sketching brushes that mimic graphite and technical pencils, pastels and artist crayons and the app's array of efficient tools will bring brightness and beauty of a hand-drawn sketch to the 3D model base you've created.