Design Floor Plans With Ease
Creating floor plans of any level of difficulty with no hassle has become a reality. With the diverse design tools, you can create a new floor plan or trace your own in Live Home 3D. Once it is ready, switch to the 3D view to see how it would look in real life.
Visualize 3D Home Designs
Enjoy the highly realistic 3D mode of Live Home 3D, while working with furniture and decorations, painting walls and adding plants. Walk around your project to feel the atmosphere and try out your interior design concepts. The convenient Roof Assistant offers you 12 customizable roof templates to choose from.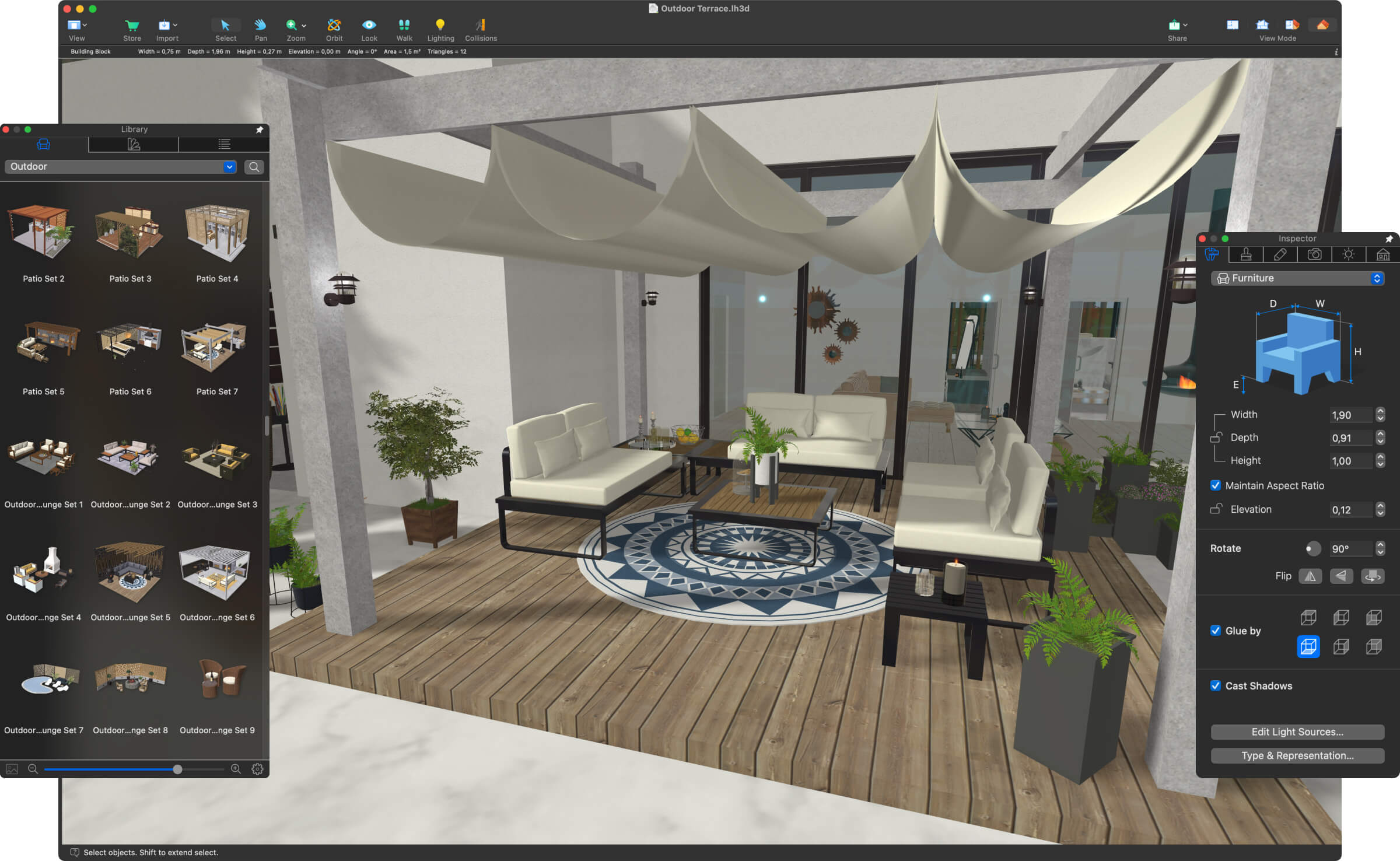 Realistic Lighting
You have full control over luminosity and color of any light source, and you can turn the lamps on and off when necessary. Setting the geolocation of your house, you can evaluate real light settings in your rooms at different times of day and plan your lighting scene accurately in advance.
Tons of Furniture Models and Materials
With 2,400 3D models and 2,100 materials available in the app's library, you will certainly find something to your liking. Just drag and drop 3D models or materials from the library into the project. You can use the materials as is, edit them or even create new ones. Multiple additional in-apps provide more houses, furniture models and materials.
Import Objects
In addition to rich 3D model collections, you can import your own objects in FBX, 3DS, COLLADA and OBJ formats. Or, download models from Trimble 3D Warehouse™, a huge collection of 3D objects.
Stunningly Realistic Rendering
Advanced ray-tracing offline rendering technology powered by AMD Radeon™ ProRender will help you get extremely realistic 3D renders.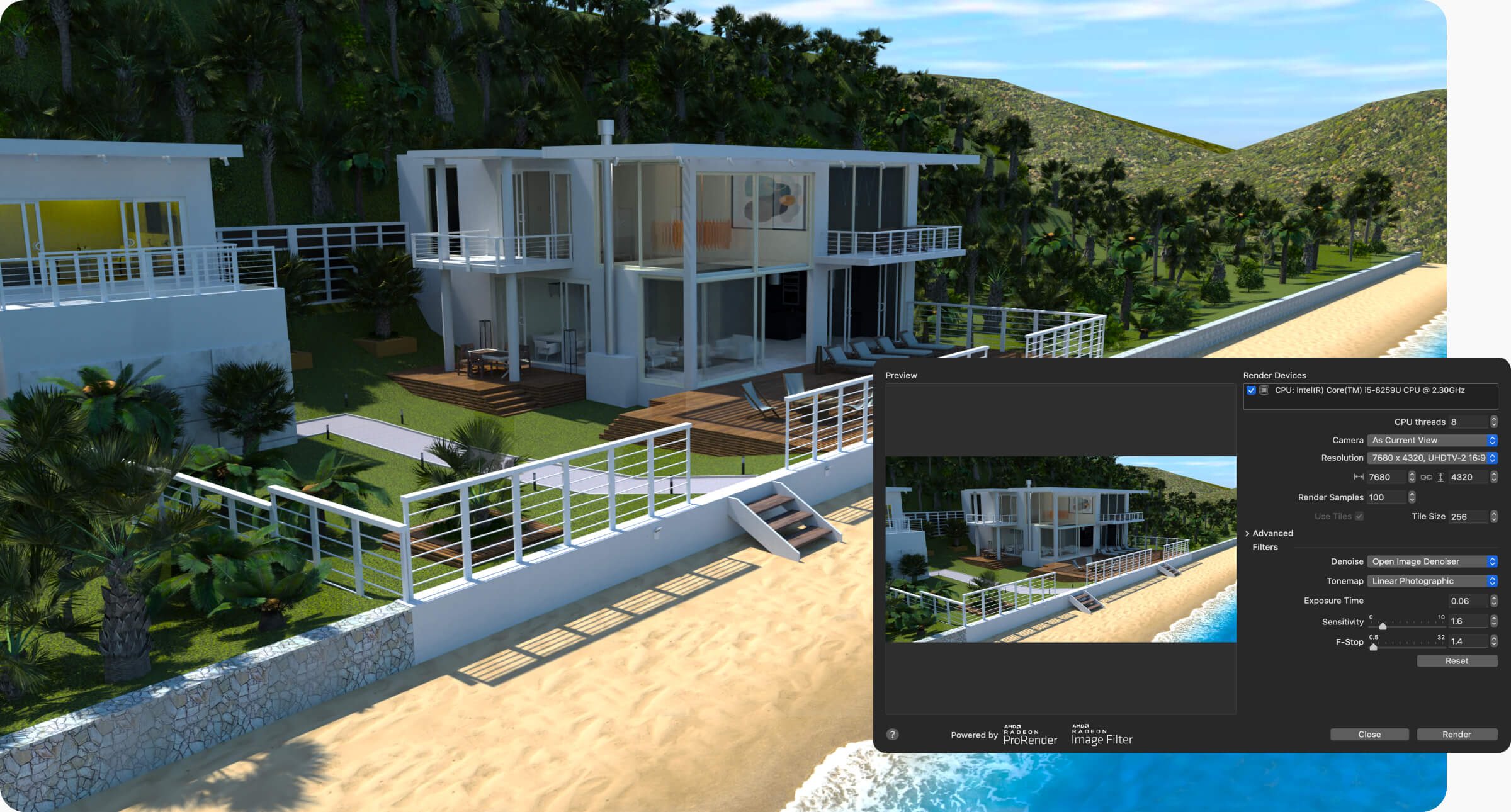 Get More With Pro Features
Terrain Editing
You can create any type of terrain with the Pro features unlocked. Easily adjust elevations and low lands, and add cutouts, pools and pathways. The app is perfect for garden layouts and yard design projects.
Elevation View
With the elevation view, you get the 2D side view of your project. This view is ideal for inserting panels, openings or niches into a wall or a roof side. It will also come in handy when arranging furniture or choosing the location for doors and windows.
Material Editor
Advanced Material Editor available in the Pro version helps create highly realistic, physically based materials with adjustable roughness and metalness.
Light Editor
Enjoy creating a light source with fully controllable glow, attenuation and direction that can be applied to any object.
Advanced Construction Tools
Create buildings of any height with the unlimited stories functionality. A custom roof tool will assist with roofs of any complexity.
Building blocks provide enormous opportunities for your building needs. This is the universal tool for creating various constructions, for example, stairs, beams and even furniture.
Advanced camera settings provide more flexibility when creating videos.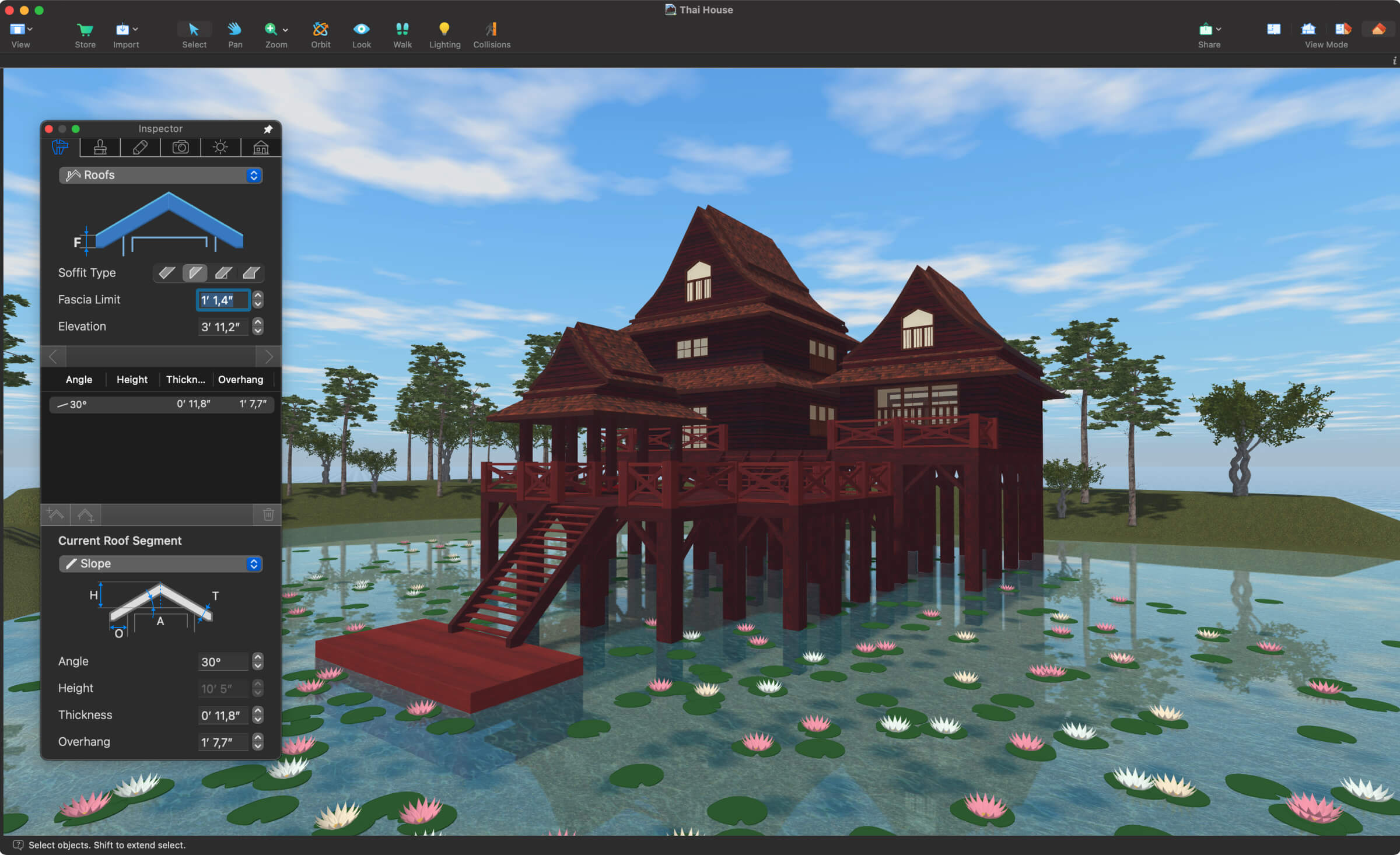 Professional Results
The Pro version offers the ability to get higher resolution results suitable for commercial purposes. Enjoy Ultra HD video walkthroughs and 360 degree panoramas with the resolution of up to 8192 × 4096 px and snapshots up to 16384 × 16384 px.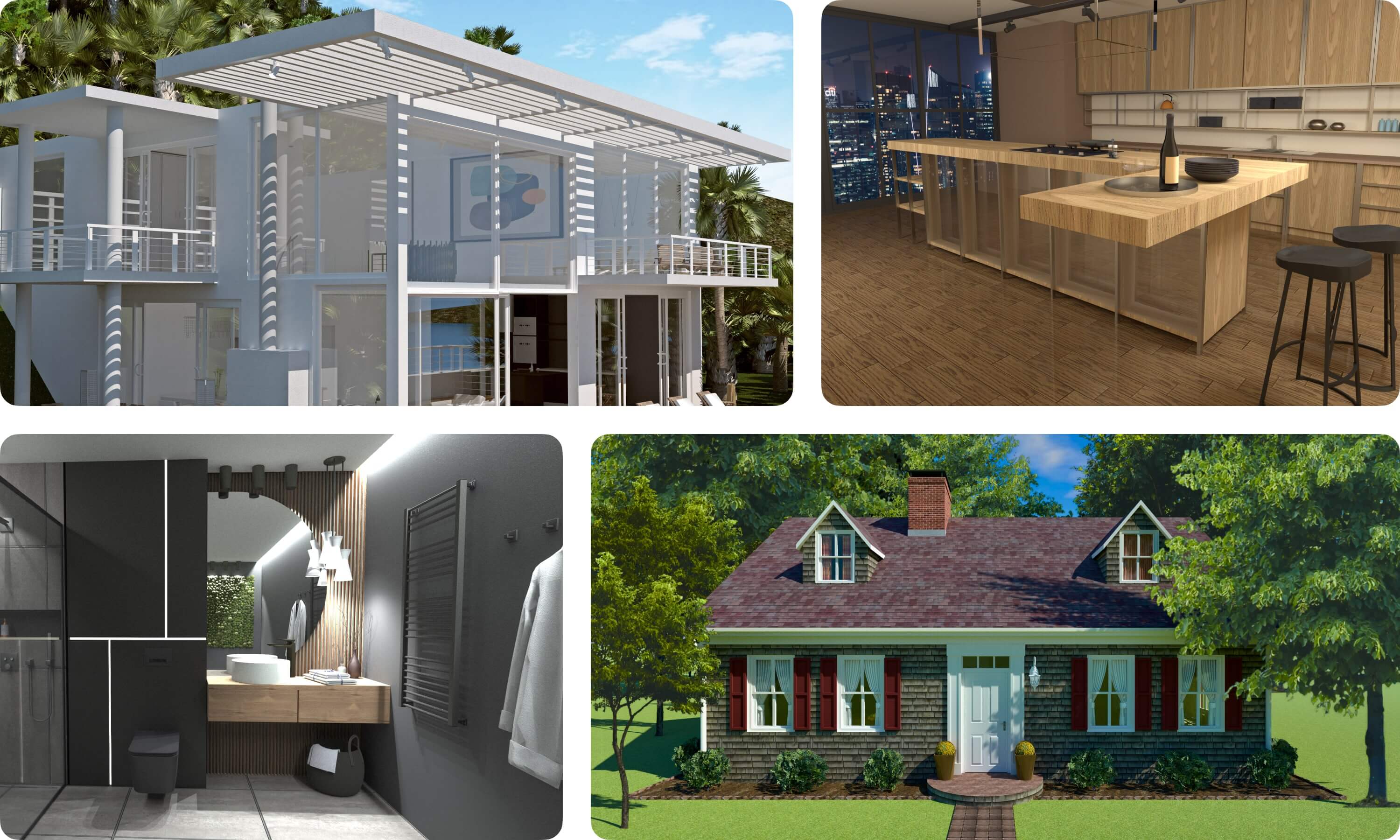 System Requirements:
macOS 10.14.6 or higher, Sonoma compatible, Apple silicon or Intel processor.
Return Policy:
30 day money back guarantee. Learn more ›
Available in:
English, German, French, Italian, Ukrainian, Russian, Japanese, Chinese (Simplified), Spanish and Portuguese languages.
Latest News:
November 15, 2023 Live Home 3D v4.8.3 contains minor fixes and enhancements. Read more ›
November 7, 2023 Live Home 3D v4.8.2 offers export and usability improvements.
September 20, 2023 Live Home 3D v4.8.1 fixes a crash at startup on legacy macOS 10.14.x–10.15.x.