A Perfect App for Interior and Exterior Design
Live Home 3D is the powerful yet intuitive home design software that lets you create your dream home right on your Mac. It doesn't matter whether you're a homeowner who is planning some upcoming home improvements or a professional interior designer trying to bridge the gap between ideas and visualization.
Work in 2D and 3D Environment
Live Home 3D helps you draft detailed 2D floor plans and automatically build the structure in 3D. You can trace the imported floor plan or start from scratch using the program smart tools.
Apply Materials and Add Furniture
You can design and decorate the interior by optimizing the furniture arrangement and making smart color decisions. Live Home 3D turns the process of room decoration into fun.
Rich Object Collections
You can choose from a built-in library of couches, chairs, kitchen sets, appliances, doors and other items. What's more, integration with Trimble 3D Warehouse™ allows you to download thousands of free 3D models from the online storage.
Results You Can Use
Make changes to your home design project and share the results with clients, colleagues, friends and family. Set up a custom camera angle and export the view to JPEG, TIFF, PNG or BMP. Render a 3D video walkthrough and share on YouTube or Vimeo. Create 360° Panorama JPEG images or 360° videos.
Design Advanced 2D Floor Plans
Start your interior design project by drawing a 2D floor plan with intuitive, point-and-click drafting tools. Measure rooms and walls in just a couple of clicks. Add furniture, doors and windows. Set cameras and movie tracks to shoot the interior design views. Additional tools for creating custom roofs and building blocks are available with the Pro Features in-app purchase.
Real-Time 3D Rendering
Switch views to see and walk around the structure in 3D. Make changes to your home design project in the easy drag-and-drop workflow. Arrange furniture, paint walls, adjust the lighting and build in a realistic, beautiful, real-time 3D environment.
Furniture and Material Collections
Figure out the furniture arrangement and color scheme of any room right on your Mac before lifting a single finger or ordering paint. Drag and drop furniture, decorations, doors and more from our library of over 2,000 objects and easily change the fabrics, colors and finishes using over 2,100 included materials.
Get More With Pro Features
Terrain Editing
Create an identical copy of the landscape around your house. Draw the terrain using the Elevation Point, Elevation Line and Elevation Spline tools. Add cutouts, various pathways or dig pits in the ground for swimming pools.
Elevation View
Explore the 2D side view of your house design. Insert panels, niches or openings into a wall or a roof side. Adjust doors and windows or arrange furniture inside the house.
Material Editor
Create more complex custom materials with reflective, glossy and rough surfaces for your interior and exterior design projects. New physically based materials make your 3D models look more real than ever before.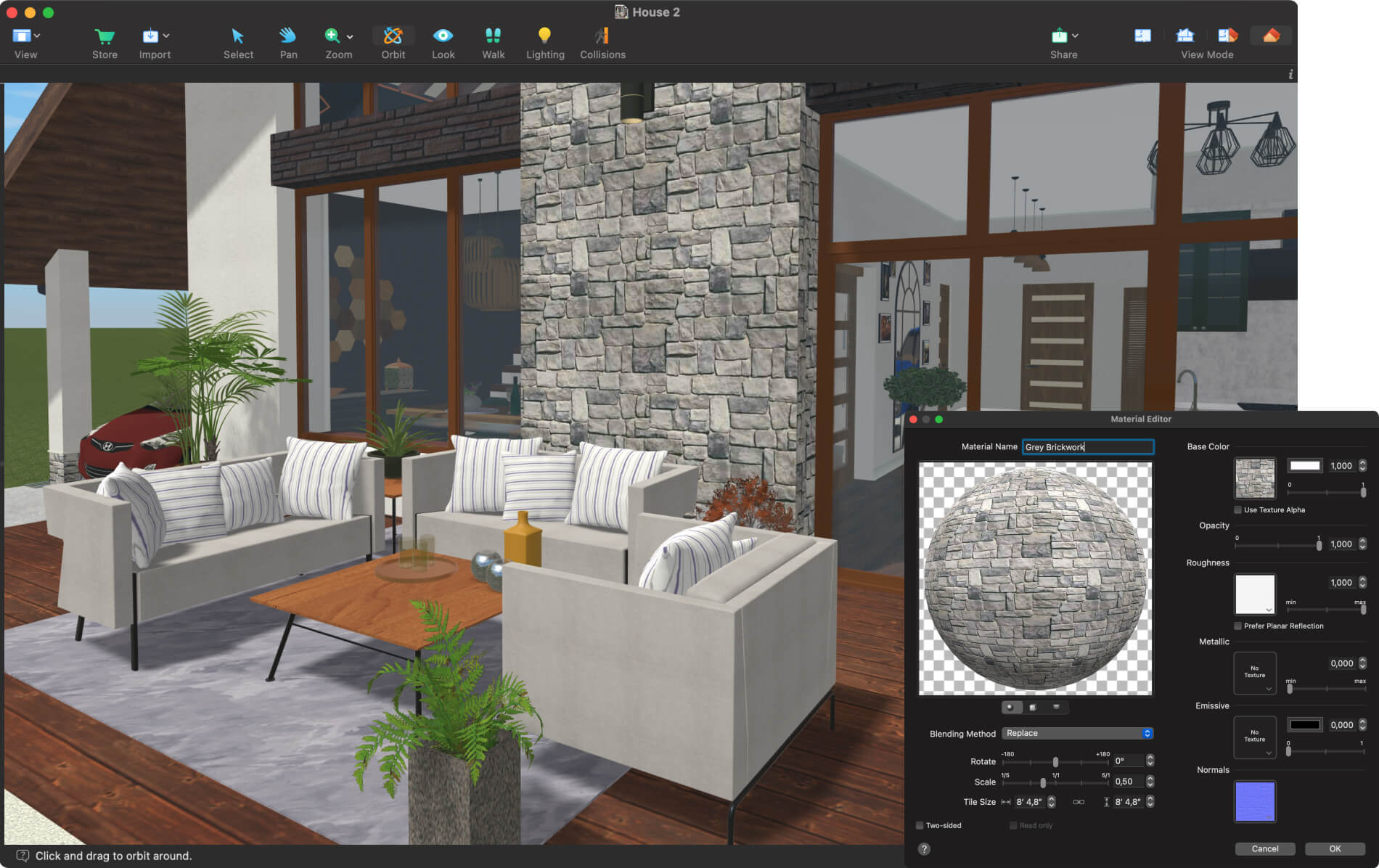 System Requirements:
macOS 10.14.6 or higher, Monterey compatible, Apple silicon or Intel processor.
Return Policy:
30 day money back guarantee. Learn more ›
Available in:
English, German, French, Italian, Ukrainian, Russian, Japanese, Chinese (Simplified) and Spanish languages.
Useful Articles:
Home Office Ideas
Explore different layouts and ideas to create a perfect office in your home.
12 Popular House Design Styles
Avoid these common beginner mistakes to create a functional and efficient floor plan.
Decorative Ceilings
Find out how to easily create different types of decorative ceilings in Live Home 3D.
Latest News:
June 14, 2022 Live Home 3D v.4.4.1 contains bug fixes and performance improvements. Read more ›
June 9, 2022 Live Home 3D v.4.4 adds terrain grouping, rendering of 360º panoramas, optimized memory usage.
February 23, 2022 Live Home 3D v4.3.1 contains bug fixes and performance improvements.