Press Area
Writing an article about Live Home 3D?
Here are some resources you might find helpful.
On April 20, 2021, BeLight Software released version 4 of their bestseller Live Home 3D, a multi-platform home design app downloaded over seven million times, more than 2.5 million times in just the last 12 months. From now on, for the first time in history, an affordable home design app offers terrain editing functionality. The exceptional set of tools includes Metal-powered rendering for Apple devices and Room Scanner for iPads and iPhones. As a result, the new Live Home 3D is a solution for all interior, exterior and landscape design tasks, raising the bar to a new height for the whole industry.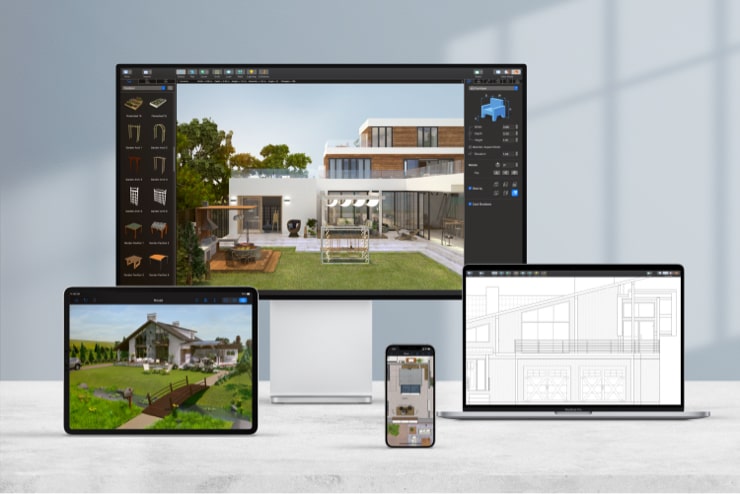 Terrain Editing
Terrain Editing is a feature that allows a user to create a house on a hill, surrounded by mountains, a house built on a sloped surface, etc. The feature provides a set of instruments: Elevation Point, Elevation Line and Elevation Spline. These, together, enable re-creation of a landscape identical to the one around the house. Live Home 3D becomes the first home design app in the App Store, the Mac App Store and Microsoft Store to offer Terrain Editing functionality.
Implementation of Terrain also made it possible to create cutouts, various pathways and pits in the ground for swimming pools, so now users don't need a 3D model of the pool and can build a pool of any shape from scratch. (Terrain Editing is available with the Pro-features in-app.)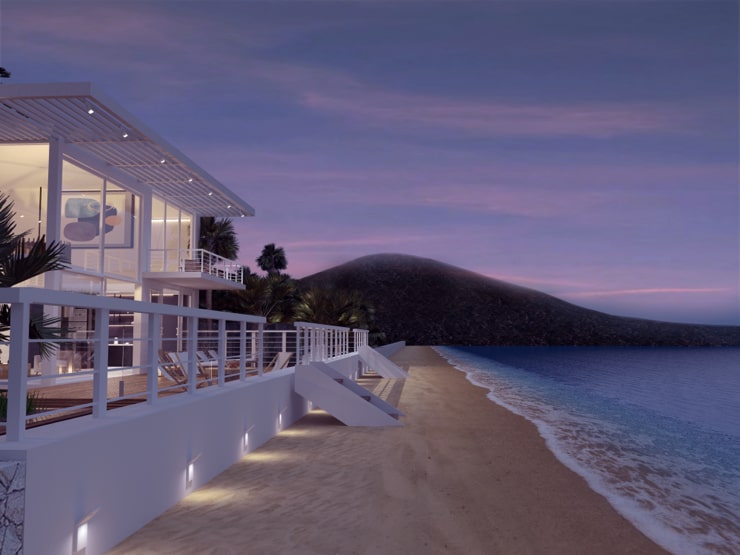 Physically Based Materials
Enhanced real-time 3D view is achieved thanks to the shift to physically based material properties for all material categories. Metal and stone textures provide rough surface properties, while glass and mirrors offer more natural reflections. All existing 3D objects were revised and improved.
On Apple devices (Mac, iPad, iPhone), real-time rendering for 3D graphics is powered by Metal 2 technology, which helps achieve extremely realistic picture quality.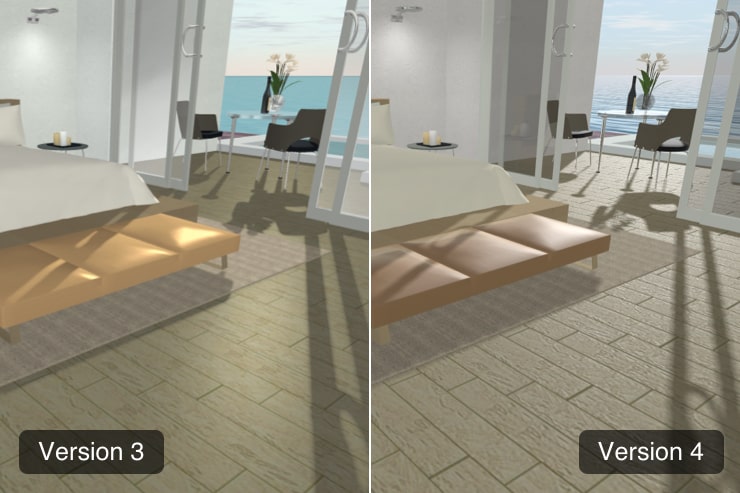 Curtain Walls
Curtain wall type was added for creating exterior wall panels, walls with different start and end heights, etc. This functionality has become possible thanks to the main distinguishing property of the curtain walls: their height doesn't depend on the story height.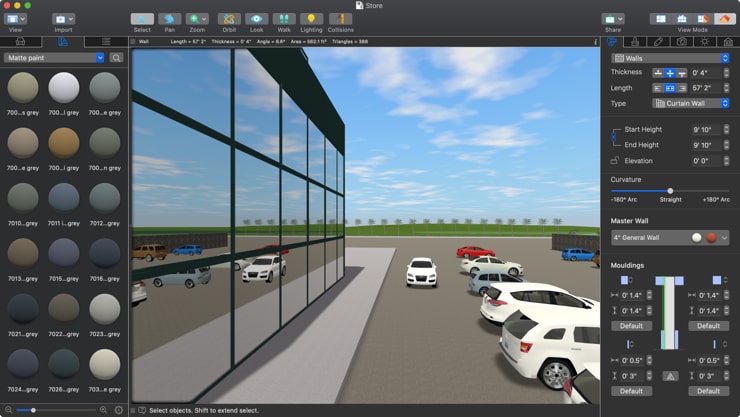 Site Project Level
In addition to the basement, floors and roof, the app now has a new project level called Site that separates the ground floor level from the outdoors, which is convenient for exterior or garden design, as well as for house or apartment movement and rotation on a floor plan.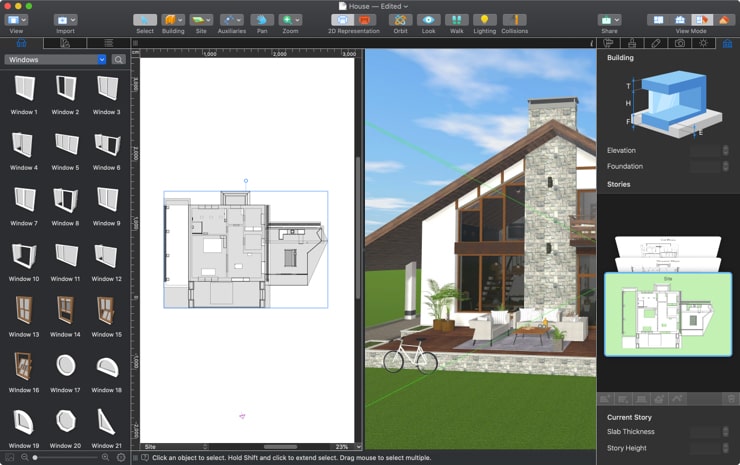 Reworked Project Gallery
All designs in the Sample Rooms and Houses section of the Project Gallery were modified and enhanced. New room and house templates have also been added.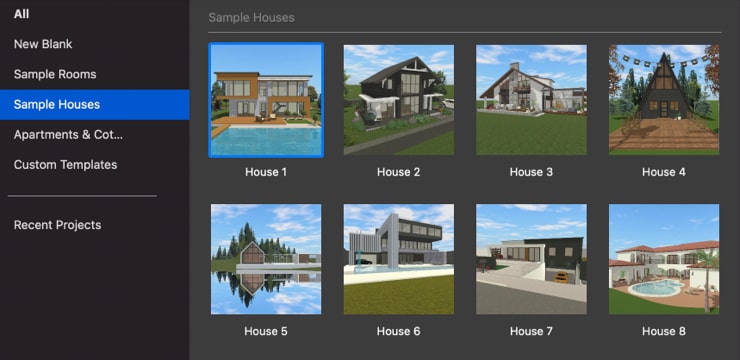 Also in the iPad and iPhone Version
Room Scanner is a feature that allows users to scan the room with a mobile device and get an editable 3D model of the room in the app. The Room Scanner tool is based on Apple's LiDAR technology, introduced in 2020 for some of the latest iPad and iPhone models.
This new feature allows scanning the room walls with an accuracy of 97%-99%, depending on the illumination and size of the room. Room Scanner detects room surfaces and then creates walls in the app, based upon this information.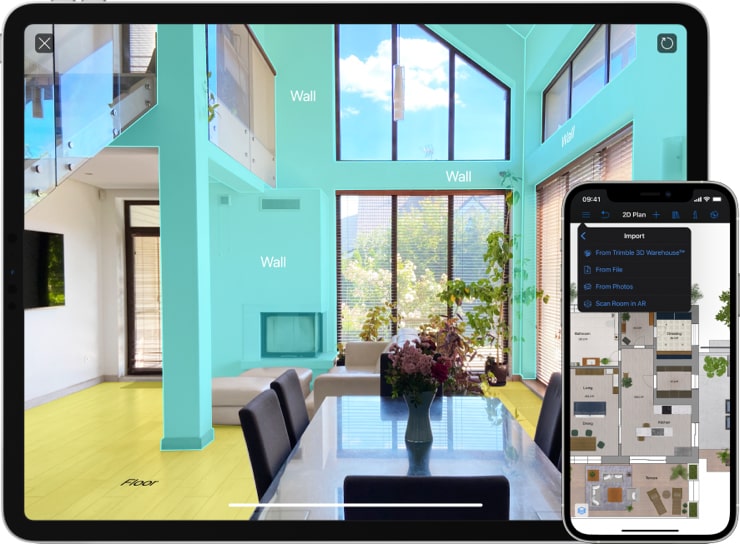 Also in the Mac Version
Photo-realistic 3D view export has become available thanks to a built-in offline renderer that creates professional 3D view snapshots based on AMD Radeon™ ProRender.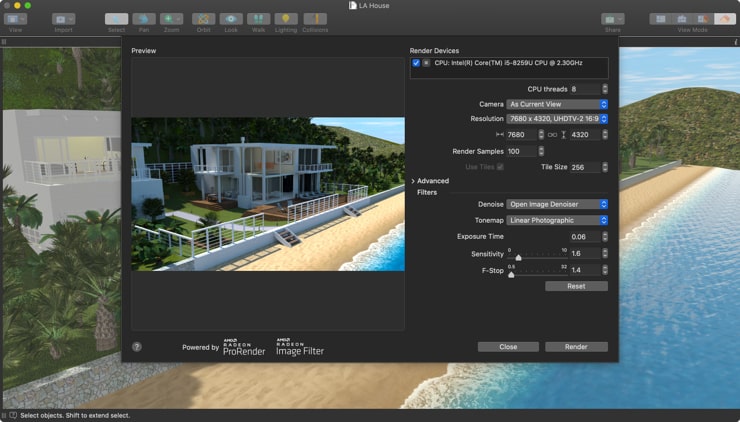 Also in the Windows Version
Split Mode is finally coming to the Windows version. The feature makes it possible to view and work simultaneously in 2D and 3D modes.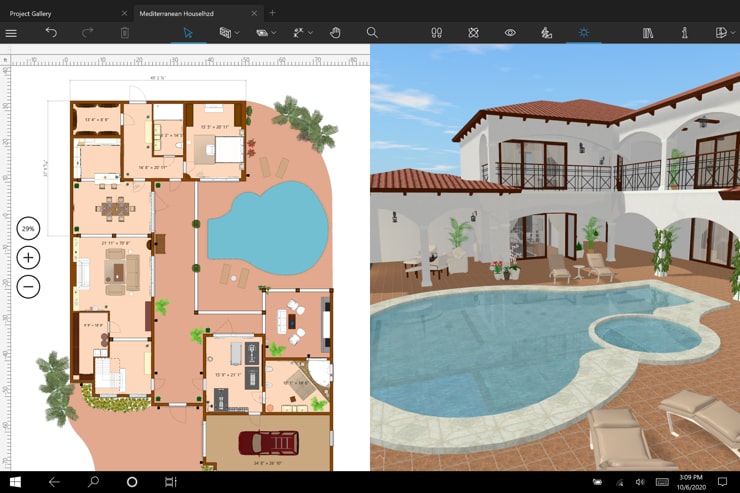 Other improvements:
Added native support for Apple Silicon Macs.
Added the new Material Composer (available with Standard and Pro Features).
Enhanced Material Editor allows the creation of realistic materials (available with Pro Features).
Updated 2D Elevation View so that it now displays stairs and allows their resize.
Improved the cloudiness property so that it affects the room lighting, like in the real world.
Added new video tutorials explaining how to work with the new features.
Intro video:
Pricing and availability:
Live Home 3D is available on the Live Home 3D is available on the website, the App Store, the Mac App Store and Microsoft Store.
Live Home 3D is available for free. This includes the standard features, the whole built-in object and material galleries and some save and export restrictions.
The update is free for all existing Standard and Pro Edition users, who will automatically get Lifetime licenses.
The Standard Features in-app is available for $4.99 monthly, $9.99 yearly and $29.99 for the Lifetime license.
The Pro Features in-app is available for $9.99 monthly, $19.99 yearly and $49.99 for the Lifetime license.
The standalone Pro Edition is available for $49.99.
Available in the following languages:
English, German, French, Italian, Spanish, Chinese Simplified, Ukrainian, Russian and Japanese.
About Live Home 3D
Live Home 3D is intuitive and feature-rich home design software for iOS, Mac and Windows. By offering a variety of tools, the program simplifies the whole process of design creation, from drawing a floor plan to 3D visualization. The app lets an amateur create realistic and professional design projects and uses innovative technologies to present the final result.
About BeLight Software
BeLight Software, founded in January 2003, specializes in the development and distribution of software and technologies for macOS, iOS, iPadOS and Windows. Our team works day in and day out on developing beautiful, powerful, and user-friendly apps.
Our solutions cover graphic design, interior design, business and personal productivity, and desktop publishing.