Multiplatform
Live Home 3D is a multi-platform exterior and home design app for macOS, iOS, iPadOS and Windows. With at least one licensed version, you can share the results and adjust the project on another device of yours that uses a different platform, even with a free version of the app. For instance, save and send the design created on a Mac to your iPhone or iPad and project a 3D garden into real-world surroundings using AR.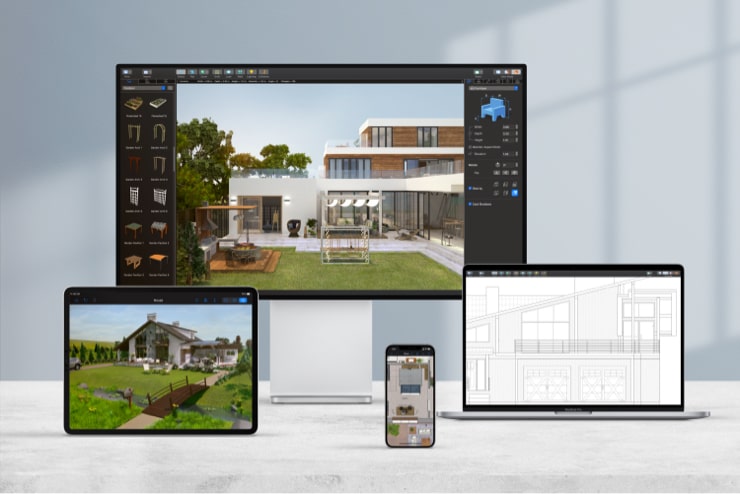 Elevation Tools for a Complex Design
Creating a garden with complex topography has never been so easy! The three special tools of Live Home 3D Pro: Elevation Line, Elevation Spline and Elevation Point allow you to make an uneven ground surface, such as a slope or terrace. Add bumps, depressions and paths to customize your garden project. Effortlessly create straight or curved lines, modify their shape and smooth out the curved lines for the best 3D performance.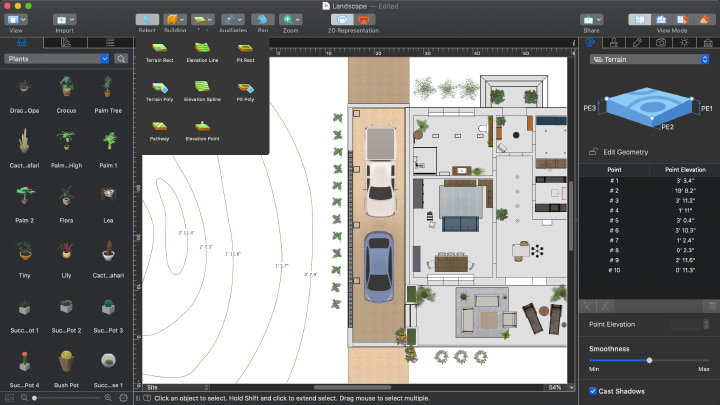 Garden Planning
With Live Home 3D, you can lay out your future garden and manage the plants with ease. You can pick plants from the library and choose their representation on the 2D plan to create a vivid picture of a future garden design. And, the custom image feature allows you to upload pictures of your own.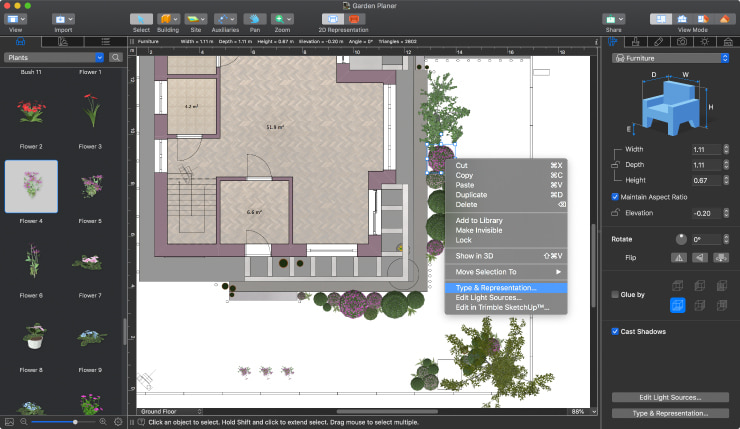 A Plethora of Plants to Choose From
Live Home 3D Pro is a home and garden design app containing a rich collection of greenery: from a large variety of flowers and trees to vertical gardens and bushes of different geometrical shapes. Drag and drop plants on the 2D plan view, effortlessly change their representation and resize and rotate objects to create a balanced garden design of any type: formal, informal or wild.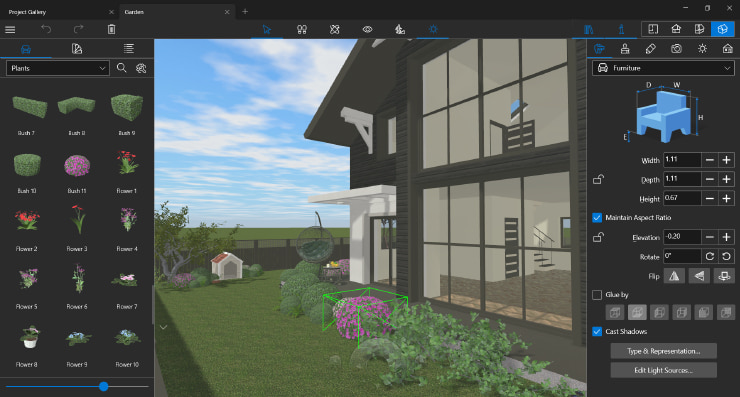 Rich Library of Materials and Outdoor Objects
Customize your garden design with the program's rich outdoor object collection, which includes a wide range of flower beds, benches, carports, greenhouses, garden arches and pavilions, as well as bridges, hammocks, gates, fireplaces, BBQ complexes, complete outdoor lounge sets and much more!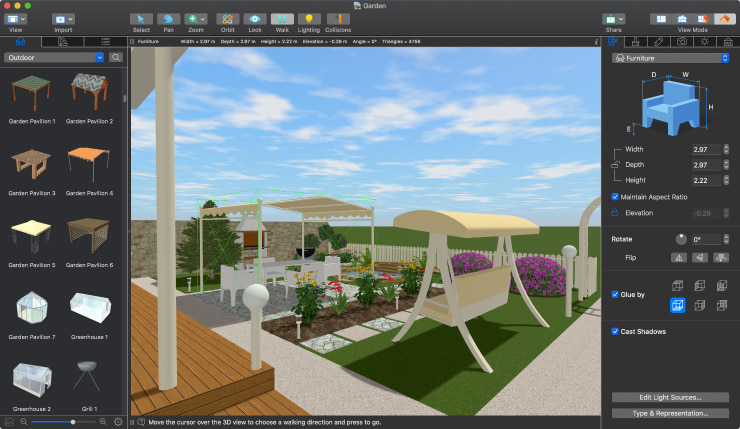 Add Pathways to Your Garden
Whether you want to show a part of a road passing near your property, approach to the garage or a pathway in a garden, the Pathway tool comes in handy. Conveniently add pathways at almost any stage of the design process. The auto elevation option helps to add a path on the ground with just a few clicks, and various tools in Live Home 3D Pro can help you make unique pathways, for example, by changing the elevation of a pathway at the selected point or choosing the shape of a pathway in a corner.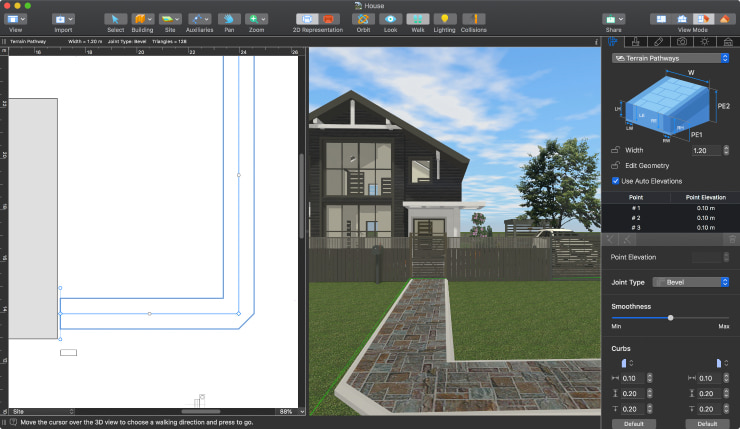 Choose Your Own Way of Working with Live Home 3D
Change the color and material of any object by either dragging and dropping a certain color or material onto an object's part, replacing a material in the Inspector or using the material picker. Various solutions are designed to help you find the most convenient way to operate on any device: desktop, laptop, iPhone or iPad.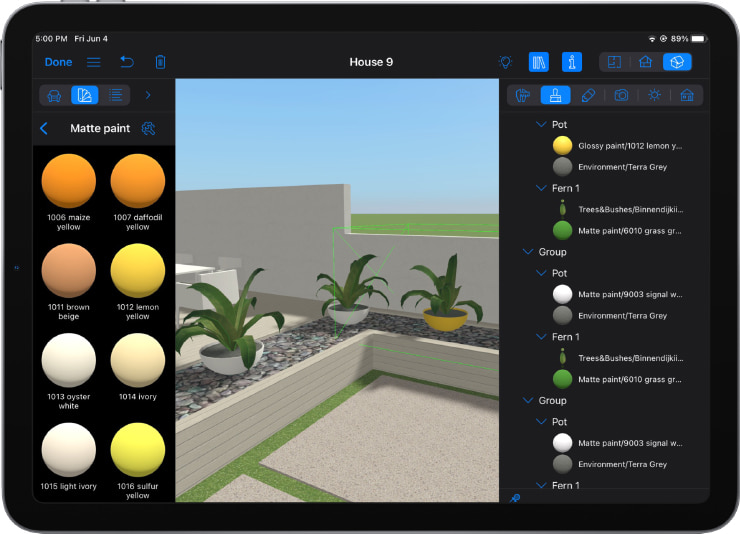 Create a Pond
The Pit Rect and Pit Poly tools let you define an area below the ground level. You can customize the depth of the specified area and modify the shape of the pit to make a unique pond for your garden design or simply choose a necessary pond from the library.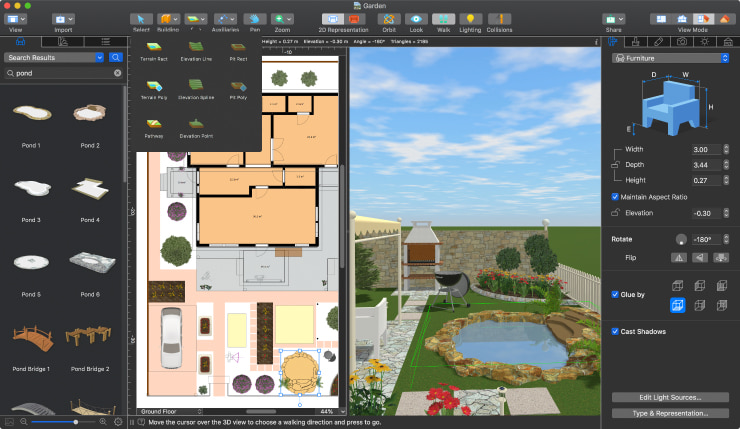 Work in 2D and 3D
Work on your perfect garden in 2D plan view and switch to 3D view to check the results or walk through your garden. And, the split-mode allows you to operate in 2D and 3D simultaneously!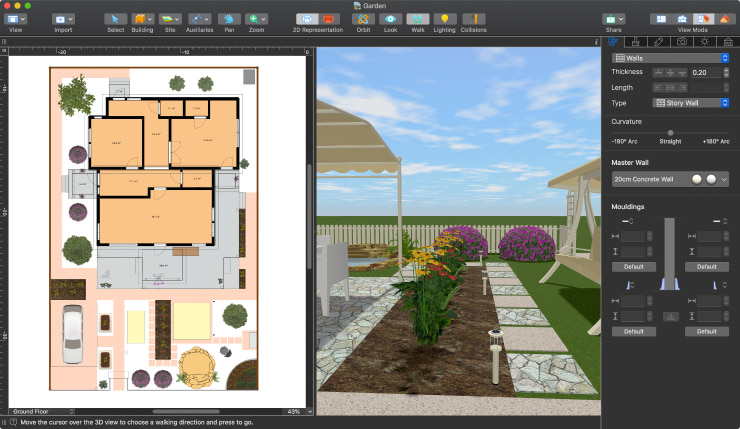 Achieve a Photorealistic Effect
Live Home 3D Pro enables users of Mac computers to export stunningly realistic 3D views. Make a highly true-to-life garden with the help of the photo-realistic, offline, ray-tracing rendering technology powered by AMD Radeon™ ProRender.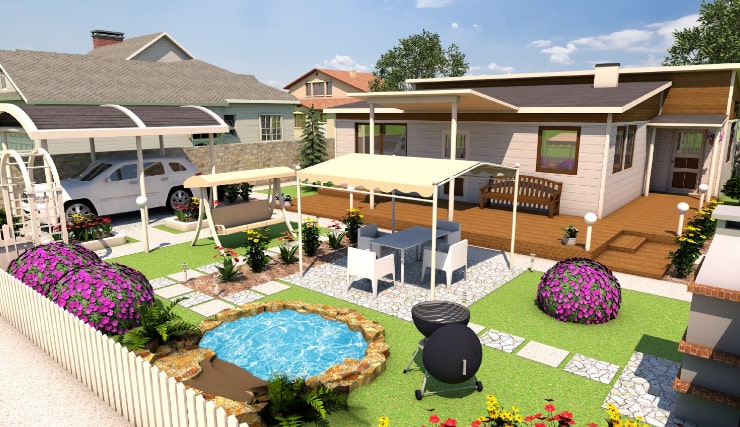 Multiple Import and Export Options
Seamlessly download new objects from the Trimble 3D Warehouse™ and import or export models of your garden in SH3D, COLLADA, FBX, OBJ and 3DS formats. When your garden is ready, you can export it in various ways: as floor plans, screenshots, 3D models and even high-quality, ultra HD video files.