Roof Types Available in Live Home 3D
Any of these roof types can be used as is or modified to your needs.
Flat Roof
As is obvious from the name, a flat roof is flat. However, it can have a slight slope of up to 10 degrees. This roof can be used as a living part of the building. It is perfect for warm countries with no cold weather or severe snowfalls.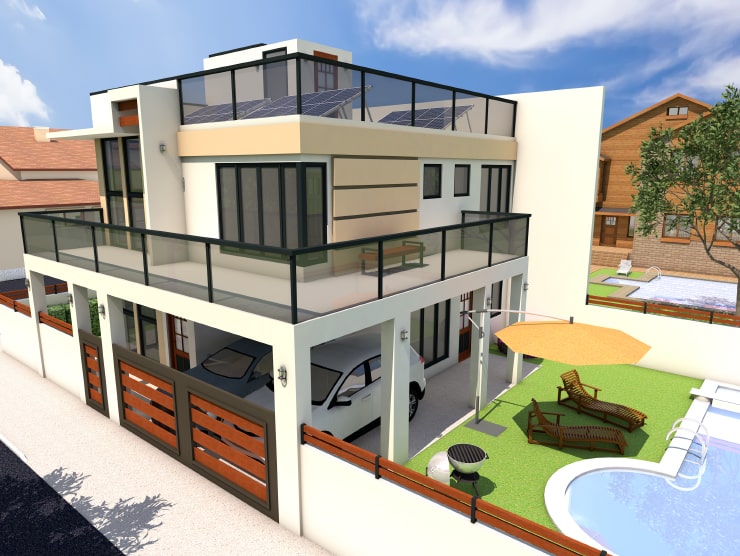 Shed Roof
A shed roof is a roof that slopes down only in one direction. The slope angle may differ and can be as steep as you want. This roof type was first used in architecture in the 1960s and is now popular in Africa. These structures are very simple and practical. In hot countries, the angle of this roof can help keep the building from overheating, and, in the northern countries it will allow the snow to go down and keep the roof clean.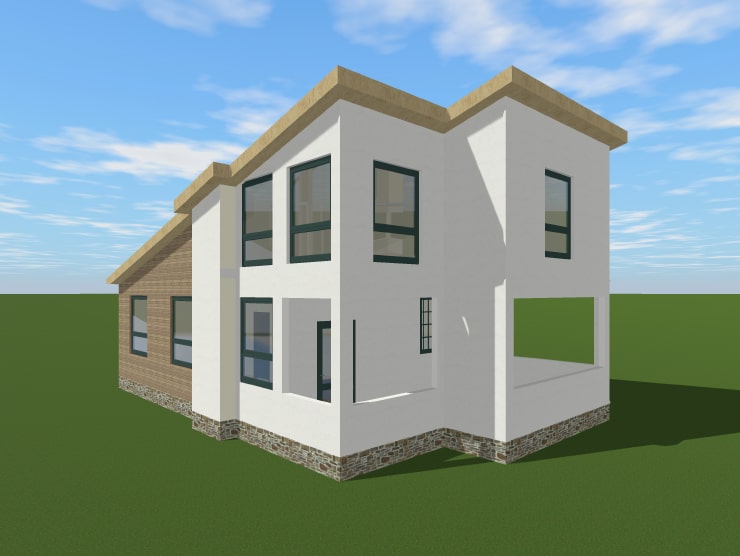 Gable Roof
A gable roof has two roof sections, both sloping down. It's versatile and popular all over the world. Its characteristics are simplicity in planning and construction and weather resistance. A gable roof is one of the basic roof types widely used as is and in combination with other roof types.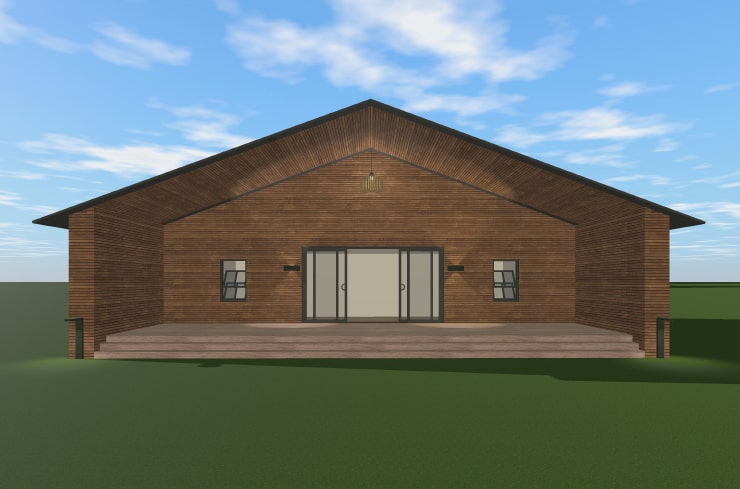 Hip Roof
In a hip roof, each of the sides goes down to the wall making it a four-sided roof structure. The slopes are usually very gentle. This type of roof does not have any gables. Hip roofs are more difficult to construct than gable roofs, but they are considered to be more resistant to severe weather conditions.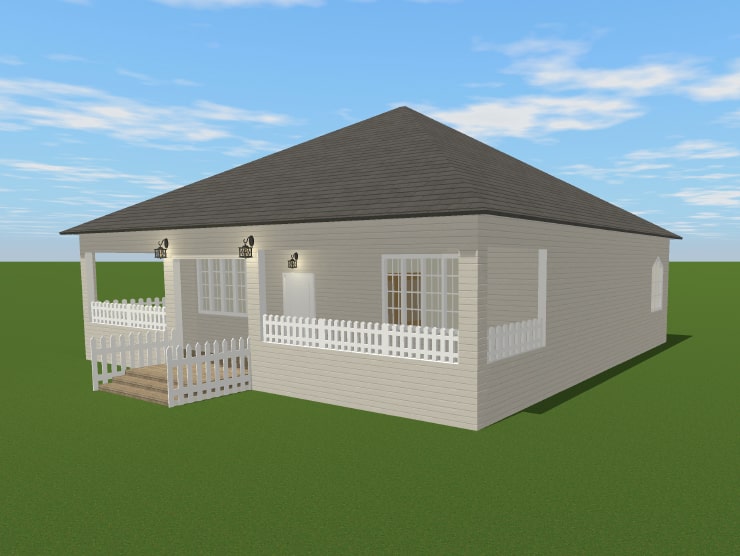 Gable Roof With Small Hips
This is a combination of the above mentioned gable and hip roofs. Little hips are added at the sides for decorative purposes.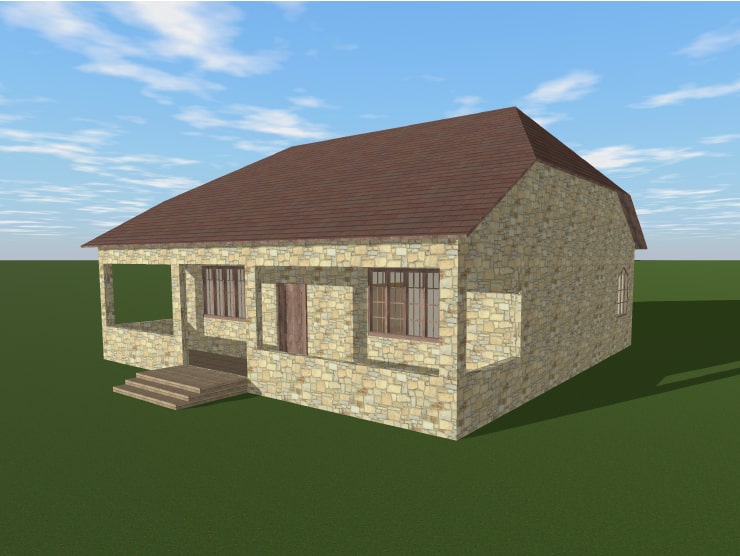 Hip Roof With Small Gables
This is a blend of a hip roof with a small gable element on top. All these variations are intended to be aesthetic and add a unique look to your house, while remaining practical in use.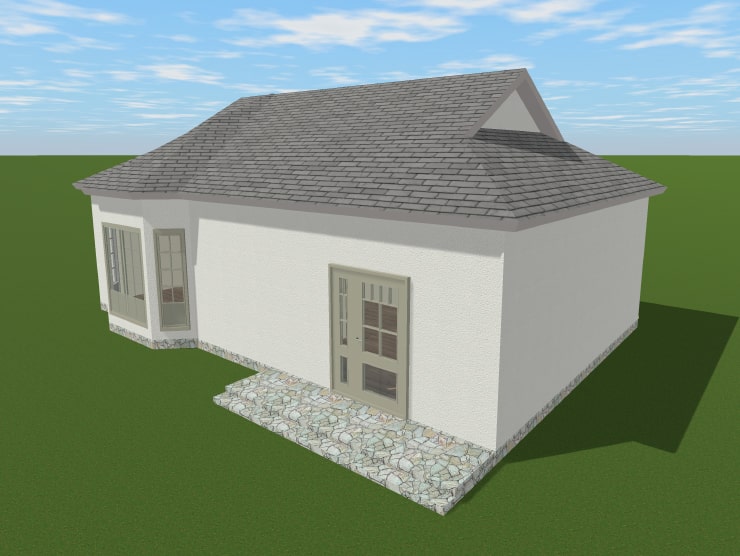 Barn Hip Roof
A barn hip roof is a hip roof with the top part having a larger angle hip than the whole roof. Such roofs afford less shade compared to gable roofs, which can be a crucial factor when planting a garden around the house.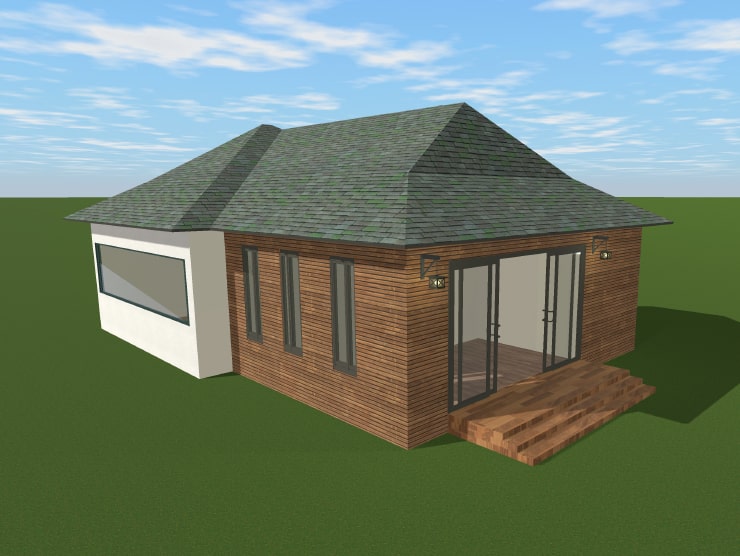 Gambrel Roof
This roof, also called a Dutch or English roof, has steep sides and a more shallow slope at the top. This design was widespread in Europe in the 16th to 17th centuries and was brought to the US in the 18th century during the colonial times.
The pros of this roof are elegance and style. The cons are vulnerability and the need for frequent maintenance. It is more subject to damage caused by strong winds, snow and severe rains. Thus, it is not recommended for countries with severe weather conditions. It also requires more frequent maintenance than the above mentioned roof types.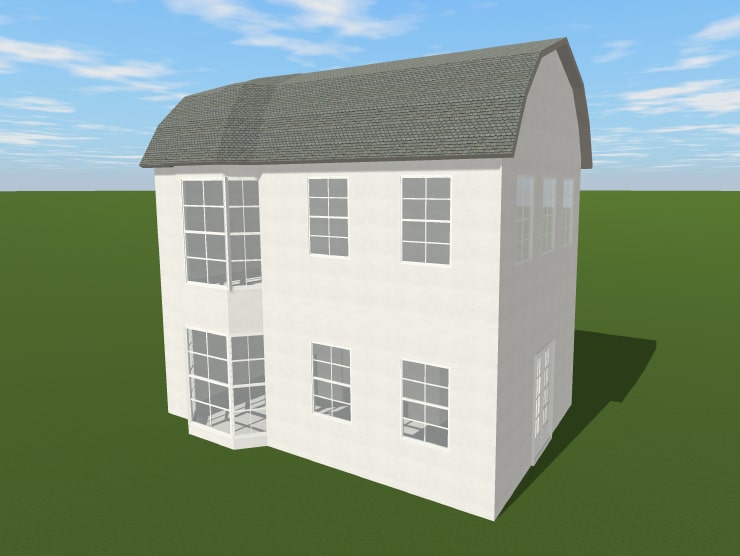 Mansard Roof
A mansard roof, also called a French roof, is a type of a gambrel roof, which has two slopes on each side. The lower slope has dormer windows and is steeper than the upper one. The peculiarity of this roof style is that only its lower side is visible from the ground. Such roofs became popular for those aiming to avoid extra taxes for each additional story, while adding an attic living space.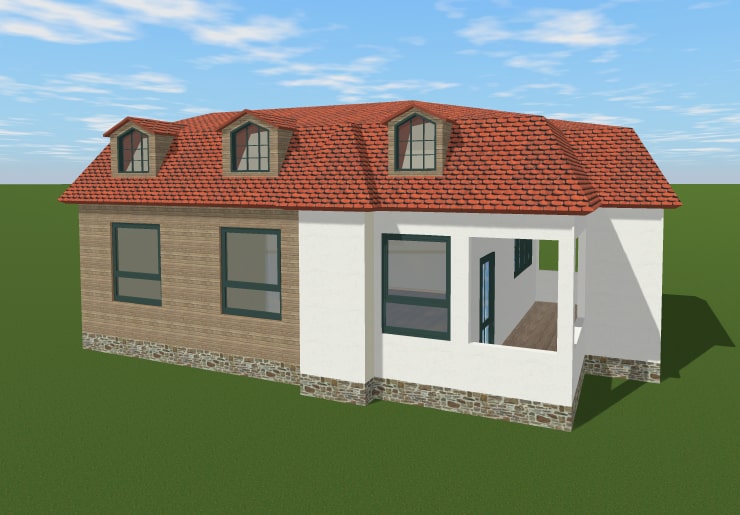 Mansard Segmental Roof
A mansard segmental roof is a kind of mansard roof style. Each of the four sides consists of three segments. Its distinctive features are shallow slopes at the bottom of each side. The next section is much steeper and may have windows embedded, and the top one has a small inclination angle.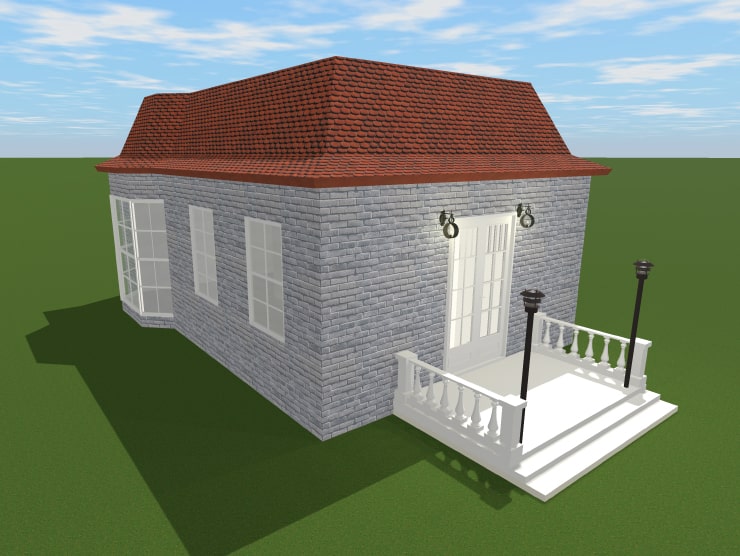 Saltbox Roof
A saltbox roof is an asymmetrical gable roof. One of its sides is short and the other one long. The angle of each side is different, which implies a different wall height. Such roofs were popular in the US in the 17th to 18th centuries. Their name originates from the shape of wooden salt boxes popular in those times. It enables extra living space and is quite practical in windy, rainy and snowy climes.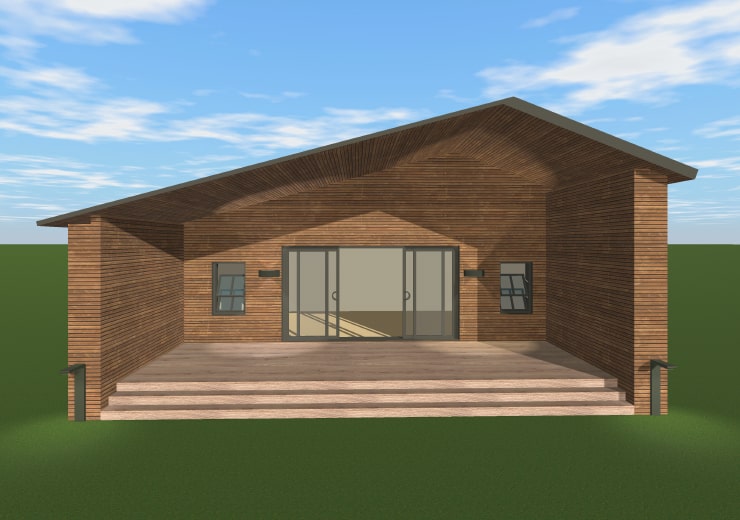 Bonnet Roof
A bonnet roof is a type of a hip roof with four sides. Each side has two slopes, with the higher slope substantially steeper than the lower one. This lower part provides extra shadow and keeps the house sides safe from the rain. It comes from France and has a very elegant look.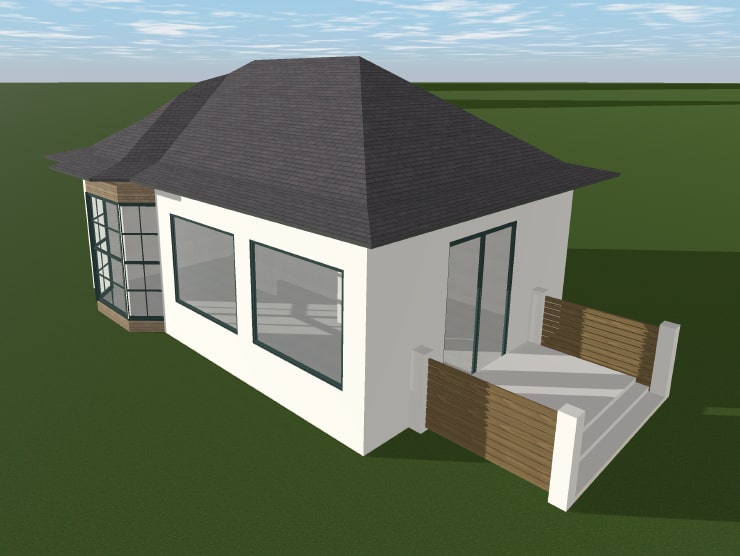 Different Soffit Types
Each roof should have a soffit. A soffit is a material placed under the overhanging parts of a roof. It helps with roof ventilation and adds to the ground appeal. Live Home 3D offers the following soffit types:
Basic soffit
Simple soffit
Horizontal soffit
Box end soffit.

Experiment With Different Roofs
Feel free to experiment with multiple roof types in Live Home 3D. You will be surprised at how easy this process is! Roof experimentation is available even in the free and trial versions.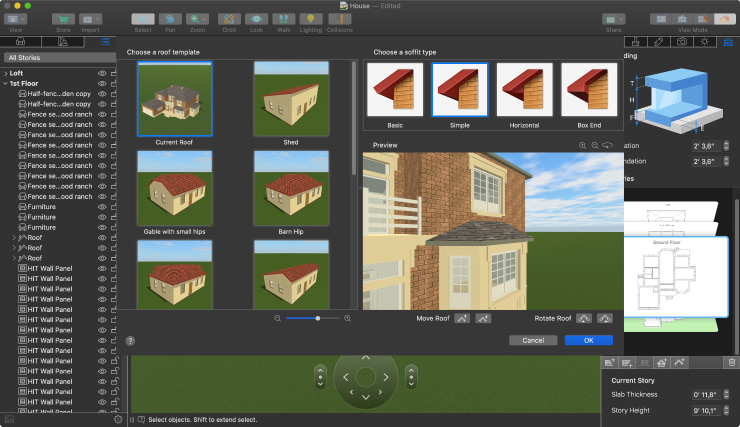 Learn More About Live Home 3D for:
Revised: March 2023