Zone the Office Area
You might have heard that dedicating a separate room or area of your house to a certain purpose is the best way to organize your living space. For instance, using your bedroom strictly for sleeping will guarantee you more relaxation and better sleep, and dedicating a separate area for your home office will definitely boost productivity and improve your focus. But, having a separate room for each activity is rarely an option for small apartments or tiny homes. Luckily, there are plenty of other ideas to efficiently zone your working space:
Separate your working space from other rooms in your house by arranging it on a higher platform. The extra amount of space on the floor can be used for storage.
Introduce more privacy by adding a sliding door. In such a way, you will create a separate working space without significant challenges and expenditures. Another option is to install a low partition wall.
Diversify the color palette of your home space by selecting a bright and distinct tone for your working zone. You can visually separate this space with an accent wall as well.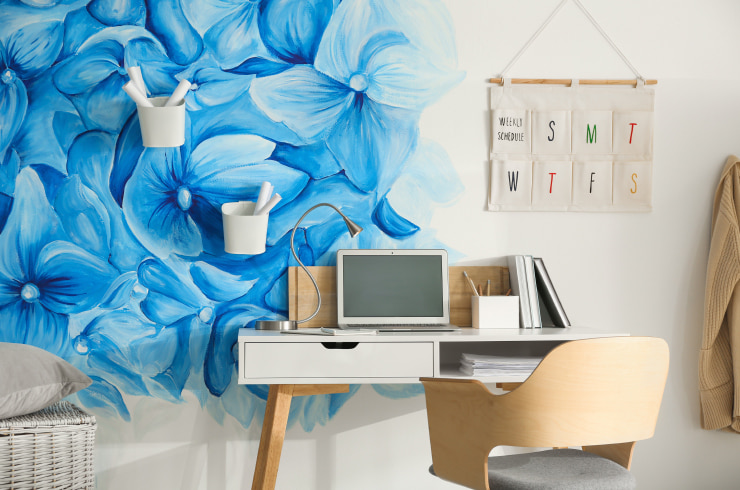 Pick a Style
Have you ever checked out how many design ideas are out there for office decorating? There are plenty of them, but the challenge isn't complete yet. Organizing your working space independently from the other parts of the house isn't necessarily the best solution. Rustic, art deco, elegant, vintage and other styles will be appropriate only if they can be matched with your overall interior.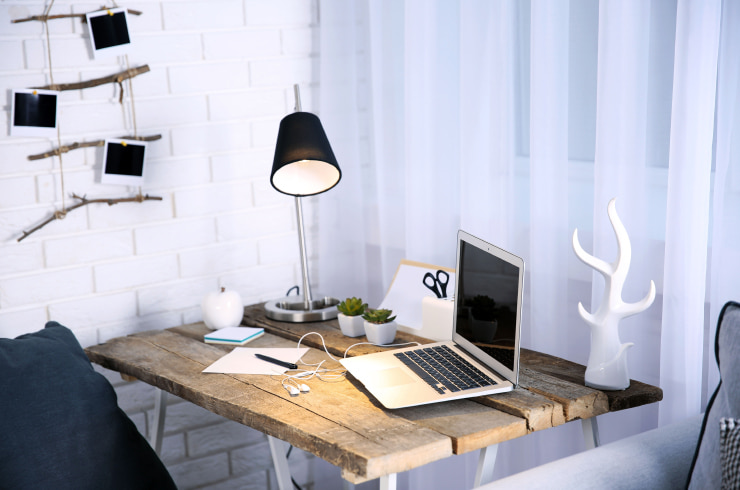 Mount the Desk
A mounted desk has several benefits and reasons to be a part of your working area. First, it looks more stylish and modern than a traditional desk. Second, it doesn't take up precious floor space, which is a critical detail if you are short on square footage. Finally, this type of desk can look similar to a regular shelf and can be used as one when you aren't busy with your business affairs. Not to mention the fact that if you get a drop-front or hideaway mounted desk, you can use the space even more efficiently.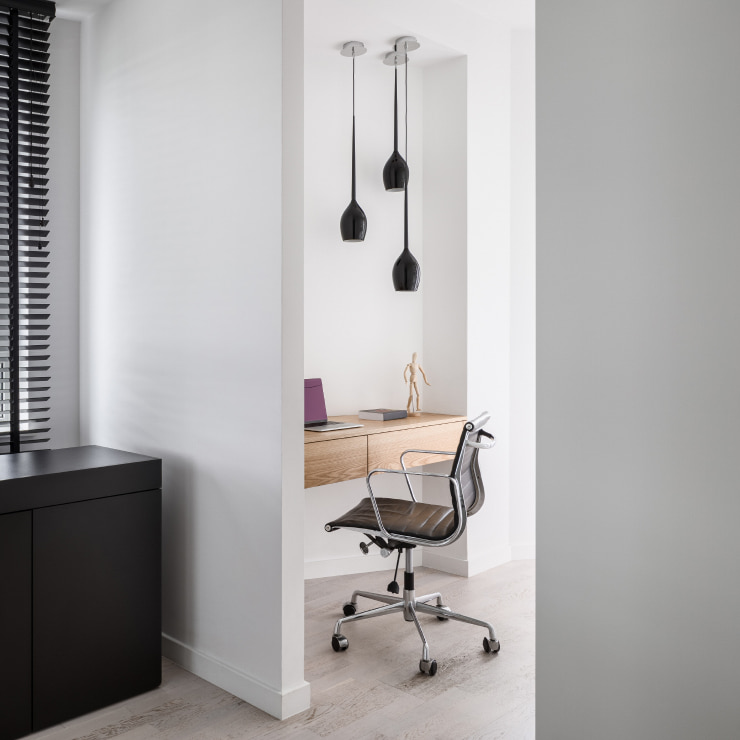 Blend Two Desks in Your Interior
Many personalized spaces are designed for couples or family use. To increase the value of your office working space, enthusiasts come up with combined desk ideas. For instance, instead of mounting two separate desks, they select near-wall positioning for one bigger furniture unit.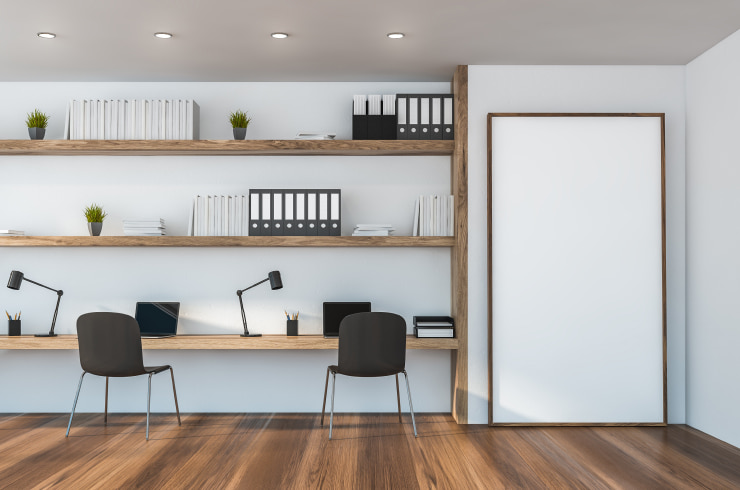 Go Vertical With Shelves
The use of vertical shelves will be complementary to the previous design strategy. It will create a missing accent in your working zone and enhance the practical potential of your home office at the same time. If you want to avoid a visually cumbersome effect, then opt for wire shelves instead of standard wooden ones.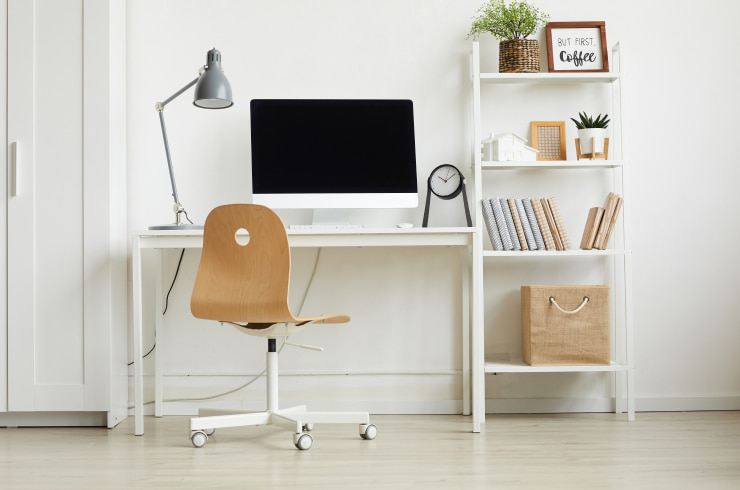 Squeeze It Under the Stairs
We really mean it. If you don't know how to free space at home to make it suitable for working, maximize the functionality of hidden locations. In fact, Harry Potter's case proves that one can even live under the stairs, but we have no reason to get this dramatic. Styling a minimalistic and comfortable home office under the stairs will be a smart and original use of a dead zone.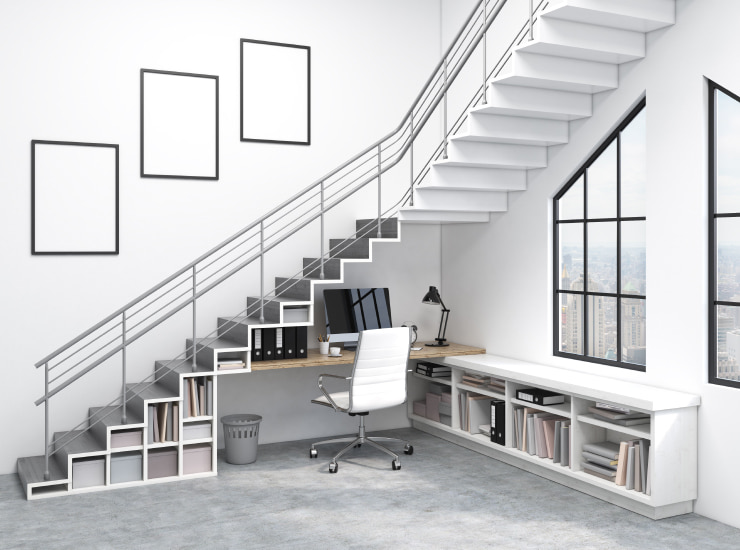 Make Sure There's Adequate Lighting
One of the crucial parameters of all office ideas is to choose the right lighting system. Combine natural and artificial light sources to foster a positive working atmosphere at home. Mount the desk near a window to take advantage of as much daylight as possible and maybe enjoy a great view as a bonus.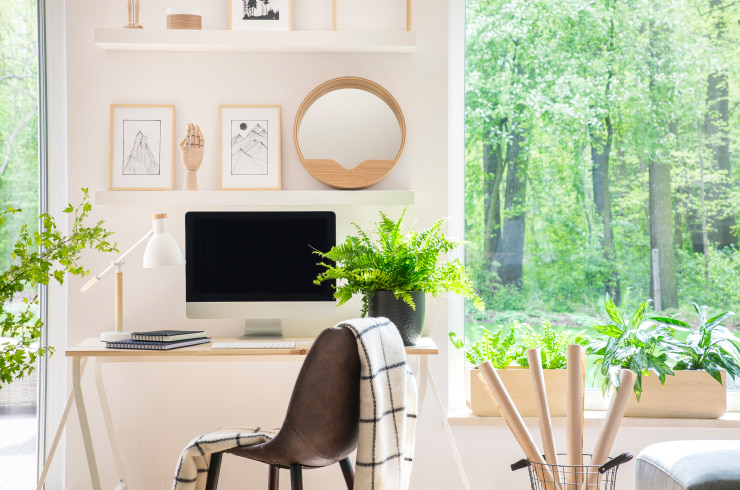 Choose Compact Furniture
Apart from thinking budget-friendly, you might want to maximize your working zone without skimping on style. That is why it's a great idea to go minimalistic with your furniture selections. Choosing the above-mentioned multifunctional drop-front desks, or transforming two dressers you have into a desk, can be used as a guideline. At the same time, options like fancy ghost chairs will also enlarge the room visually.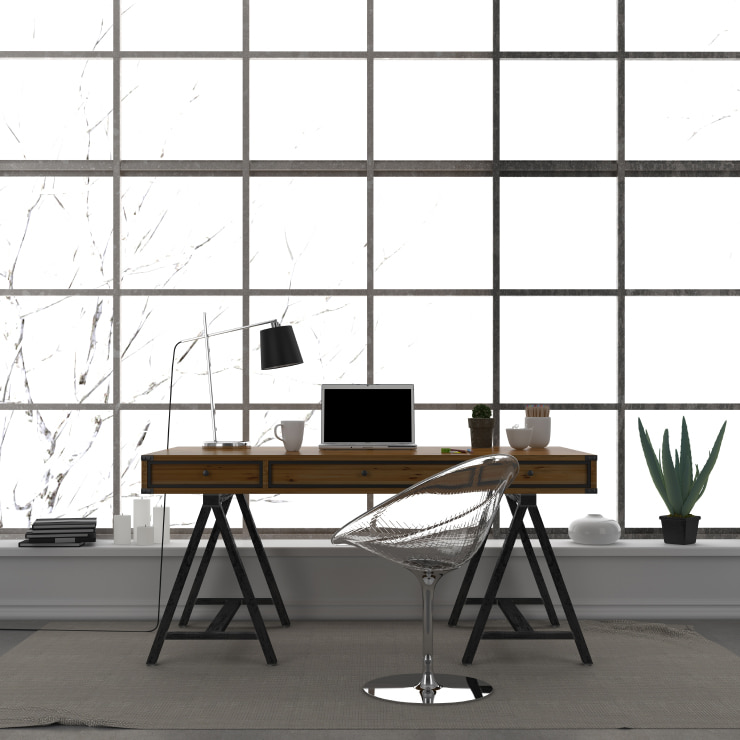 Get Bar Table and Bar Stools
Without a doubt, this set of furniture will help you kill two birds with one stone. Apart from being space-efficient, this solution also allows you to keep working comfortably while standing. It will be a great idea for those who work all day from home, spending most of their time in a sitting position.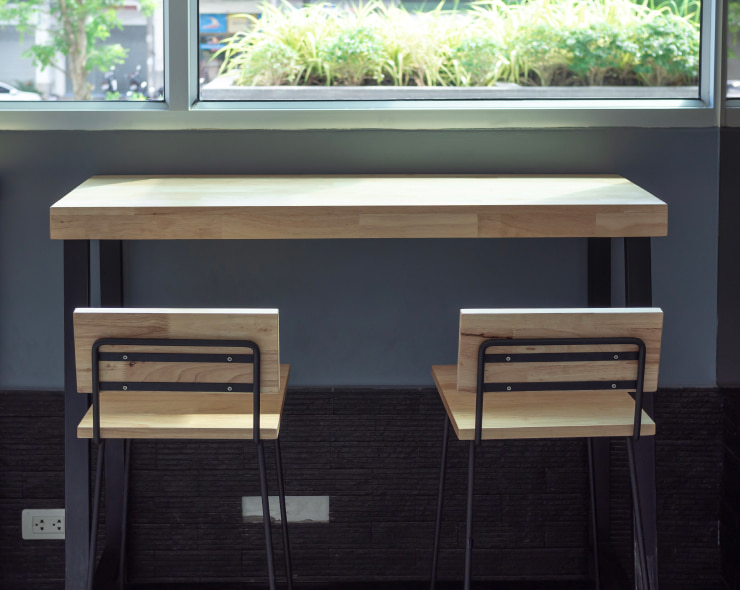 Make It Green
Regardless of what style is on the go, don't forget to add greenery to your office, such as real or fake plants, including gorgeous flowers or unique scatter succulents. Why is the green touch important? Well, on the one hand, green accents can add a pleasant aesthetic to the overall look of your home office. On the other hand, biophilic design teaches us the importance of keeping plants and images of nature close to the eye, as it is proven to have a positive psychological effect on the brain.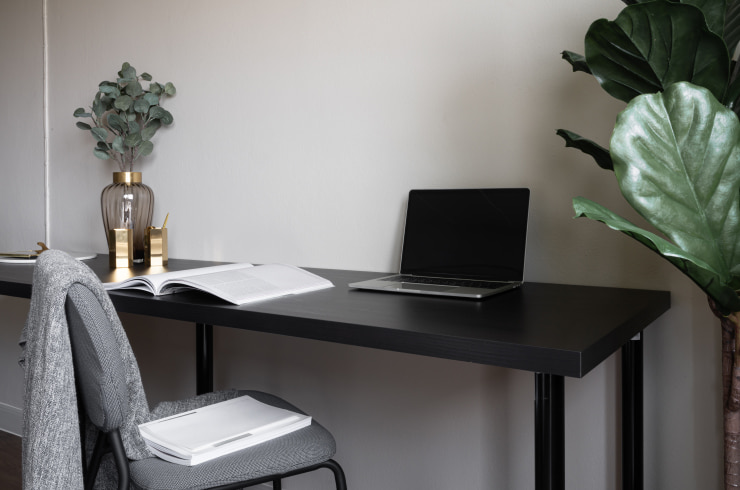 Office Nook
Thinking out of the box is always welcome. Re-doing your space into a nifty one is simpler than it seems. You can find any corner in your house and transform it into a stunning home office. Such variants of built-in alcove offices are lifesaving when you have free small spaces at your disposal.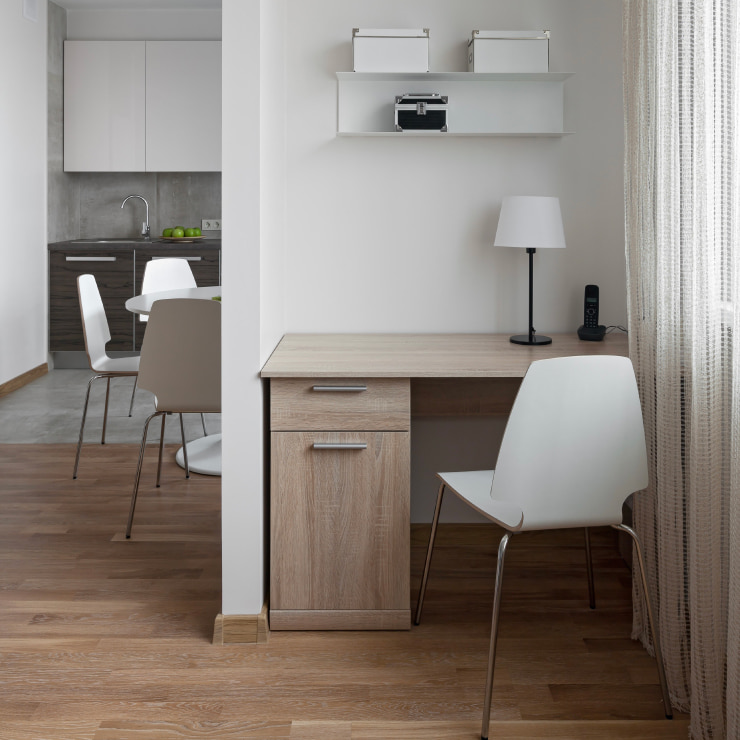 Fit It in the Closet
Maybe you've never thought of building an office in the suggested location, but, trust us, it isn't a crazy idea at all. Making it doorless, and adding a comfy chair and a nice desk, you can achieve a great result. Still don't think it can work for you? Well, there's no harm in visualizing such a design in advance using professional software like Live Home 3D. In this way, you can have a better understanding of the idea and can experiment as much as you wish to make this layout work for you.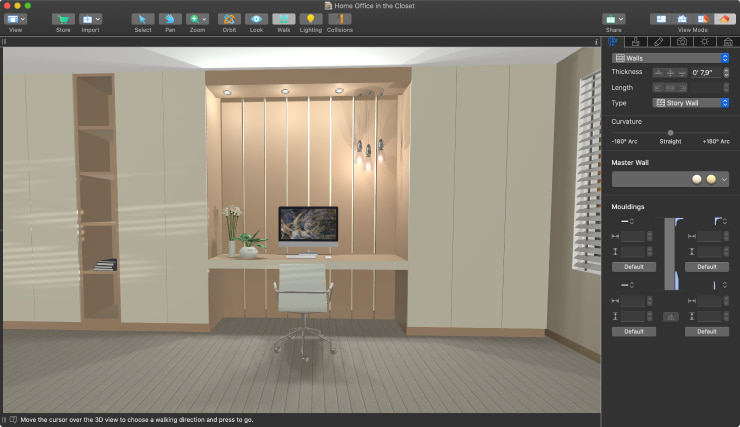 Add Decor
Choosing greenery for decor is a great idea, but it isn't the only one. One of the most popular solutions is hanging a special piece of artwork on the wall. It can serve as an attention-drawing centerpiece for your home office that will definitely provide a unique vibe to your working space and make it seem more sophisticated.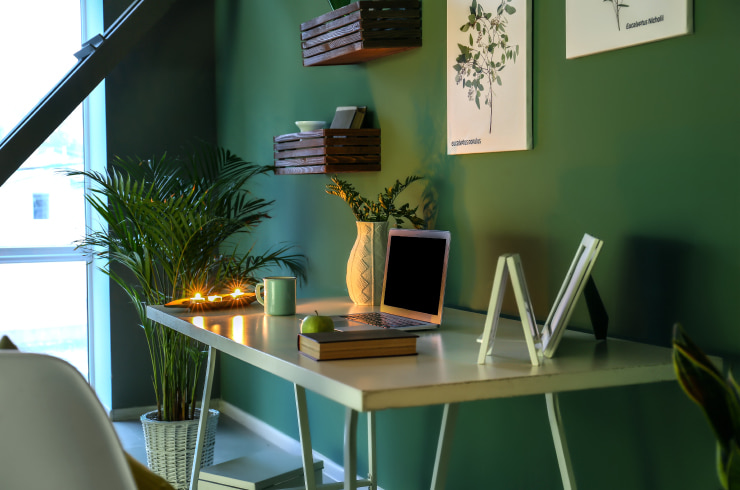 Conclusion
All in all, modern home office ideas prove to be both efficient and cost effective, but you must choose a solution that will be budget-friendly and truly suitable for working in comfort and peace. Don't hesitate to take your time and create a few interior layouts to select the ideal one.
Learn More About Live Home 3D for:
Revised: May 2023