Consider What Type of Office You Need
The office is not just a place where employees come and meet together to perform their duties. An optimally equipped office is often more functional than it may seem. Usually, it takes on the role of a business card and, to a large extent, demonstrates the brand identity; at least it should. To ensure you make the right choice for your office layout, it is necessary to get acquainted with all possible solutions. Below we will provide more details about different types of office layouts:
Cubicle Office Layout
This is one of the most popular and widespread office layouts. In this case, the entire office space is divided into working areas, creating a private space for each employee.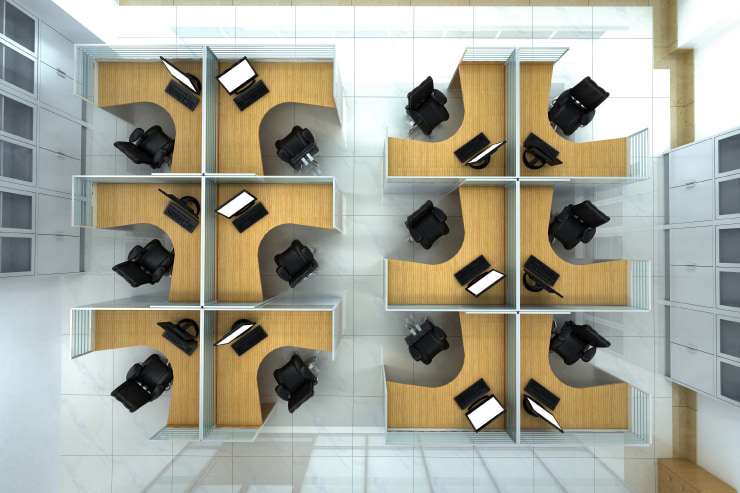 Among the main advantages of this type of office layout is its atmosphere. Employees have the opportunity to focus on their work since there is a feeling of privacy even though there are no walls between different areas of the office. This office type will greatly suit the needs of programmers, technical staff, analysts, etc.
Half Partition Layout
This format has a lot in common with cubicle offices. The main difference lies in the appearance of the walls. In this case, the walls are literally divided into two parts, and only one of them is left to separate the space.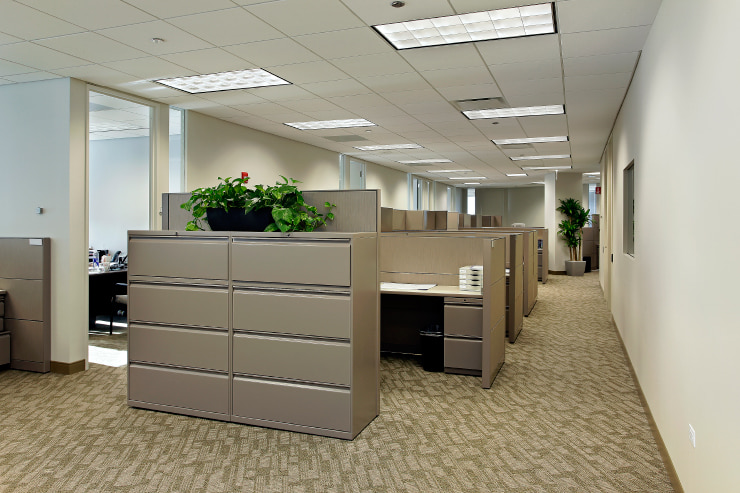 Half partitions are a compromise between private offices and open-space layouts. On the one hand, colleagues can communicate freely. On the other hand, there are visual barriers that create a feeling of privacy, even though the costs to form the space in such a way are decreased.
Open Office Layout
This is a kind of workspace planning in which people work together in one big room. The large hall can be divided by medium-height partitions, which are often part of the tables and create a cubicle. The walls between the free space, managers' offices, meeting rooms and lounges are often made of glass to support the concept of an open office.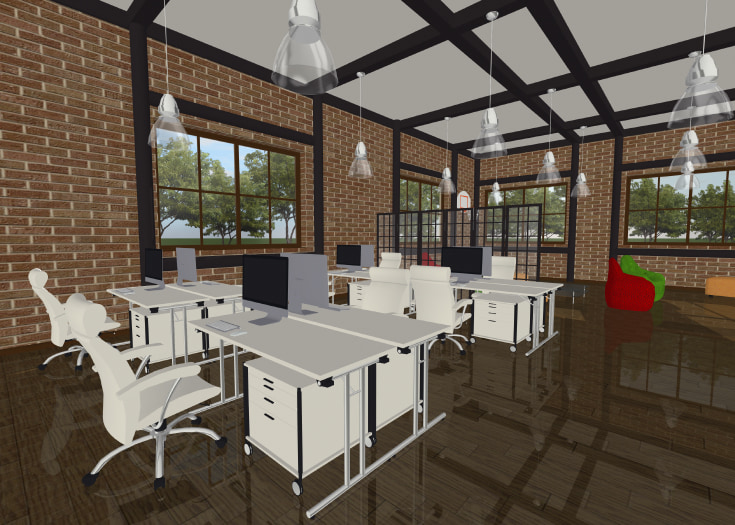 If the personnel aim to get financial satisfaction from work but also gain new experience and knowledge, then Open Space is definitely advantageous for them. People can learn from one another and share their valuable experience. At the same time, the employees should be prepared for less privacy, but they will be able to focus while working in such an environment. Just consider the culture of your company before deciding in favor of an open space type of layout.
Team-Cluster Office Layout
If your organization has a lot of different projects and separate teams responsible for their realization, then it would be a good idea to create free space for them to communicate, but to separate them from other departments. There should not have to be different rooms for each group. In this case, the entire floor can be divided into two or three zones, each designed for individual teams. For instance, the staff from the sales and finance department can work together in one office but still have their own individual area so they don't have to interact with other employees.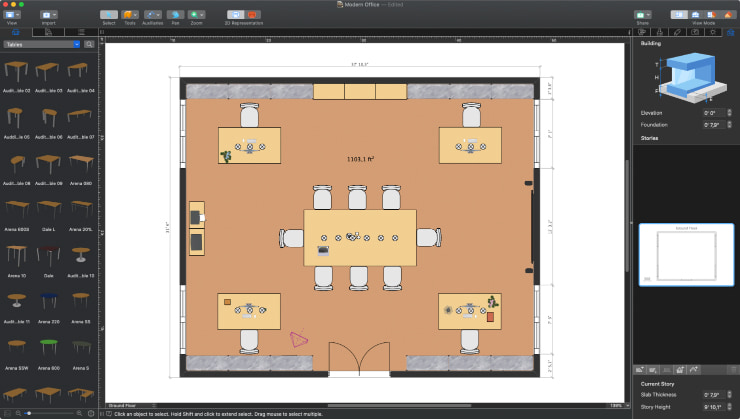 Co-working Office Layout
The name is self-explanatory: even though the level of privacy is lowered, this type of layout encourages professional cooperation and networking. Typically, there are no individual workspaces for employees, and interaction with different members of the team and clients is encouraged and appreciated. In a nutshell, this format of space will suit self-employed specialists.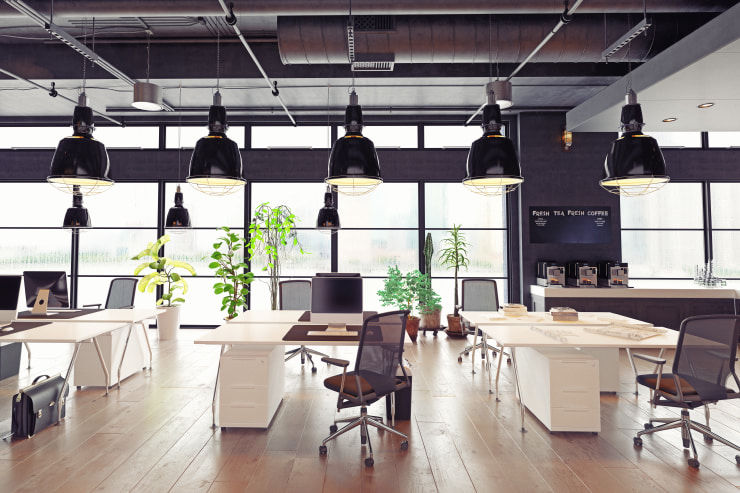 Private Offices
This type of layout requires several investments and may be inefficient for both small and large companies. Private offices may be left for top management, while the rest of the employees can work in other offices.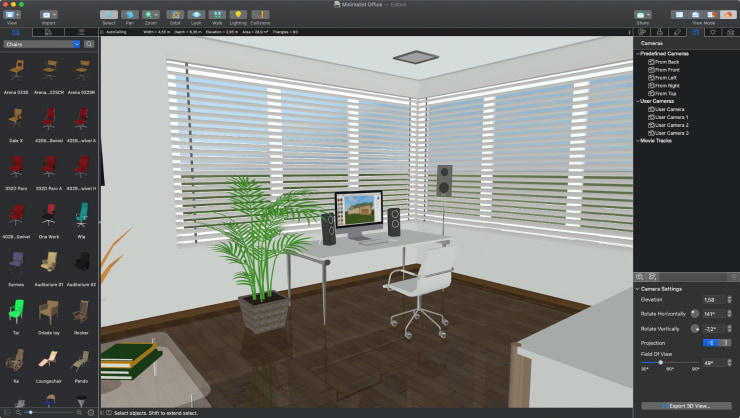 Obviously, the main benefit is complete privacy and a quiet mode of work. This layout also creates an effective atmosphere for communicating with customers and helps maintain their confidentiality.
Hybrid Office Layout
This layout is a new trend in office design. This format includes different elements of other office types and can be altered according to the needs of a particular enterprise. If you need to encourage cooperation between team members, then it will look more like a co-working office layout with elements of partitioning to increase the level of privacy (e.g., walls can be present but made of glass, etc.).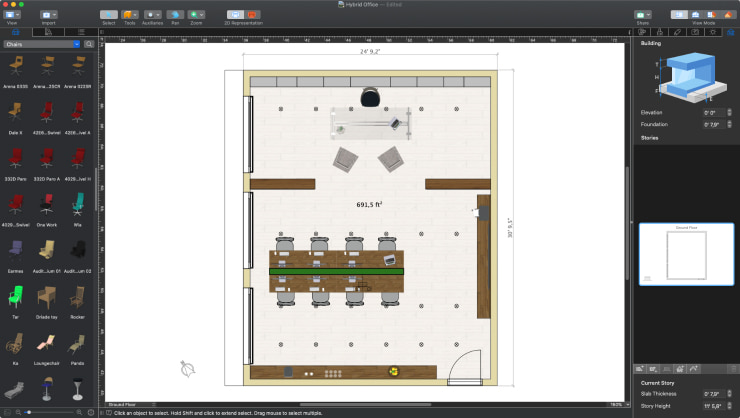 Home Office
The last type of layout is currently the most popular type for offices. Many people were forced by the pandemic to work from home and tried organizing their home office themselves.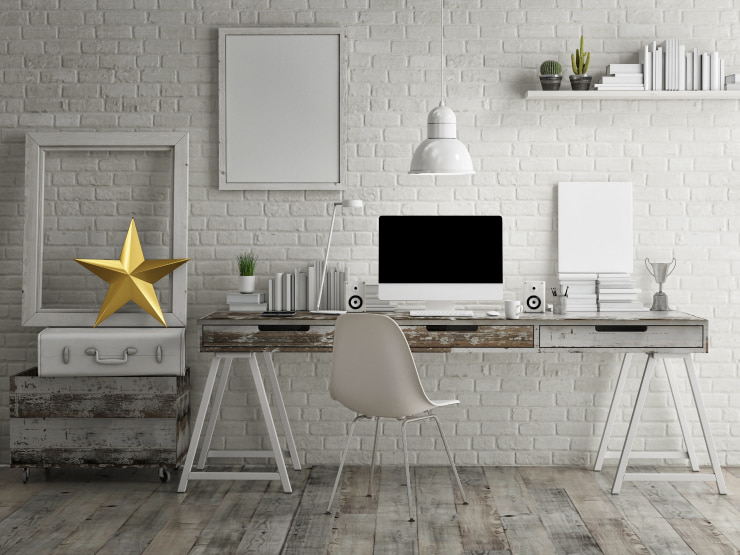 Modern home offices often do not even require a separate room. Large desks are no longer needed, and gadgets can be easily placed on console tables. However, even the smallest workspace requires a decent design. No matter how much time you spend at your desk, the workspace has to be ergonomic, practical and aesthetically attractive.
In this case, creativity may only be limited by space and budget constraints, but you are welcome to select any colors and styles. For instance, a table can be placed near the wall or in front of the window. It can also be mobile and easy to move, depending on the time of day. Shelves are an important element of home office layouts, and you can always zone the space with curtains.
Conclusion
The pandemic has made significant changes in the way physical offices are organized and how they protect employees' privacy and health. We also see that the number of hybrid and remote jobs has grown significantly. Therefore, it is questionable whether we will ever return to the pre-pandemic world.
Create Your Office Layout
Without a doubt, your team will have particular needs, requirements and desires, so to create your office layout to meet your objectives is not just a great idea but one that will be beneficial to all involved. You probably know your employees' weak and strong points, so this information should be taken into account when planning a workspace for them.
Office layout design tasks are really simple with Live Home 3D. It is compatible with several platforms: Windows, iOS, iPadOS and macOS. This home design software helps prepare precise floor plans and get highly realistic 3D projects.
Revised: March 2023