Bed Frame With Storage
When we think about space-efficient furniture in the bedroom, the first thing that comes to mind is storage units under the bed. They can be used to store blankets, duvets, bedding and other items. Some of the smart bed frame options even include outer shelving to display books or decorative items.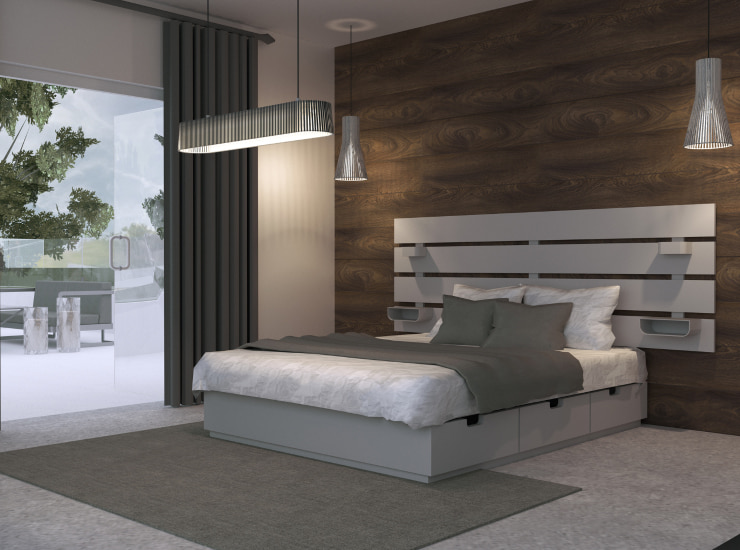 Don't forget that storage units fit not only under king- and queen-sized beds, but even under the smallest cots. Get a crib with additional storage to save space in a nursery or to make it feel less cluttered.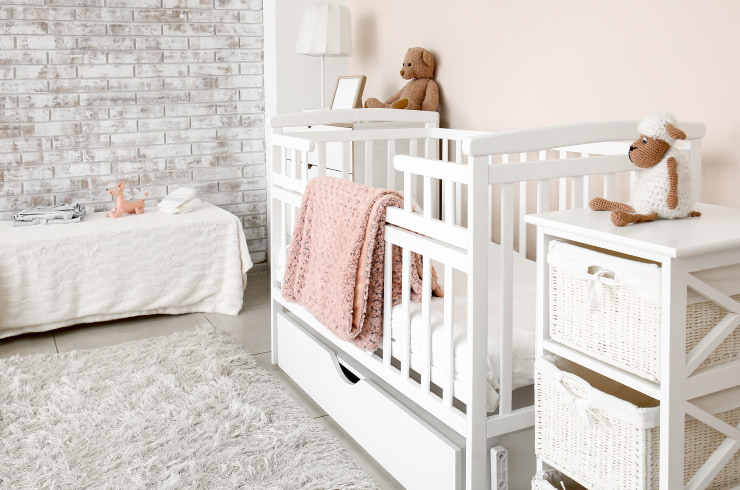 Space-Efficient Nightstand
Another bedroom space-saver is a mounted nightstand. By substituting a regular bedside table with a mounted one, not only will you obtain a smart solution for a limited space, but also benefit from creating a more sleek and modern design.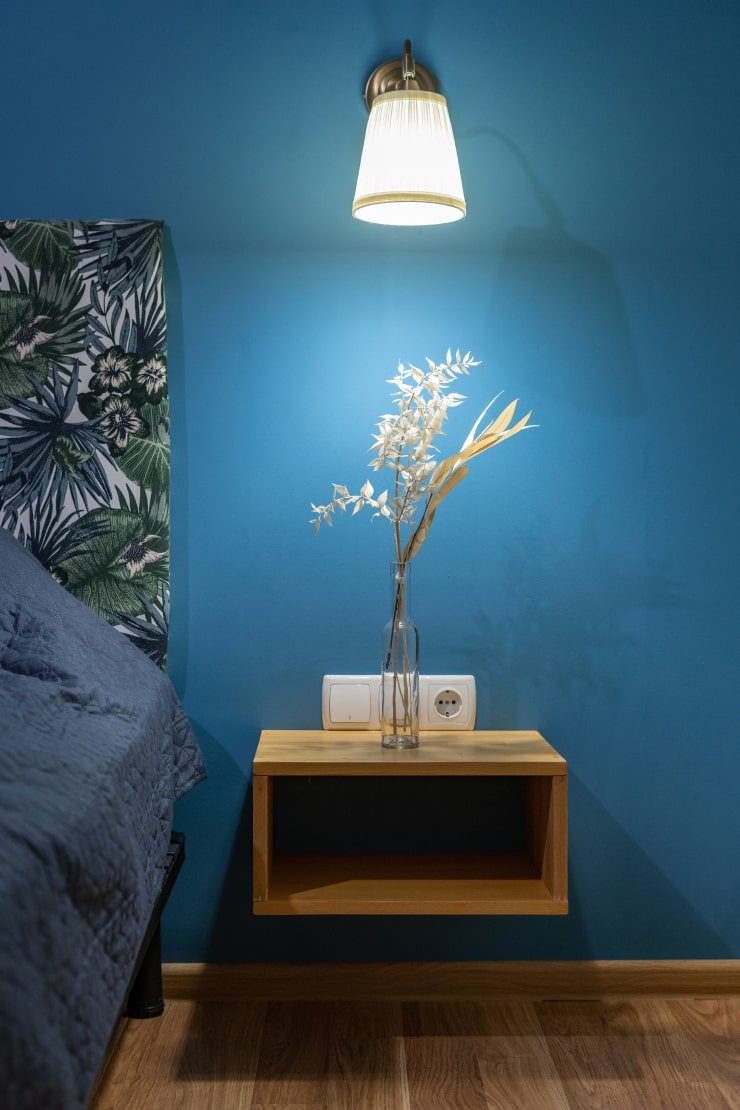 Hideaway Dressing Table
A built-in closet is an option favored by many, and for a good reason: such a closet leaves the room feeling more spacious while being functional by fitting in a lot of clothing. However, it can also be upgraded to an even smarter and more efficient furniture item if you put a hideaway dressing table inside of the closet.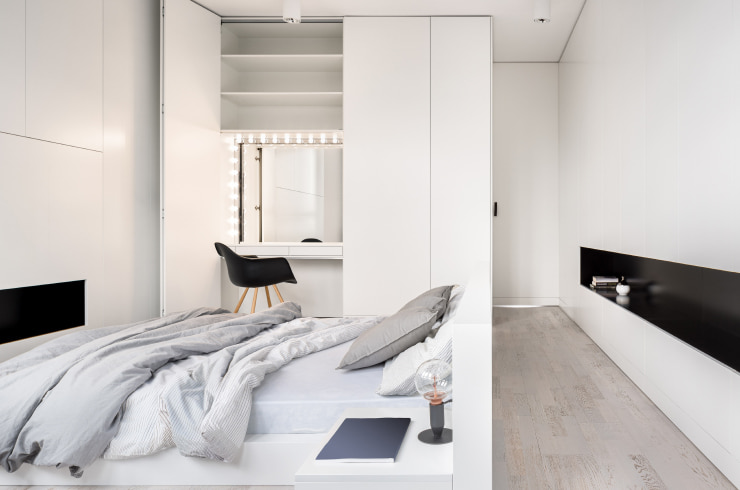 Space-Saving Desk
If you need to arrange a home office or a study spot but don't have a dedicated room for it, or you cannot allocate enough square footage inside a certain room for this purpose, a wall-mounted desk can solve this problem. It does not occupy a lot of space and can serve as a decorative shelf when not used for its intended purpose.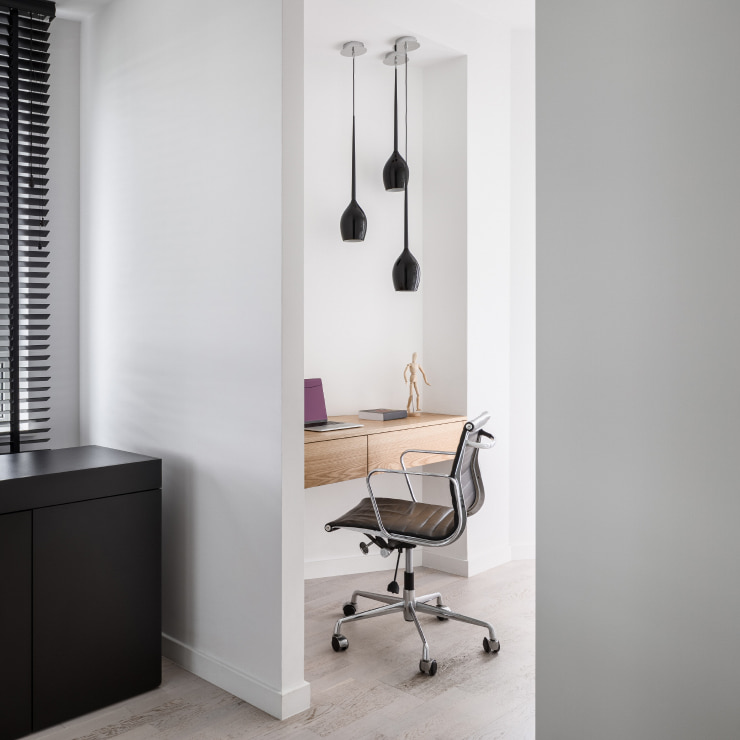 Stair Drawers
Stairs might not be among the most obvious space-saving furniture options; however, there are at least a couple of ways in which stairs can be used for storage. Firstly, storage can be hidden under the stairs, fitting the whole wardrobe inside. A second benefit would be stair drawers, which can be used as a means of storing shoes or other items, depending on the room and necessity.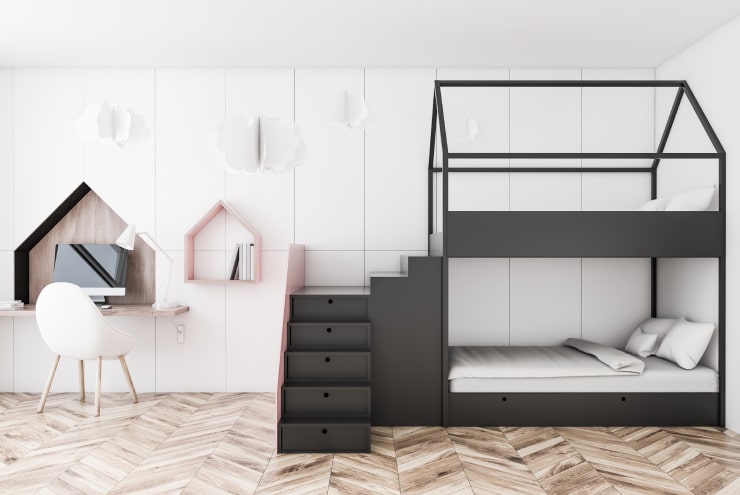 Coffee Table and Ottoman Chair
Besides a small retractable sofa that you can put in a living room for the sake of space efficiency, a coffee table with a hidden or an open storage can be a worthy investment. A cozy ottoman is an integral element of a modern living room, while some of its variations can also fit a few warm blankets inside.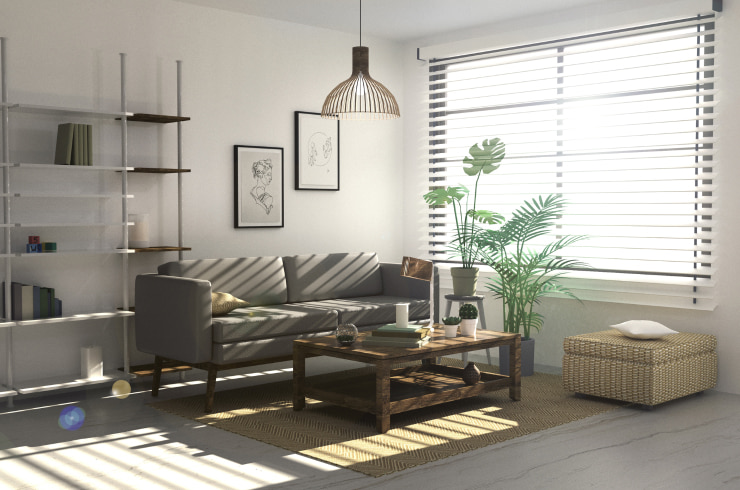 Wall-Mounted Dining Table
When designing a small kitchen, we normally do not want to eliminate any of the handy appliances that make up a formidable percentage of our daily comfort. So, an ordinary wall-mounted table is a smart and convenient solution, especially when accompanied by kitchen stools that can be tucked under the dining table to save even more space.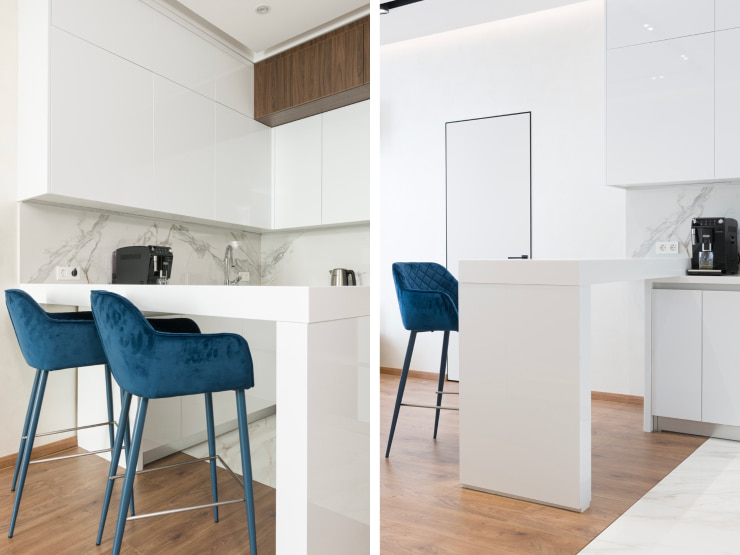 Extendable and Folding Tables
There are other clever dining and study table types, including extendable and folding items. An extendable table increases its size by means of an extra retractable part positioned in the middle. A folding table can be collapsed in half, making it more portable and space efficient. Some of the available options can even fold into the wall, leaving the space completely unoccupied when the table is not being used.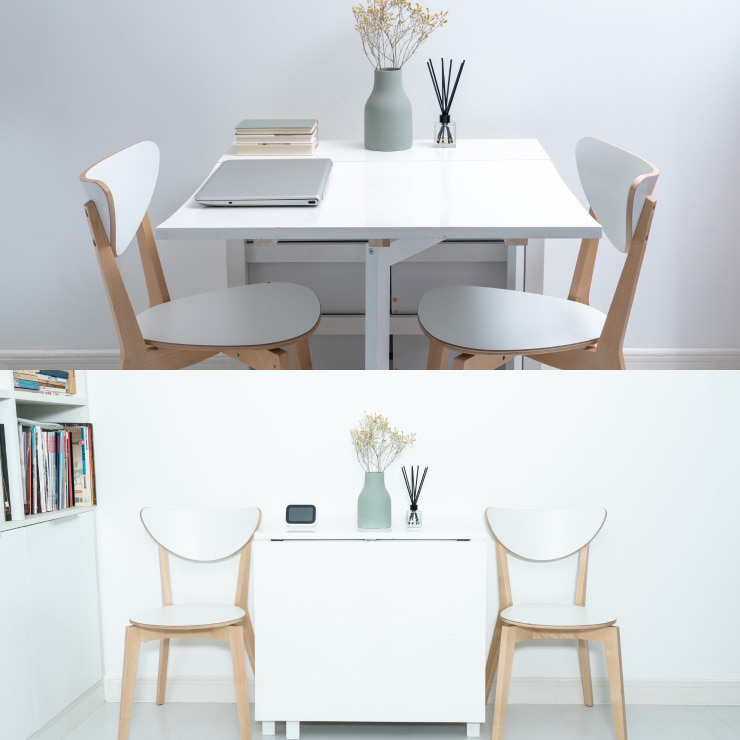 Over-the-Toilet Shelf
As a design solution, traditional cupboards and shelves over the toilet do seem a little bit old-fashioned and bulky-looking. But not their modernized versions! Stylish open shelving hanging above the toilet or a decorative ladder placed behind it can store toiletries, replacing a cabinet that takes up a lot of bathroom space.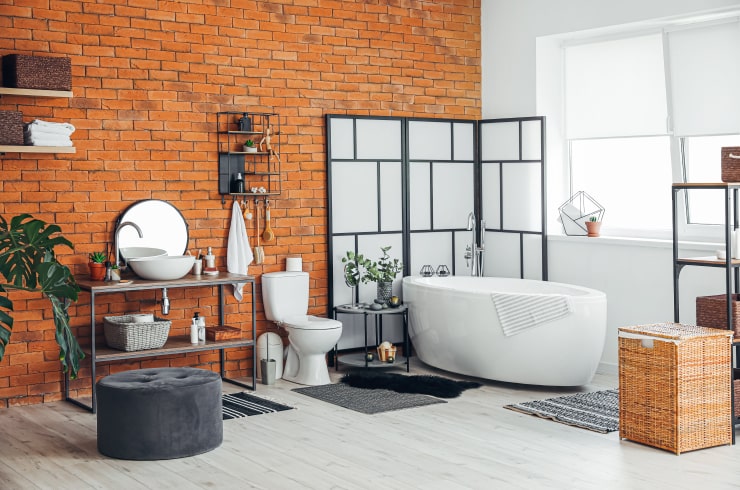 Smart Clothes Rack
Don't have space for a cupboard in the hallway of an apartment? No big deal. Opt for a clothes rack to hang outerwear and store shoes. This piece of furniture does all you need─looks fancy and saves space.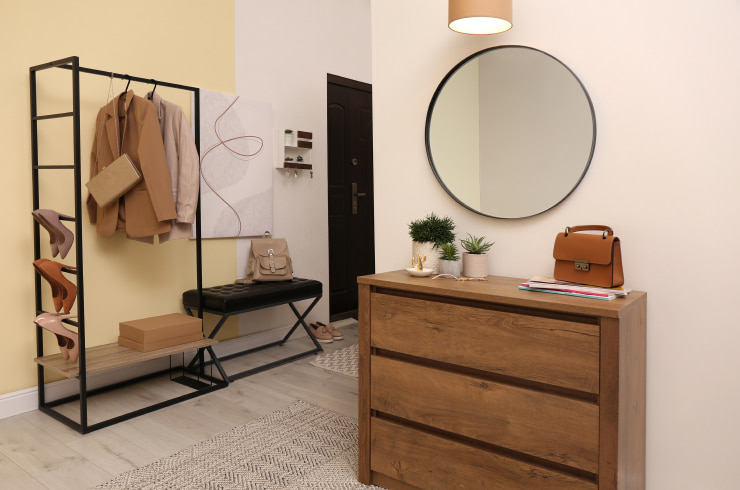 Storage Cart
The space-saving function of a storage cart lies in its multi-purpose usage and portability. It can switch between functioning as a bedside table, a bookshelf in the study or an office zone of the room, storage for bath products, etc. Effortlessly moving it around the apartment will allow you to find the best position and purpose for the cart at any particular moment.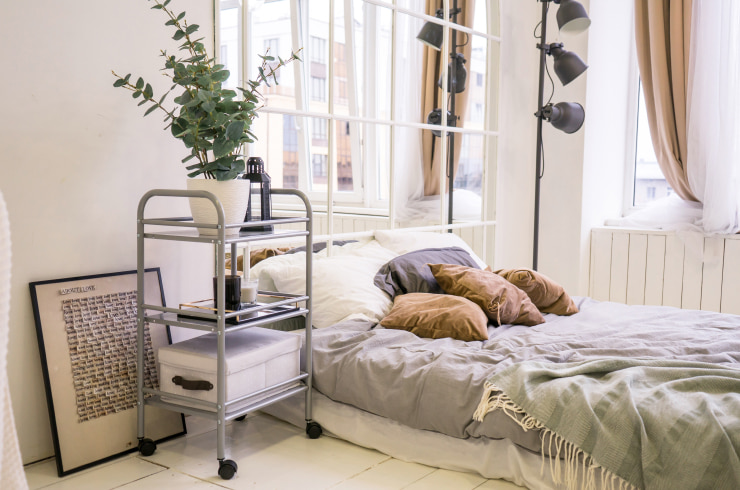 Space-Saving Furniture in Live Home 3D
Live Home 3D offers a plethora of smart and compact furniture options for small rooms and apartments, including kitchen sets, cupboards, dressers, sofas, dining tables and more. Draw inspiration from the free sample layouts of tiny apartments and use the space-efficient furniture for your own designs.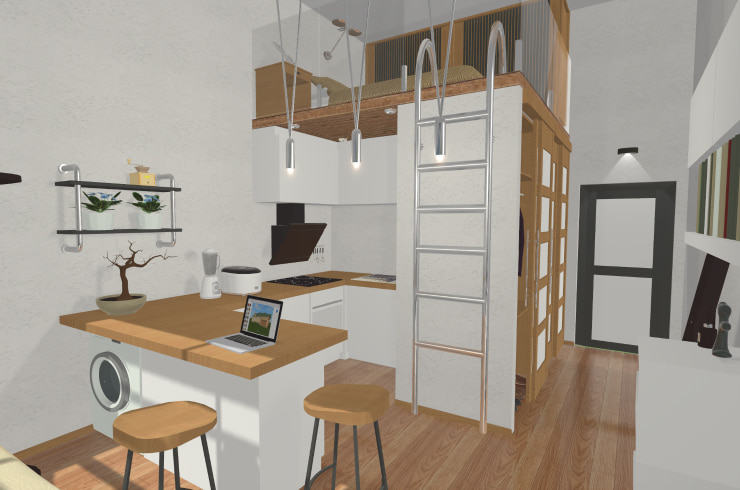 Learn More About Live Home 3D for:
Revised: May 2023