Lagom and Hygge
Before we jump right into all of the details of the Nordic style, let's take a quick moment to explore something that we call the conceptual background for Scandinavian-inspired interior designs—lagom and hygge.
Lagom is a Swedish philosophy of harmony and moderation. An alternative to the extremes of consumerism, it embraces just enough things that you need in life.
Hygge is a Danish and Norwegian concept that represents "a mood of coziness and comfortable conviviality with feelings of wellness and contentment."
Both of these concepts can be applied to all aspects of a person's lifestyle, and they are reflected in the interior design: lagom epitomizes minimalism and functionality, while hygge stands for a cozy vibe.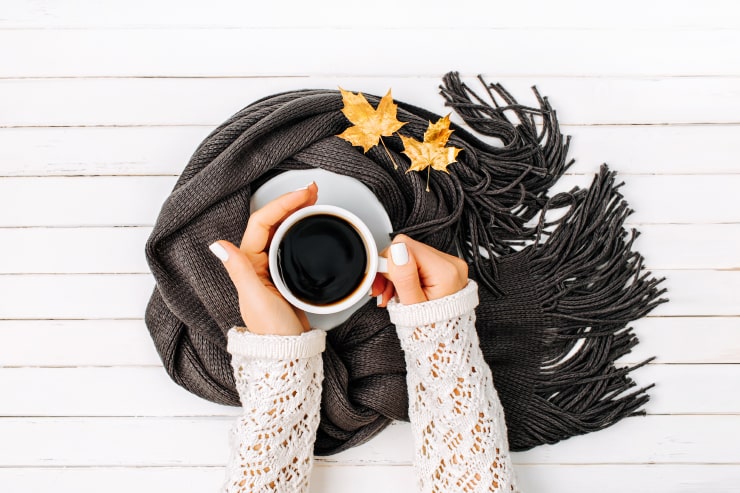 Friendship Ended With Сlutter, Now Utility Is Your Best Friend
To start a Scandi transformation for your home, don't rush to paint the walls in a typical Scandi color palette or buy some new furniture. Start with a simple, yet essential, step: decluttering. The new style of your home has to embody spaciousness and functionality that is definitely prioritized over decoration.
Now, of course, that doesn't mean that you must immediately discard all the cherished little things on your shelves. But, some of the "I have no idea where to put it" stuff really needs to find a place of their own, preferably in a closet or the attic. Remember, Scandinavian interior style is all about simplicity and utility. Find inspiration in the "less is more" philosophy, and strive to get rid of visual clutter.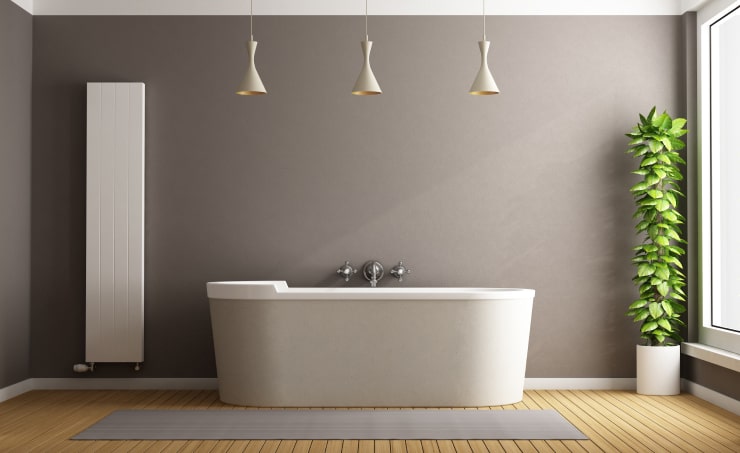 Understanding the Importance of Light
Another key feature of Scandinavian design style is the significance it grants to lighting, especially natural light. Large windows with minimal window treatment help to maximize natural light. Skylights undoubtedly will be relevant for the Scandi-styled home. You can let in the light by using mirrors and reflective surfaces.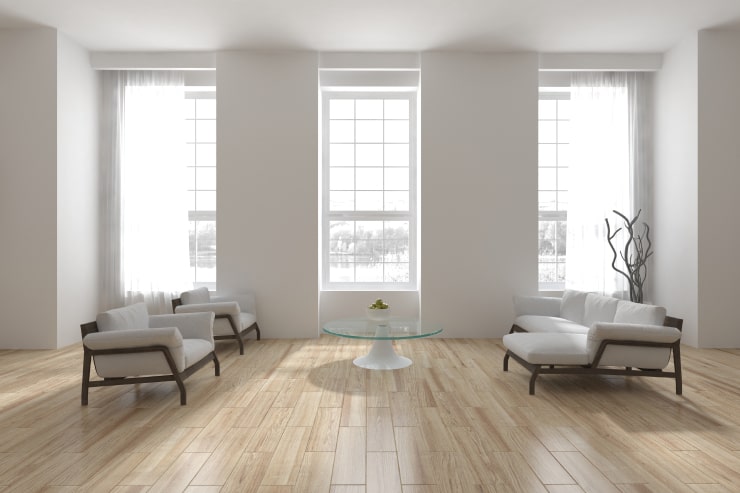 As for artificial lighting, this is where modern and traditional trends come together to create a unique and original flair. You can combine candles with layered artificial lighting or resort to the simple elegance of paper pendant lights or linen lamps. Made with natural materials, these statement lighting pieces will be a great choice for a Scandinavian-inspired kitchen. This kitchen, created in Live Home 3D, serves as a great example of minimalism combined with functionality.
Picking the Right Colors
A typical Scandi color scheme doesn't involve much color. Stick with light, muted colors of white, gray, pale green, navy blue and soft pink, intertwined with small bursts of color such as mustard yellow, verdant green and bold blue. Splashes of colors in decorative elements, like pillows and rugs, will add contrast to the neutral palette prevailing in wall finishings and furniture. Combining muted tones and light hues with natural wood is a must. Plain, blond wood flooring is a trademark of Scandinavian interior design.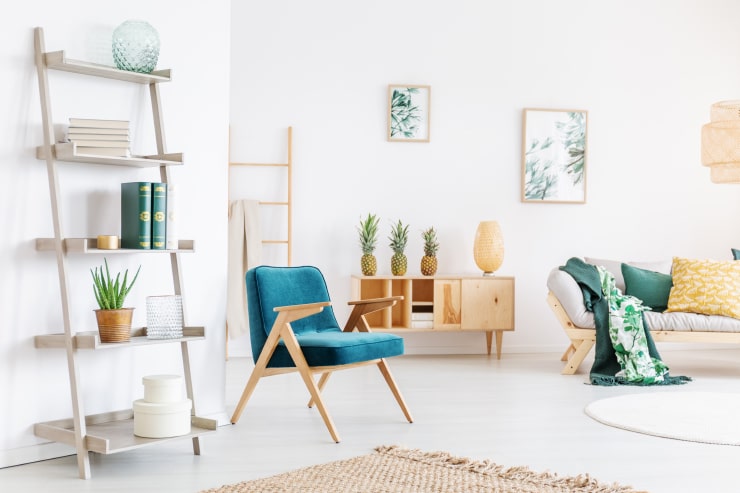 Choosing Honest Materials
Alongside the minimalist tendencies, Nordic interior design is equally characterized by its appreciation of nature, eco-friendliness and use of honest and sustainable materials. No wonder wood is considered to be the primary building and decorative material for this style. Wooden (preferably light) floors are usually placed in all rooms, apart from the bathrooms. Herringbone parquet is a frequent alternative found in Scandinavian homes.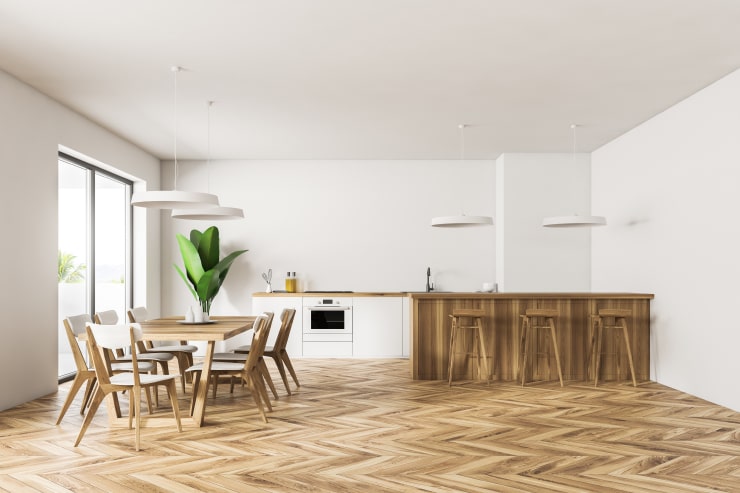 Love for solid woods has no limits in Scandi style, making its way from floor covering to wall paneling. But, if that amount of wood seems a bit overpowering for you, consider a combination of exposed brick for walls and light, untreated wood for flooring.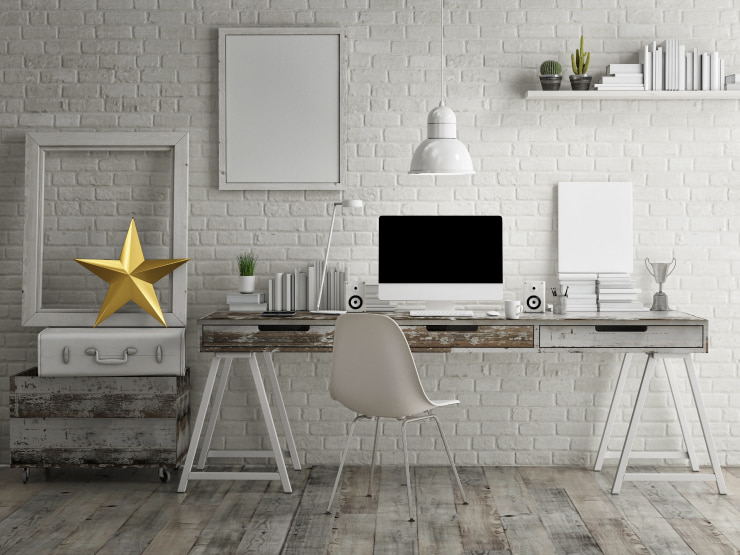 Raw textures are prevalent in textile. Worn leather would be a great choice for particular furniture elements, like leather small sofas, chairs or ottoman poufs.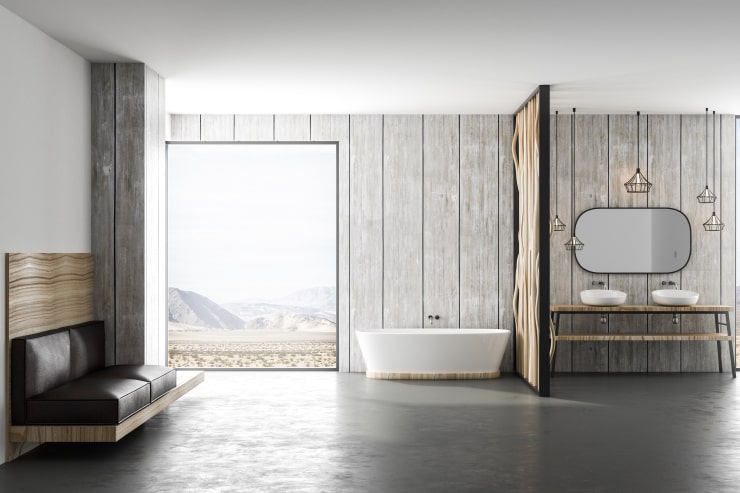 Adding Cozy Textiles
The aforementioned descriptions of Scandinavian interior design might seem quite ascetic, so it's high time to add a cozy flair to our homes. Even though you won't be able to put a large wall-to-wall carpet in the living room or, frankly, in any room (that will ruin the look completely!), a fluffy rug is definitely appropriate. Sheepskins or even pelts are a common choice for complementing wood flooring. Blankets made of warm and cozy natural textiles, such as wool or mohair, help to attain the hygge atmosphere.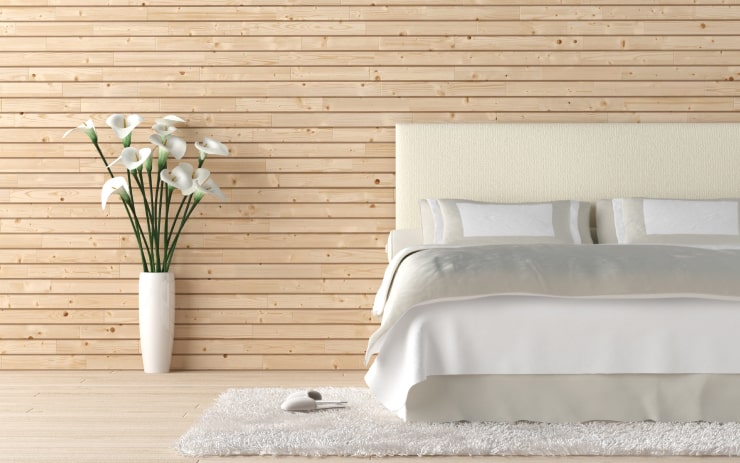 Also, when hunting for soft decorative pillows and fluffy rugs, look for those with a simple pattern: geometric and floral ones are a suitable choice.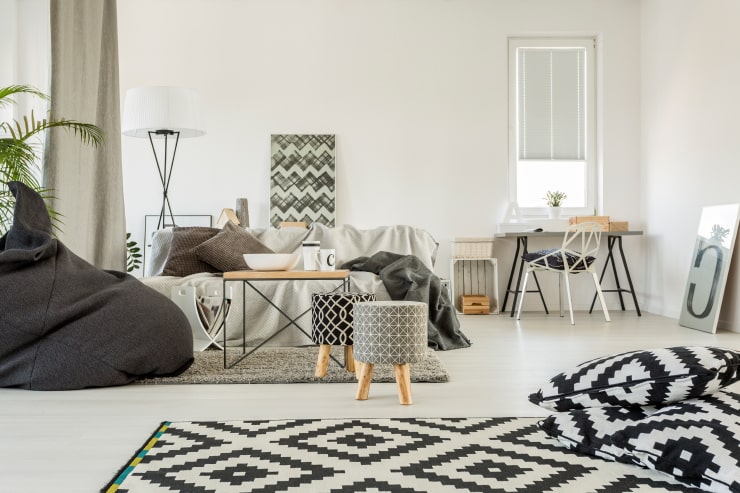 We've Finally Reached the Furniture Part
Finding the right furniture for your Scandinavian home doesn't seem to be a problem thanks to the variety of items and their accessibility in some world-famous stores. But, what exactly should we look for? Well, mid-century modern furniture is the most common for Nordic-style interior designs due to its clean lines and minimalistic vibe. The color scheme leans towards gray—a simple yet sophisticated choice.
Among the statement furniture pieces of Scandi-style, we find layered bedding, plank-style floating shelves, lots of open shelves and free-standing hangers. This storage element serves as both a functional object and a decorative element. In fact, double-duty furniture and accessories is another key feature of Scandinavian interiors.
What About Decor?
Even though a Scandinavian setting implies minimalistic decor and adornment, it is wrong to suggest that some elements of modern decor would be inappropriate. One of the most common decorative elements found in Nordic-style homes is monochromatic artwork, such as a nature-inspired one. Of course, you can make use of colorful art as well; Scandi style loves colorful art in multiples.
The prevalence of craftsmanship and handmade items in home decor highlights the longing for simple accents. Both elegant and functional, ceramics and glass vessels are favorite decorative elements in a Scandi home.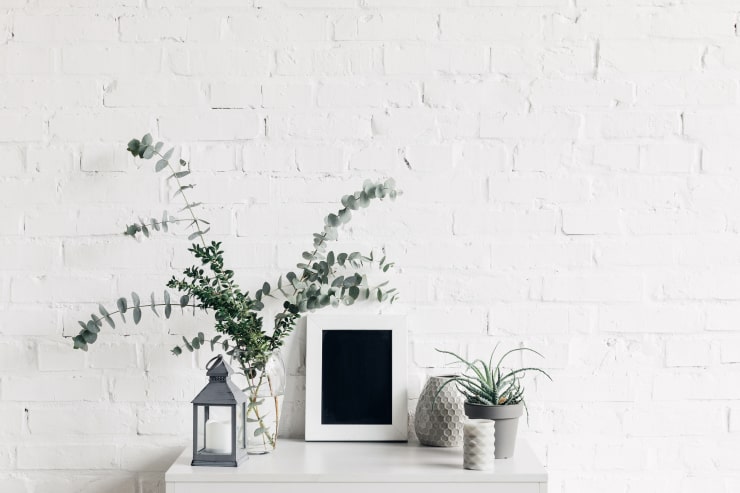 Of course, the choice of decor is all yours, but you can mix different decorative styles. Just don't forget the main principle: Scandinavian aesthetics requires the right amount of furniture and decor─no more, no less.
Finding Love for Greenery
So, we've already designed our Scandi-style homes with eco-friendly materials and natural textiles, but we are not done manifesting our love for nature. While decorating your house or apartment in a Nordic-inspired way, one cannot forget about plants─live plants, small plants, large plants, lots of plants! Finding love for greenery may be hard for some of us (who need to be constantly reminded to water them) but it is an integral element of Scandinavian interior design. Alternatively, you can use pampas grass for decor, which we promise is low maintenance.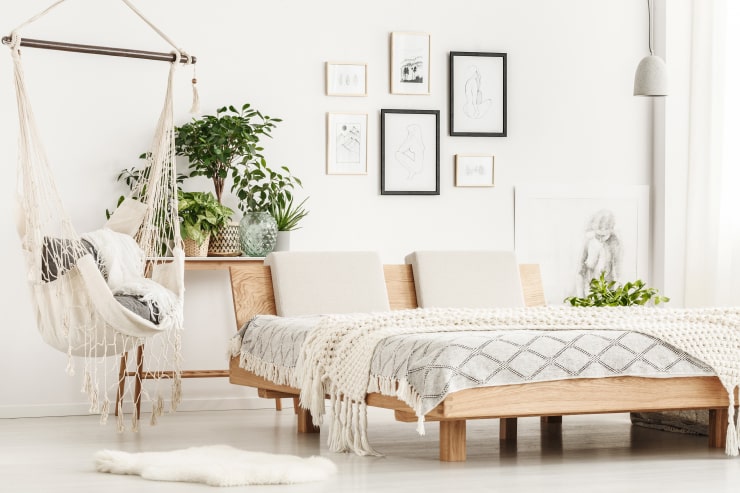 Practice With Scandinavian Interiors in Live Home 3D
So, we've covered the main points of Scandinavian interior design and setting, but there's always room for further exploration and experimentation. Regardless of whether you are ready to start a Scandi makeover project for your home right now, or you are still questioning if this interior style fits your preferences, you can always try out this interior style in Live Home 3D.
The program offers you a fine collection of Scandinavian-style furniture that you can easily obtain via an In-App purchase. Furthermore, for the connoisseurs of Scandi-style furniture, there's an option to use IKEA objects in the program. So, why wait? Give it a try!
Learn More About Live Home 3D for:
Revised: May 2023