Swap the Color
One of the best ways of changing the look of your interior with minor adjustments is swapping the color of the decorative elements. Change the tones of your throw pillows and blanket and add some small matching accent pieces like vases, flowers, flower pots, ottomans, etc.
How to Choose a Color?
We recommend swapping the accents in tune with the season, i.e., using dark and warm colors for autumn and winter and bright colors for summer and spring. But, of course, you can choose any color you find appealing or keep up with the latest trends with "Very Peri," which was named the color of the year in 2022 by Pantone.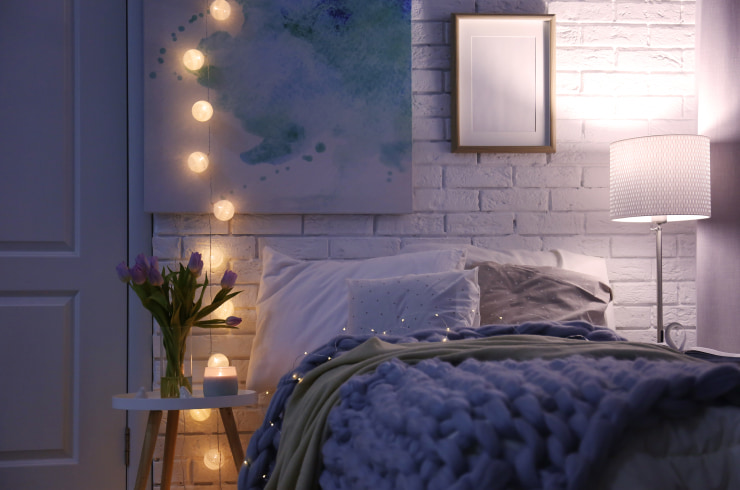 What Else Is Trendy?
Biophilic design is leading the way to be one of the most popular styles in modern interior designs. Opting for natural hues, such as blue, green and brown would be another good color choice for your home decor. It is both relevant and timeless due to its soothing nature in contrast to artificial tones.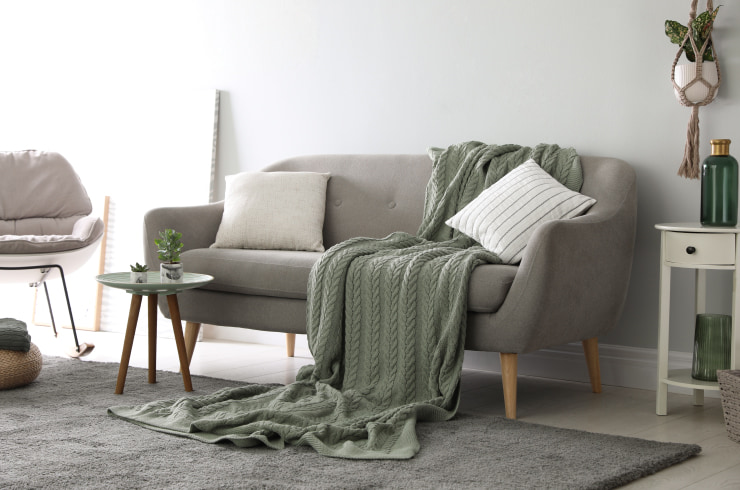 Add Lighting
There are three types of lighting that you can have in the room: ambient lighting to provide overall illumination; task lighting to serve as an additional light source where it is needed (e.g., bedside lamp, lights over the kitchen island, etc.); and, finally, accent lighting that serves mainly decorative purposes.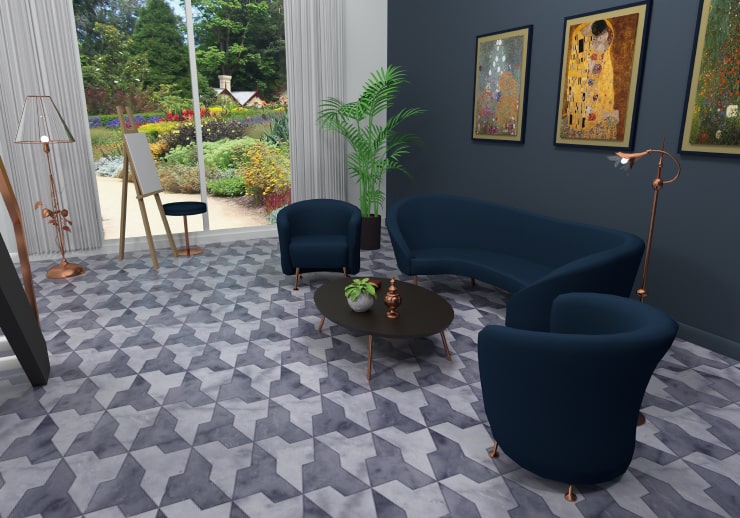 Metallics for Elegance
Add some statement lighting pieces with new sophisticated floor/table lamps or chandeliers. Think about a piece that is not completely contrasted with the interior's style, but draws attention with an unorthodox shape or material. Bronze and rose-gold metallics have been popular materials for a lighting source for a while now, and it seems that this trend is not about to disappear soon. These and other metallic materials, like steel, silver, gold, etc., are available in the material library of Live Home 3D. Simply download the free app and find the best way to introduce these materials in your home decor.
Learn More About Live Home 3D for:
Going Bold With Neon
If you are searching for a more casual look rather than an elegant one, consider installing neon lights. There are many ways in which you can implement neon lighting in your design: install it under the furniture units or behind the mirror in the bathroom, put a neon light on the ceiling of your hallway, or create an accent wall by placing the neon sign on it—any of these options will stand out in your home interior.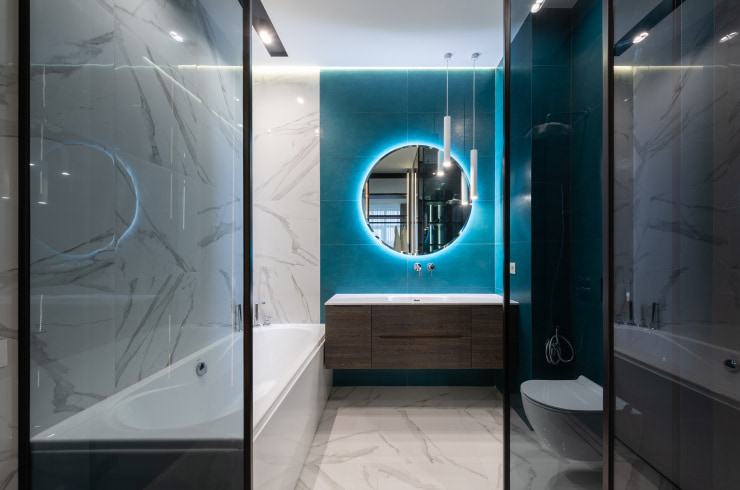 Cozy and Simple
Candles may be the easiest way to add decorative lighting, but they are also one of the most popular. The large variety of different designs and scents will help you find the perfect set of candles for your interior, which will contribute not only to your home's aesthetic but to relaxation and the pleasant scents filling your room or apartment. We suggest choosing the soy wax candles—they are environmentally friendly, safe and last longer.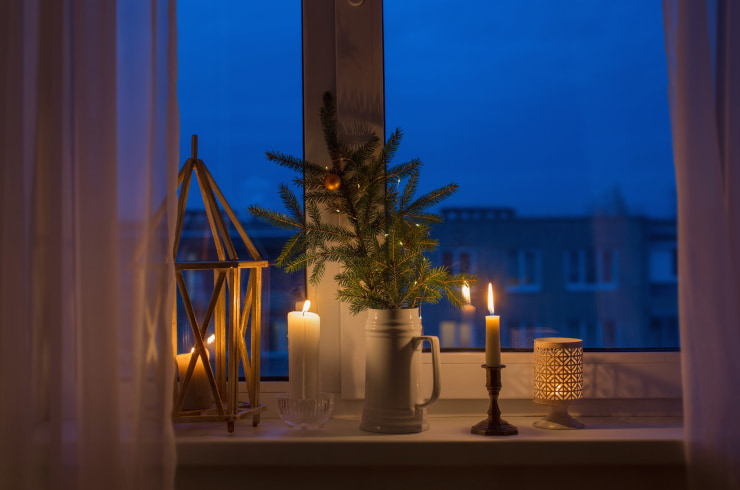 Adorn the Walls
Despite the strong temptation to hang something on the wall when you first think about decorating your home, choose this type of decor wisely. Let's consider a few ways of creating an accent wall with decor.
Hanging Artwork
Although this type of decor is widely known and applied, we suggest paying attention to the smart placement of your wall decorations. First, think about the scale—it is better to hang wall decor on a large wall, choosing one big piece of art or a group of smaller items that are placed close to each other (2 to 4 inches between items is ideal). When hanging a large picture on the wall, avoid placing it too high; the middle of the picture should be at eye level.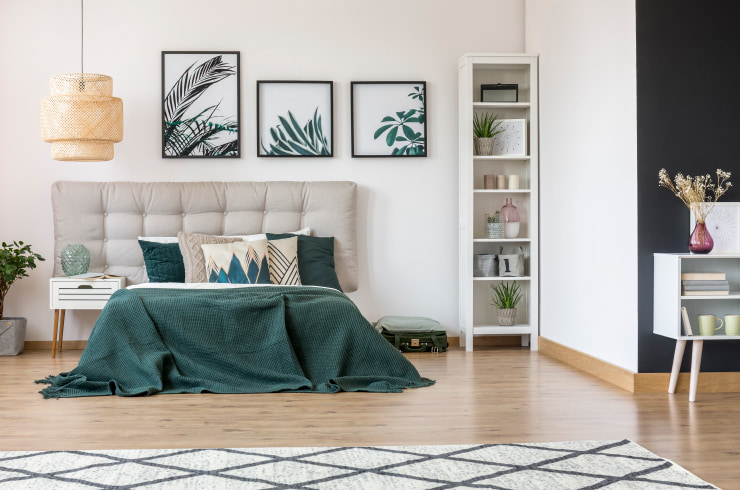 Unconventional option: macramé wall art for decor. In particular, this type of wall art will fit perfectly into Scandinavian, boho, wabi-sabi and other similar interior design styles.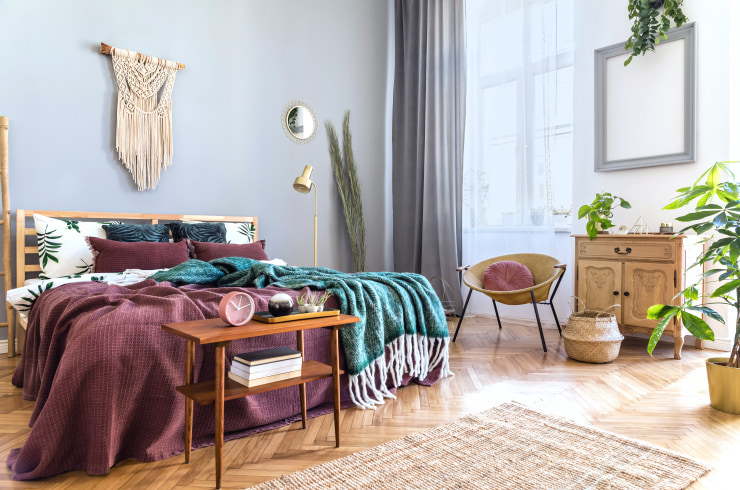 Accent Wallpaper
Using wallpaper to accent a wall is a great way to refine the interior when you want to introduce a new focal point or complement the existing one. Removable wall murals will allow you to easily reposition the wallpaper, if needed, or change the accent piece completely with another one when you feel like it's time to update your interior again.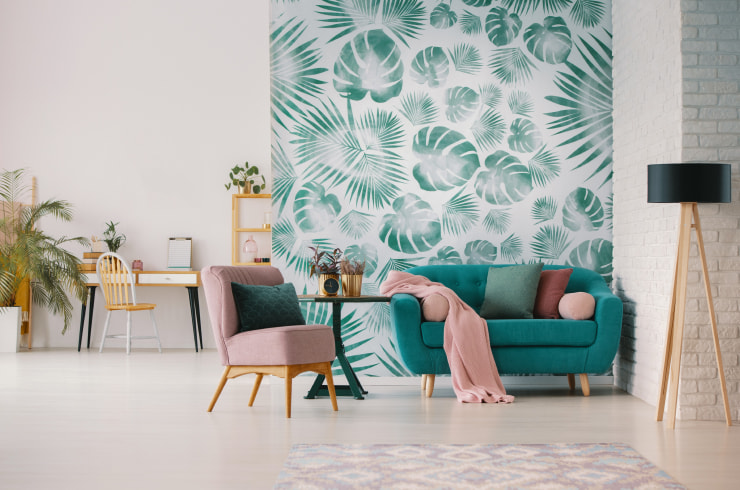 Mirrors
Just like lighting items, mirrors are multifunctional. In addition to serving as decorative pieces, they will visually enlarge the space. A multitude of styles and sizes makes it easy to experiment with mirrors to add unique character to your home interior.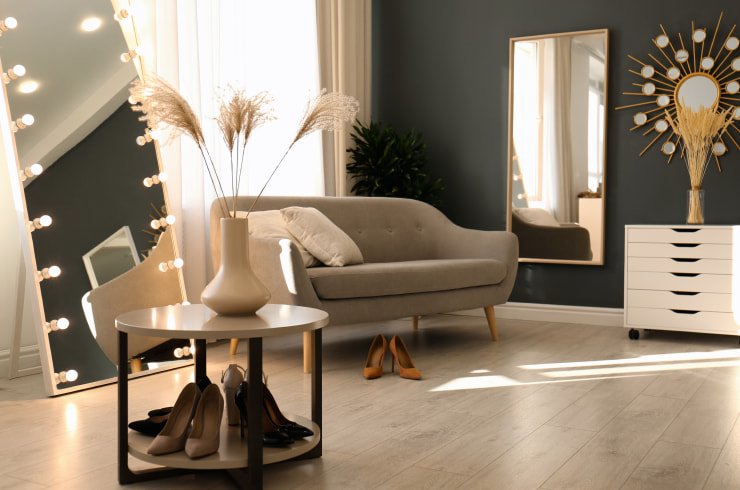 Bring In New Items
Some simple elements of decor can make significant changes in how your home interior is perceived. Every design style can be spruced up with matching decorative pieces, but we will focus on some of those items that manage to blend in almost any interior and beautify your home.
Sheepskins
If you feel like your interior lacks texture, get sheepskin throws for home decor. Not only will this affordable solution make the space look more aesthetically pleasing, but it also brings warmth and coziness to any corner of your home.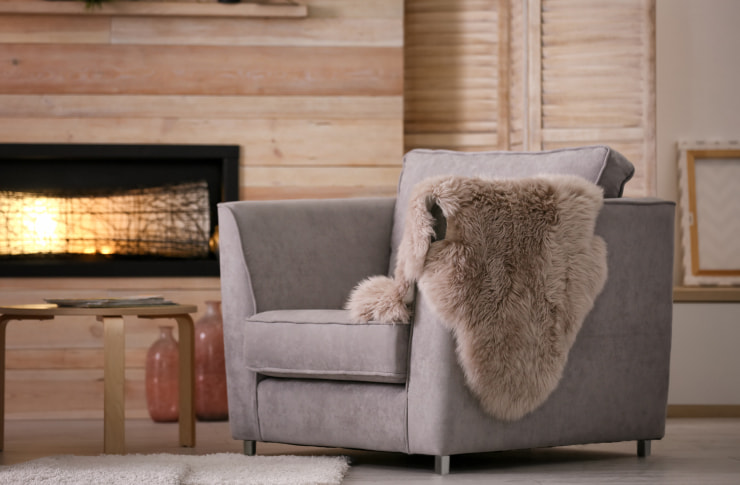 Cacti
"Green" trends currently abound with succulents, but we recommend paying attention to cacti in particular. These low-maintenance plants have evolved from the boring office type of greenery into a suitable addition to lavish living rooms. In fact, cacti possess the amazing ability to fit perfectly into any interior. They will add character to both minimalist and vivid home designs, dilute the neutral color scheme of an interior and bring the essential green touch to any decor.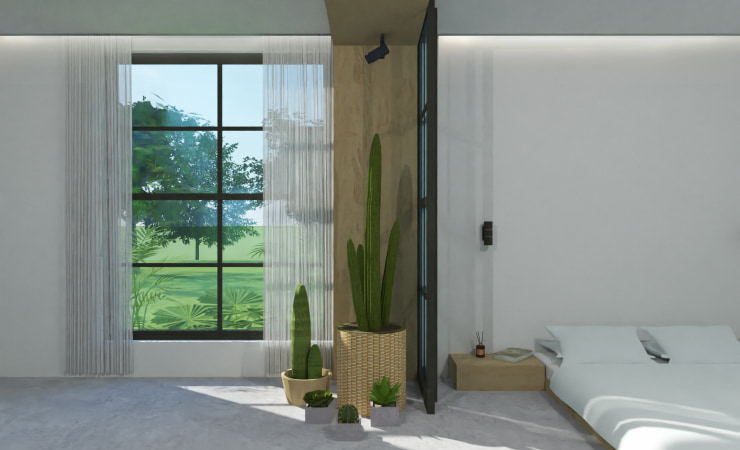 Work With Existing Items
The most simple and efficient method of home decoration is working with an existing functional piece of your interior. We have collected some examples of how it can be done, but the method itself opens the gate for endless creativity.
Move the Furniture
Check your furniture for common placement mistakes. Is all the furniture pushed against the walls? The common misconception is that such positioning makes the room feel larger, while, in reality, moving the furniture away from the walls or in the center of the room creates an illusion of a bigger space.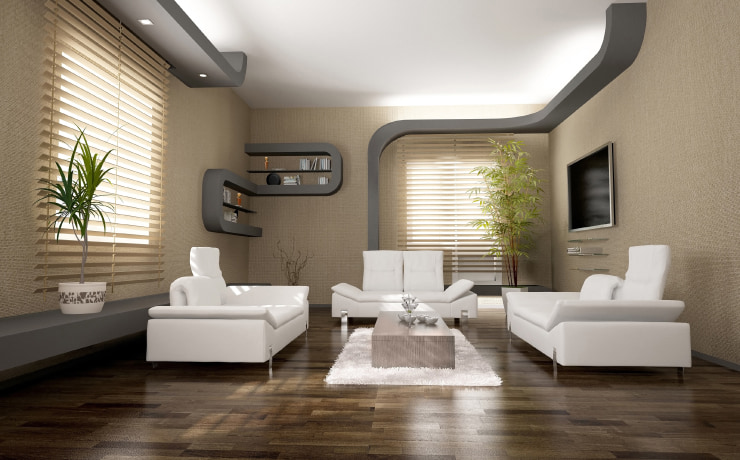 An ideal sitting area in a living room is either of a U shape type (when a sofa and two chairs face each other at each end of the coffee table) or an H shape (a sofa is placed directly across from two chairs with a coffee table in the middle). To create a sense of space in a small living room, group furniture close together, keeping the walkways open.
Style a Bookshelf
Rearrange the items on your bookshelf, putting some books horizontally and some vertically. Another option is color-coordinating your books—it will make them look more cohesive. Add candles, vases, sculptures or other fancy collectables you'd like to put on display.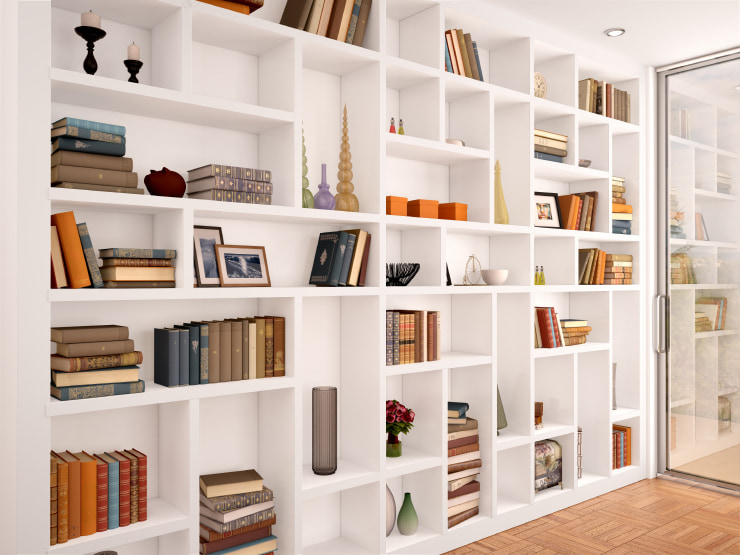 Arrange a Garment Rack
A functional piece of furniture like a garment rack can easily be turned into an attention-drawing item and a focal point of a room, if you bring a sense of order into it. Organize the clothes by length, color and style, and you will see how it can make the entire space feel nice and refined.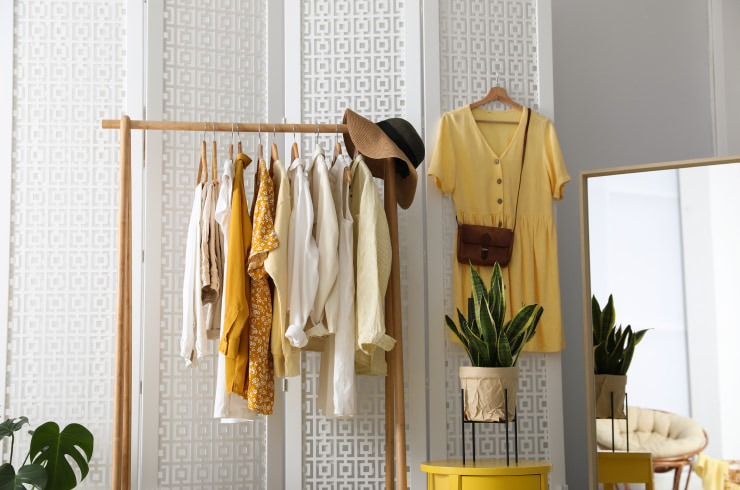 Published: January 2022