Useful Tips on Small Bedroom Design
Get Shower + Bath Combo
If you cannot make up your mind on whether to choose a shower or a bathtub for a small bathroom, you can have both! Such a combination is a practical and space-saving option that will satisfy all needs.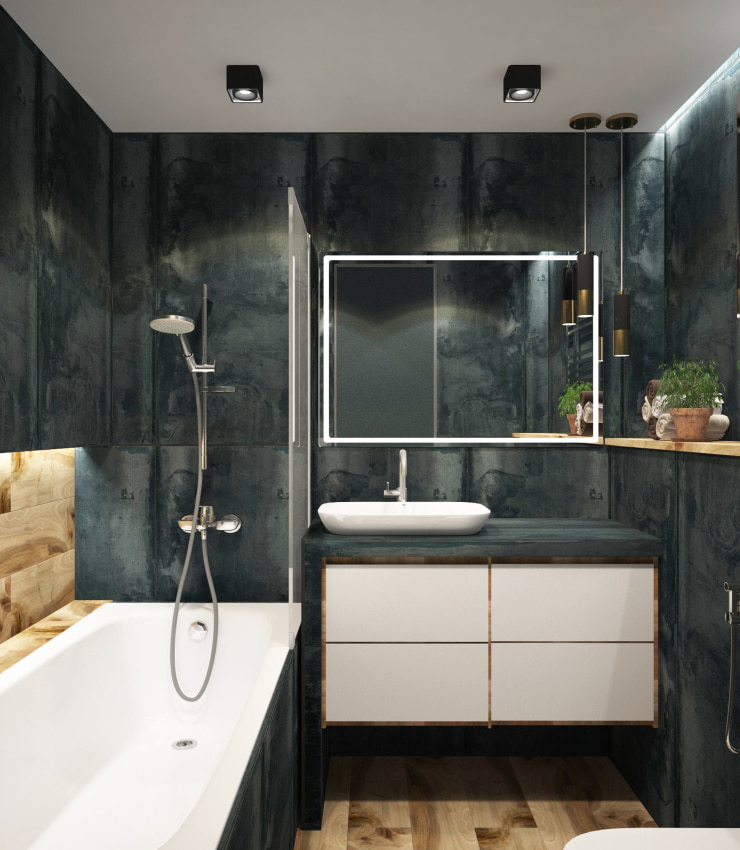 Give Preference to Built-in Storage
A bathroom vanity can be substituted or complemented by built-in options like wall niches and fake shelves. A shower niche, for example, or fake shelving running along the bathtub, will allow you to have all the bath products close at hand without cluttering the limited space.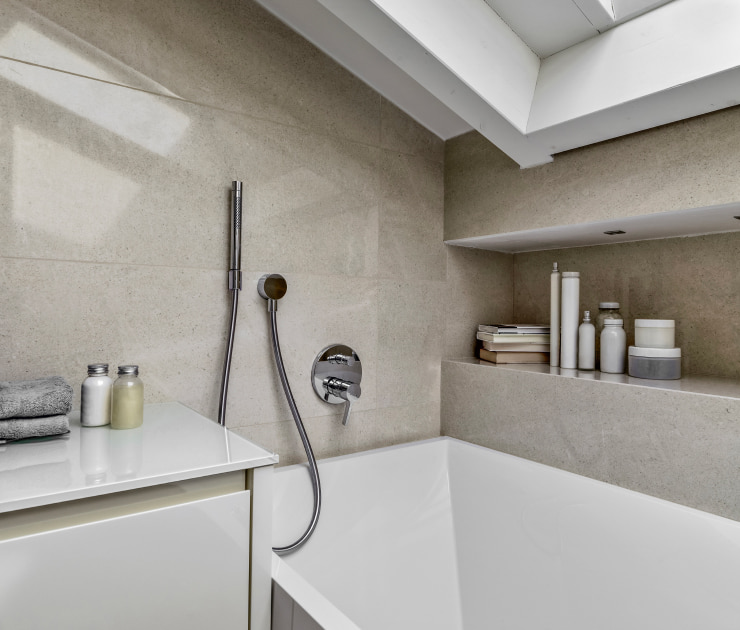 Add Storage Behind the Mirror
Medicine cabinets might not be as popular nowadays as they used to be, but it's about time to bring them back into fashion. A hidden storage area behind the mirror is a great clutter-preventing solution for a small bathroom.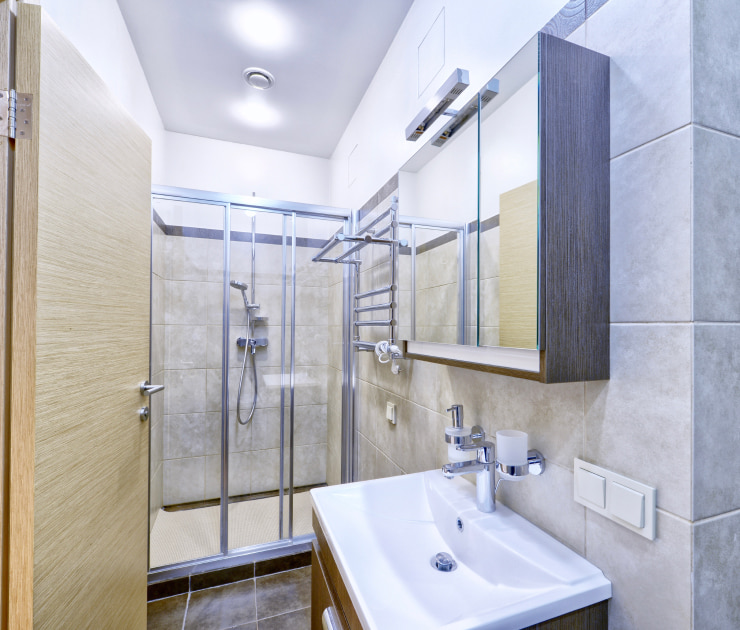 Choose a Sink With a Large Surface Area
This type of sink will provide enough space for the bath products you need to keep at hand and decorative items you want to display.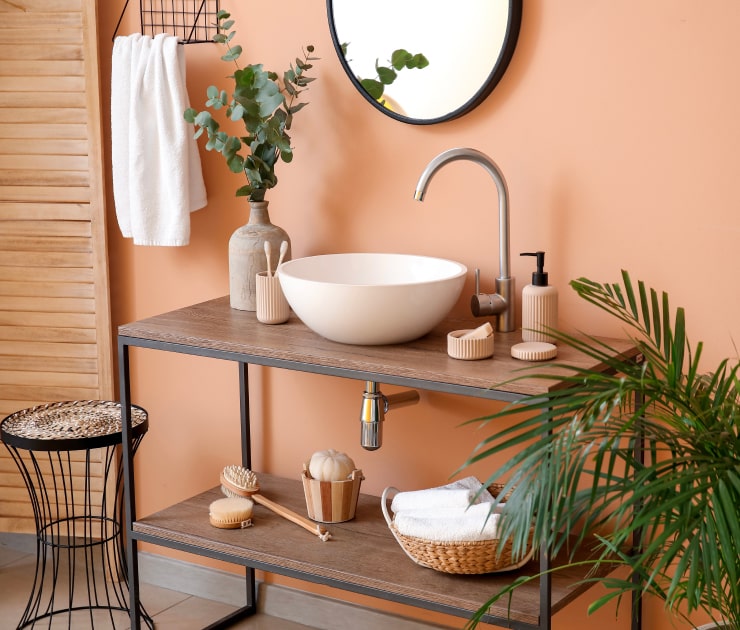 Install Floor to Ceiling Cabinets
Long and relatively narrow cabinets stretching from the floor to the ceiling visually add height to the room and serve a practical function of a large storage unit that will fit perfectly into a small bathroom.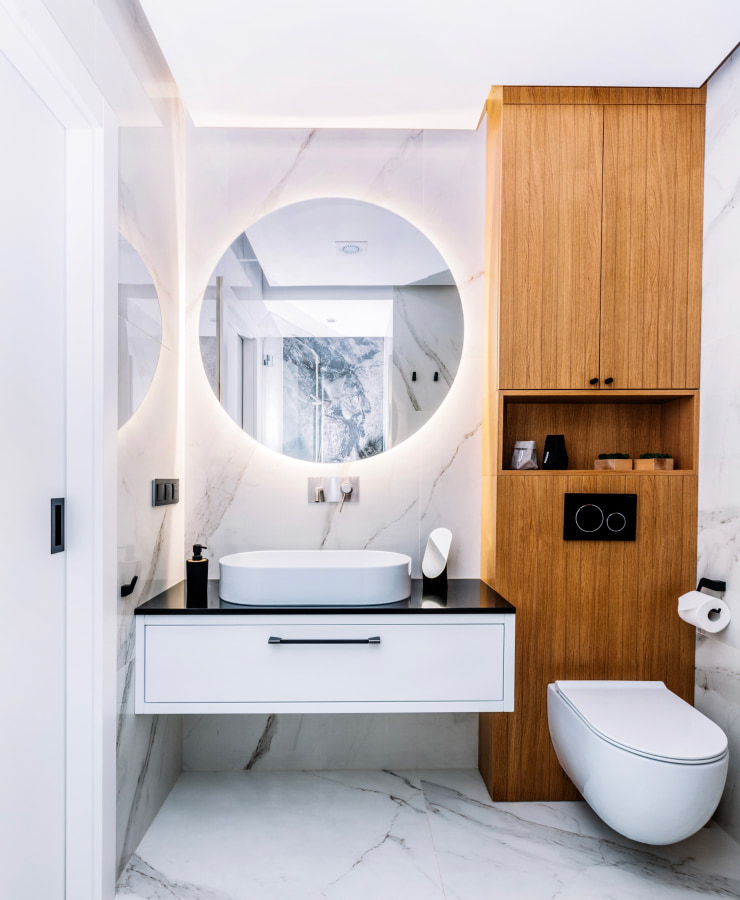 Choose a Floating Vanity
Mounted vanity and wall-hung toilets are often seen in the most trendy and sophisticated bathroom designs. The main advantage of the floating vanity over the traditional freestanding pieces is that it makes the room feel more airy by not taking up precious floor space.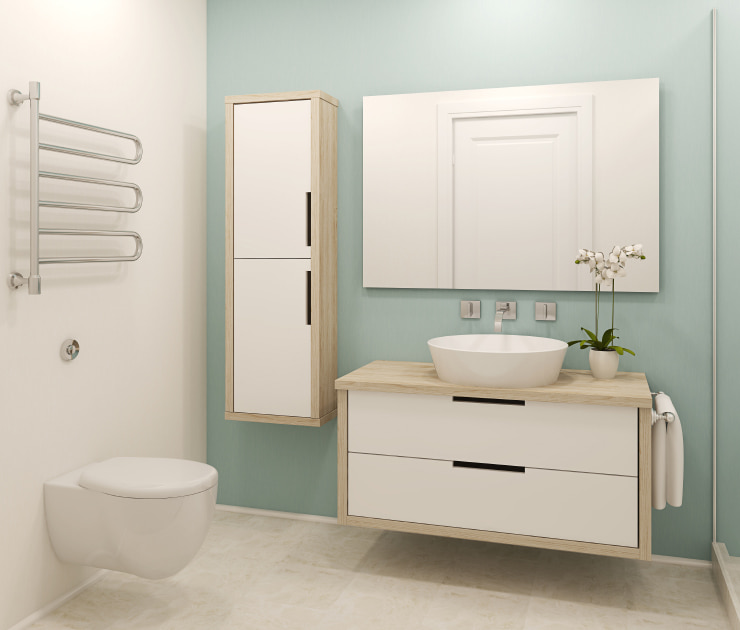 How to Choose a Color for a Small Bathroom
One of the first things that raises hesitation when considering a design for a tiny bathroom is choosing a proper color for the walls. In actuality, no color is inherently unsuitable for a smaller space, but the amount and type of lighting in the room should be taken into account.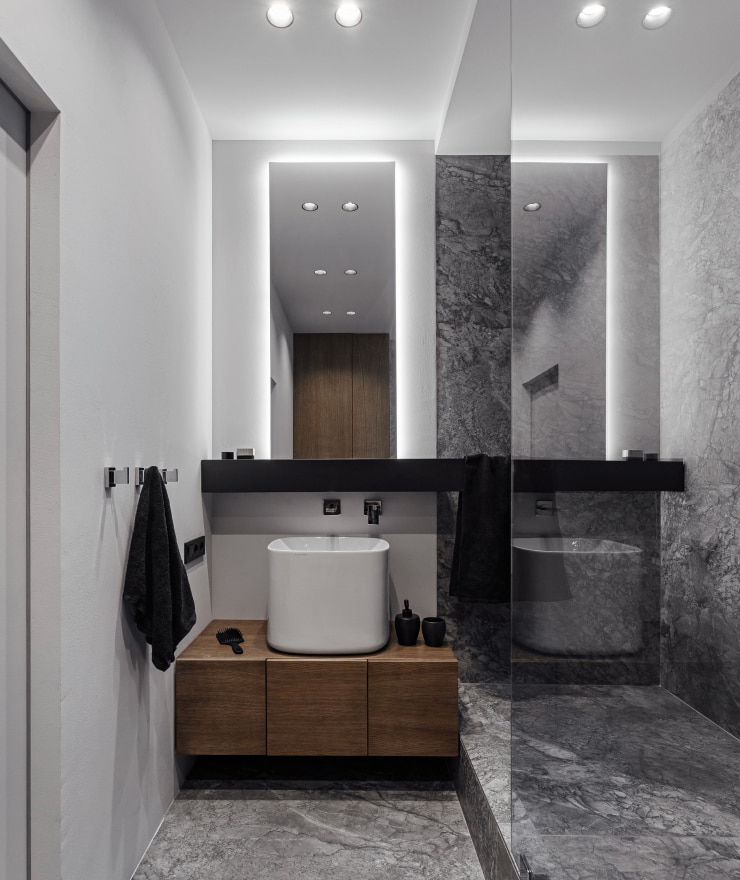 If your bathroom has enough natural and artificial lighting, you are safe with choosing dark colors for the walls. Poorly lit bathrooms, on the other hand, rely on lighter tones to visually enlarge the space, or you can make use of light-reflecting paints and warm undertones.
Playing with contrast by combining dark and light colors can become the middle ground for those who don't have enough lighting in the bathroom but feel that an all-white design can make the space look plain and lack character.
Emphasizing a Color
Painting all walls in bright and striking colors like pink, blue or yellow inevitably draws attention. But, even though those colors can brighten up a small space, such an abundance of color can be overwhelming. To avoid unsatisfactory results while searching for an outstanding design, be sure to try out different combinations: paint certain walls or all of them, apply matte or reflective paint, set the geolocation to achieve accurate daylight─all of this can be easily done in the Live Home 3D app.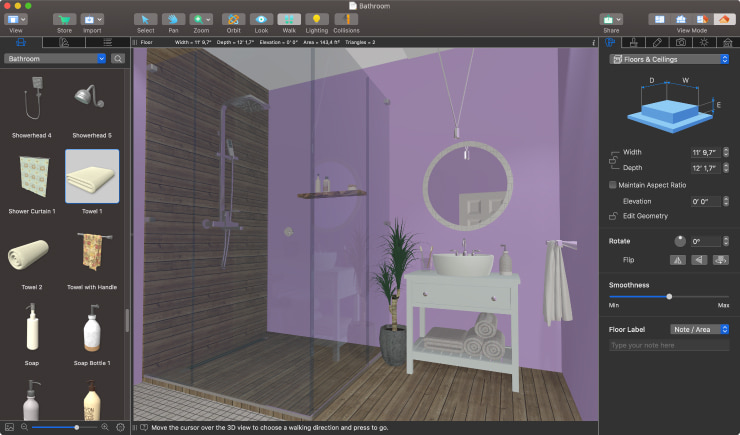 There are other creative ways of amplifying a certain color in your design. You can match your bathroom decor by color. In a tiny space, even the smallest decorative items will stand out.
Learn More About Live Home 3D for:
Space Zoning in a Small Bathroom
Space zoning might not be the easiest task in the bathroom where there isn't much space in the first place. Putting wallpaper on one wall or making a part of the wall textured (with brick or stone, for example) can help visually split an area into separate zones. Additionally, it creates the essential focal point in the room.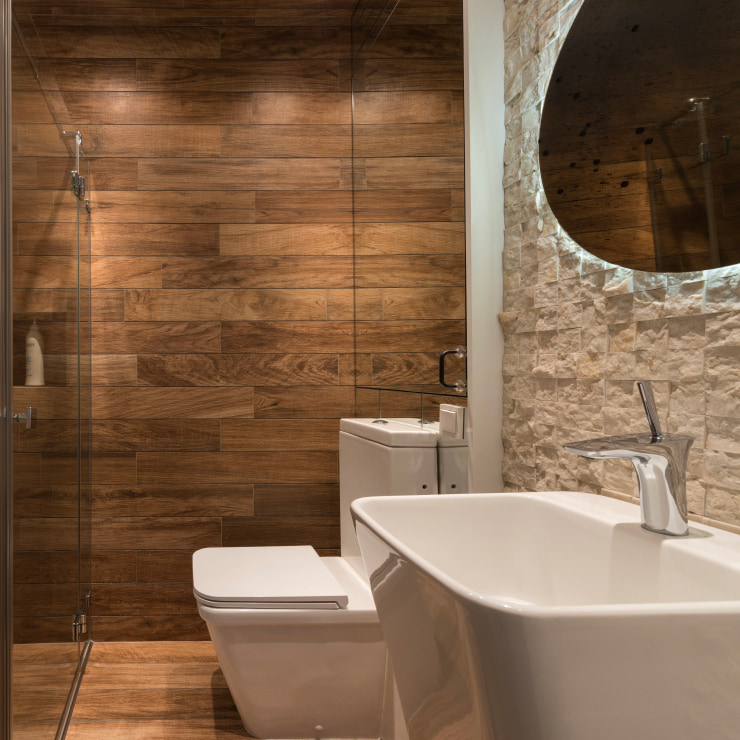 How Can You Visually Make a Small Bathroom Bigger?
Extending the floor covering into the shower area, or matching it with a tile or any other material applied on one of the walls, will make a small bathroom seem visually larger.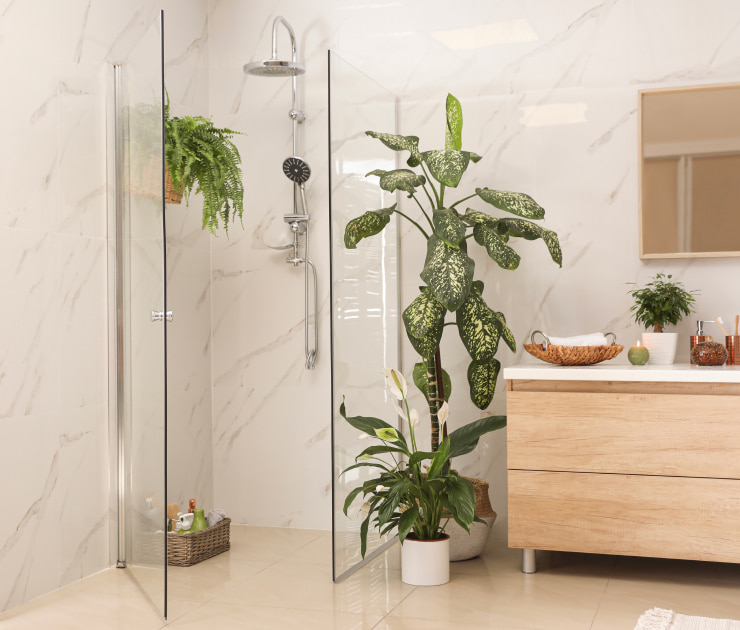 Another way of making a small bathroom seem more spacious is installing glass shower doors. Such doors are an elegant alternative to a shower curtain that is often listed as an option among small bathroom ideas. They can also be used to frame the wet room. The glass doors will keep all the water inside the wet area, preventing leaks and splashes, amplifying the feeling of spaciousness at the same time.
What You Should Avoid When Designing a Small Bathroom
Lack of Storage Options
Sure, clutter doesn't look good regardless of the bathroom size, but it will trigger the eye even more in a smaller space. Besides that, clutter can affect our mental health in a negative way. You can choose a suitable storage solution from those listed above to help you keep a tiny bathroom light and airy.
Getting the Scale Wrong
Be careful when choosing vanities and fixtures for a small bathroom. Opt for items that take up less space and won't look awkward and disproportionate in the bathroom.
Too Many Mirrors
It's no secret that mirrors help to make a room feel more spacious. However, it is better to give preference to one large piece rather than filling the bathroom with multiple mirrors. The latter can be overwhelming and may even result in increasing the feeling of anxiety for some people.
The Absence of Decor
There's no need to ignore the decor completely in a small bathroom, leaving the limited space occupied exclusively by bath products and ​​toiletries. Make sure that your bathroom has enough closed storage options to hide most of the items and put the bare minimum on display, leaving some space for eye-catching, decorative accent pieces.
Don't forget that the best way of finding the right solution for your bathroom is trying out different layouts and designs. Home design software allows you to turn a blueprint into a digital floor plan and effortlessly create a 3D project with the bathroom design that works perfectly for you.
Revised: May 2023