First Things First
A bedroom can have multiple functions as a room: not only being fit for sleep but also for dressing up, getting ready and even sometimes studying or working. So, before you start thinking about what color to paint the walls and what furniture to choose, think about the essential items for your bedroom. Are a bed and a small nightstand the only essential things in your bedroom? Or would you also like to fit a wardrobe or dresser in the room? Do you need a desk area? Depending on your personal preferences, there are different types of layouts that will allow you to use the bedroom space in the smartest way possible.
Bedroom With a King Size Bed
The main principle of this bedroom layout is bigger, but with fewer furniture. Since the main item in such a design is a bed, it has to be made the center of attention:
Consider placing your bed opposite the bedroom door so that it is the first thing you notice when you enter the room.
Putting the bed against the window is also a popular option.
Place the bed in the center of the main wall for easy access to both sides of the large bed.
Keep your bedroom plan symmetrical by putting nightstands on either side of the bed.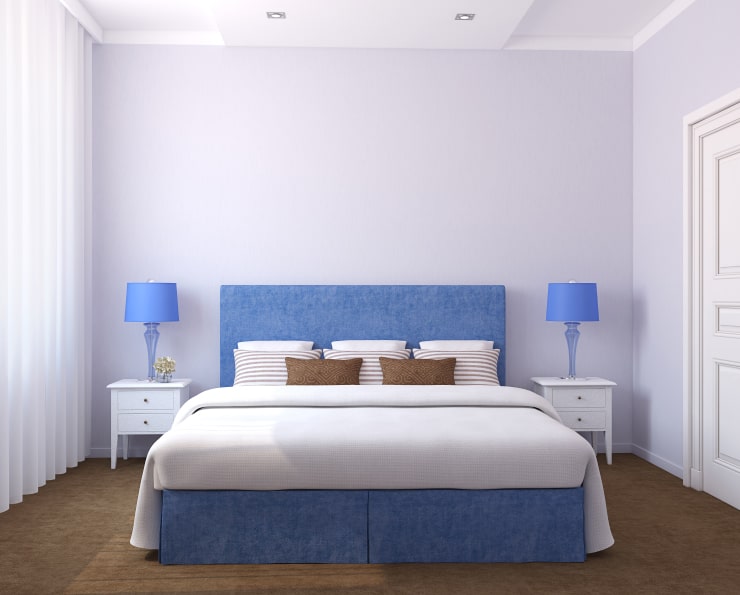 Even though this bedroom layout might lack a wardrobe or a dresser, that doesn't mean it is completely deprived of storage options. Besides a dedicated closet, you can always create storage above the bed: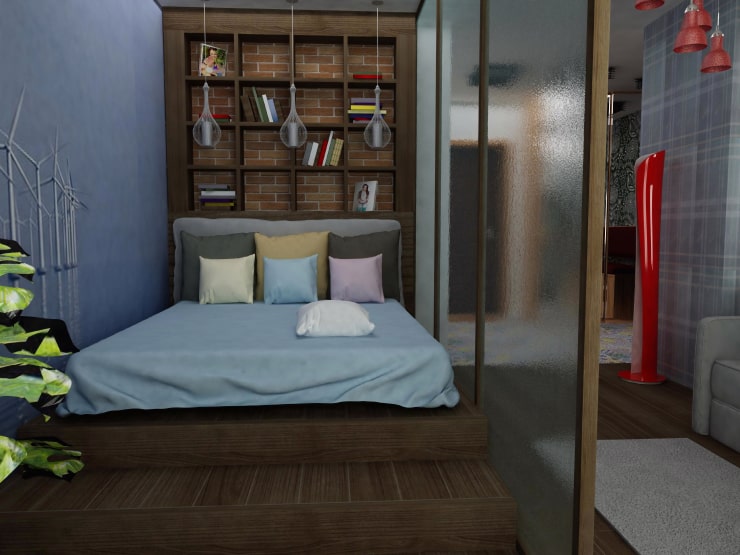 Or under the bed: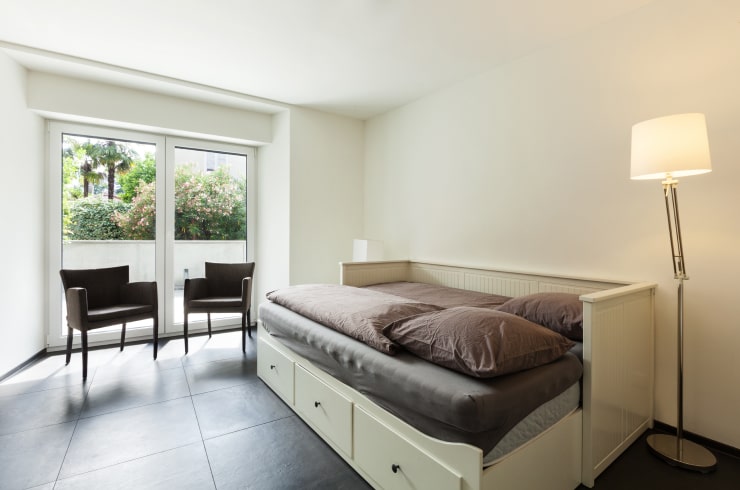 Layout With a Dresser
If you want to fit a dressing table into a small bedroom, you can opt for a smaller bed and place the dressing table with a chair or a puff in front of it.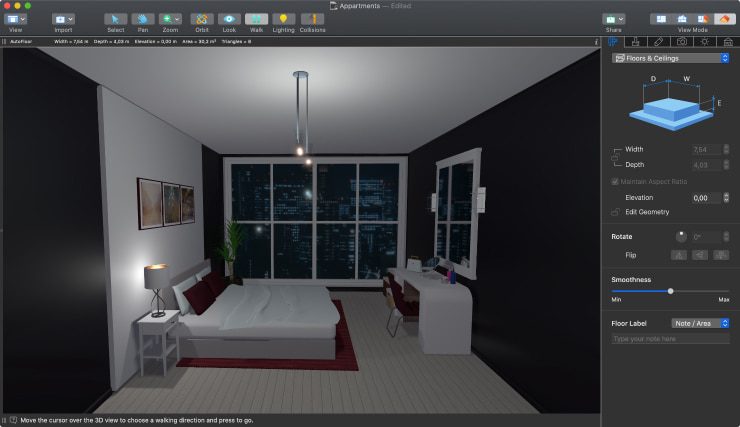 Another solution is to put the bed and dresser on the opposite sides of the room. That would mean moving your bed to one wall, but you can still keep one nightstand.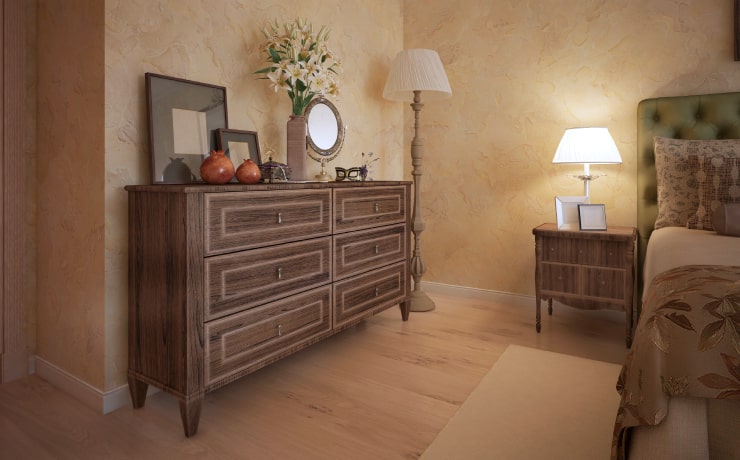 If you don't want to lose one of the nightstands, you can place the bed along the wall with the window and use a windowsill instead of a nightstand. This type of layout also creates free space on the opposite wall, where you can put a dresser.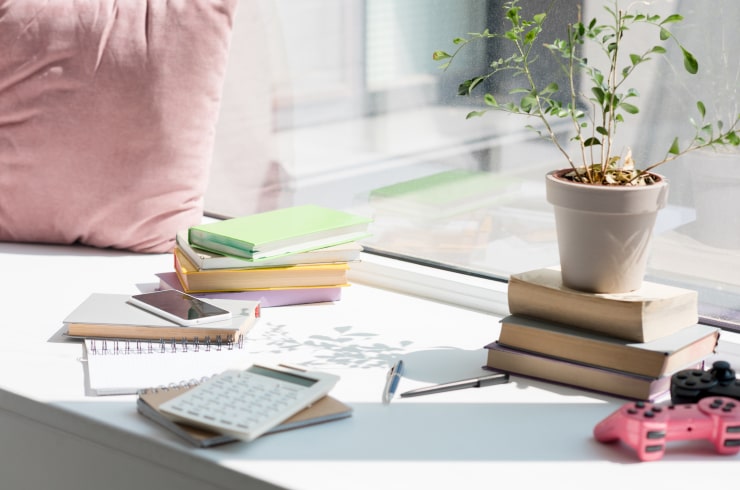 Of course, there is an additional storage solution for this layout—use the headboard for storage.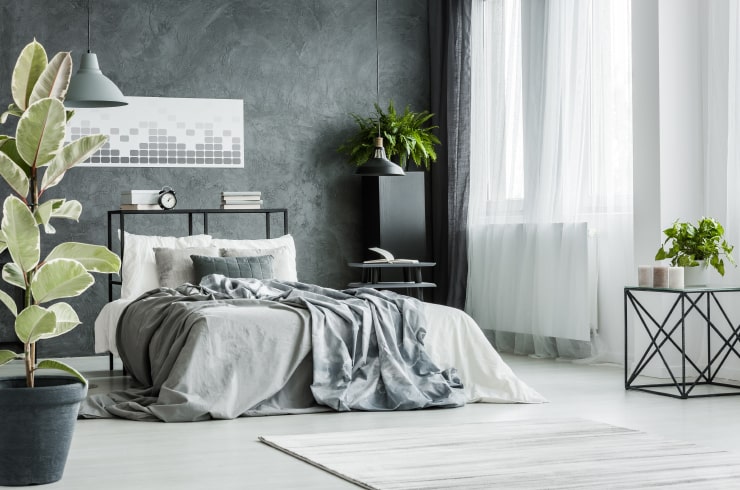 Bedroom With a Large Wardrobe
This layout is essential for people living in smaller apartments, where there's no dedicated closet in the bedroom or, frankly, anywhere else in the flat. You need to be careful when placing a large wardrobe in a small bedroom to avoid occupying too much space with furniture. A popular solution is putting a wardrobe along the wall next to the bedroom door.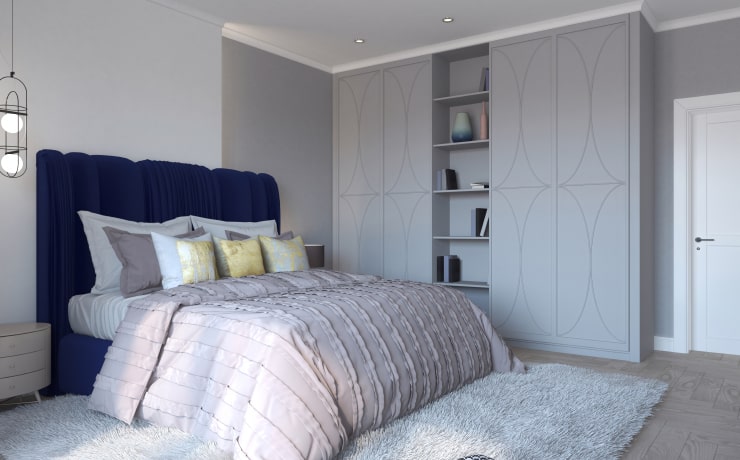 Alternatively, if you can fit the wardrobe in front of the bed (if there's enough space to walk freely between them), the wall space near the door can be used to fit a dressing table or a drawer.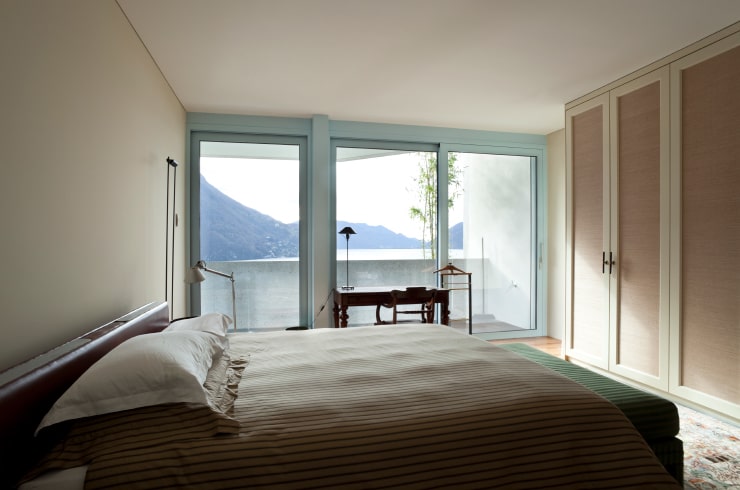 If you still have any concerns that the room might look cluttered with this type of layout, a design trick with reflective surfaces can help you out. Choose mirrored wardrobes that can visually make the bedroom look more spacious.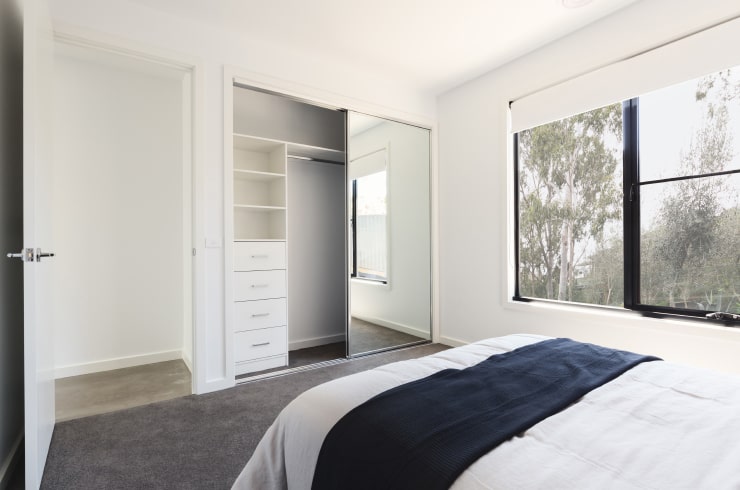 Hanging a storage unit on the wall is another of many storage options to consider for your bedroom layout: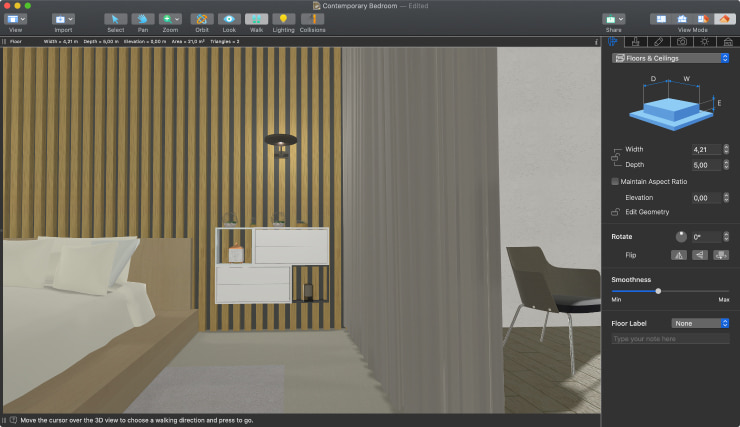 Bedroom With a Study Area
This is a popular layout for a student's bedroom, but also for somebody who needs their sleeping area to function as work space as well. One of the most interesting and space-saving layouts for such a bedroom revolves around a lofted bed set atop a desk. This solution saves a lot of space that can be occupied by the wardrobe, bookcase or a drawer.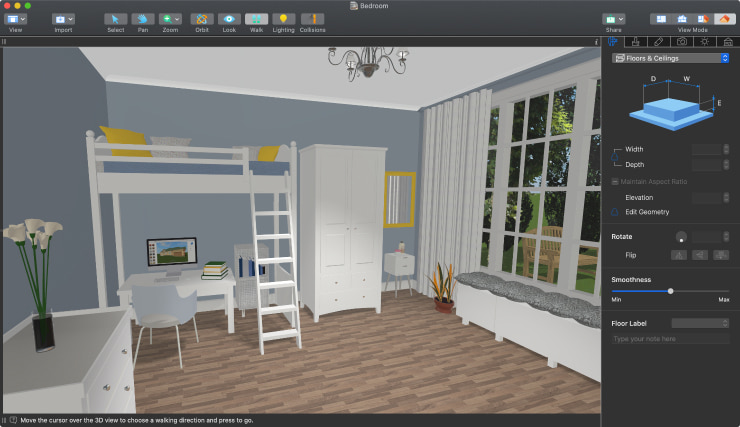 There are other options for those who need to make the most of the available bedroom space to keep it multipurpose. When you have to find room for lots of furniture in a tiny area, it will be more helpful to choose smaller items. For example, instead of a traditional bed, you can opt for a daybed that will occupy less space and serve as a couch when you're not sleeping.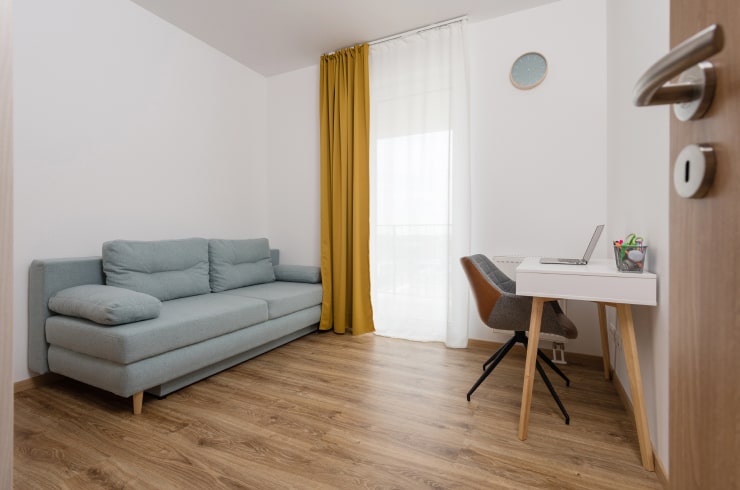 A Murphy bed, a bed that folds out of a wall, can be an even better solution—providing you with a cozy sleeping zone at night and a walking area in the daytime.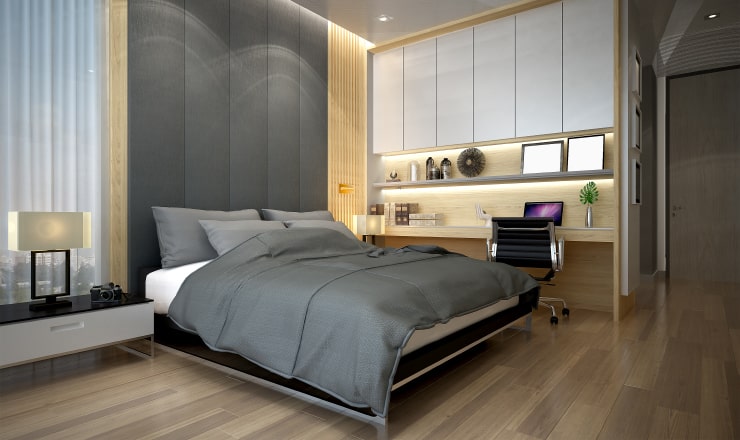 Some tips that will give you an illusion of space in this bedroom layout include: hanging floor-length curtains as close to the ceiling as possible to achieve visual height and picking curtains to match the fabric to the wall color to create dimension.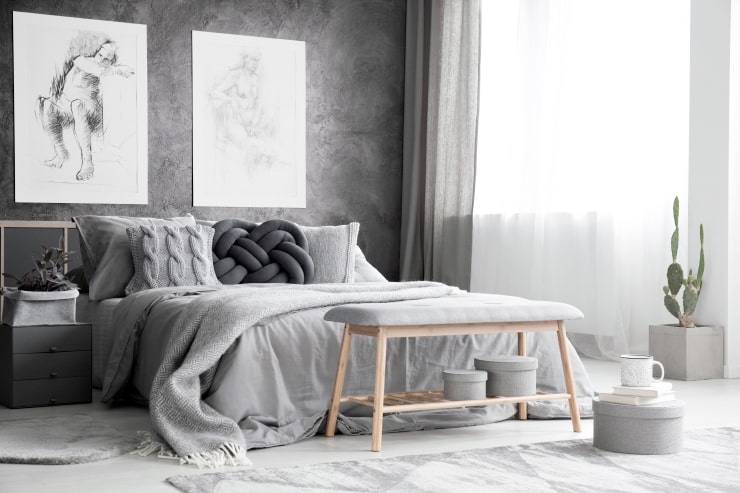 A bench at the end of the bed can be a multi-purpose furniture piece that you can also use as additional storage.
What Is the Right Color for a Tiny Bedroom?
Luckily, there is a full range of color schemes appropriate for small bedrooms, so you can choose the one that suits your taste.
White With Accents
It's no big surprise that light colors provide a fresh and airy feeling to a room. But, if a totally white bedroom design seems boring to you, add some eye-catching pops of color in decorative elements, accessories or floor rugs. Another way to make a neutral bedroom look more interesting is putting the focus on one wall, for example, with the help of a fancy wallpaper.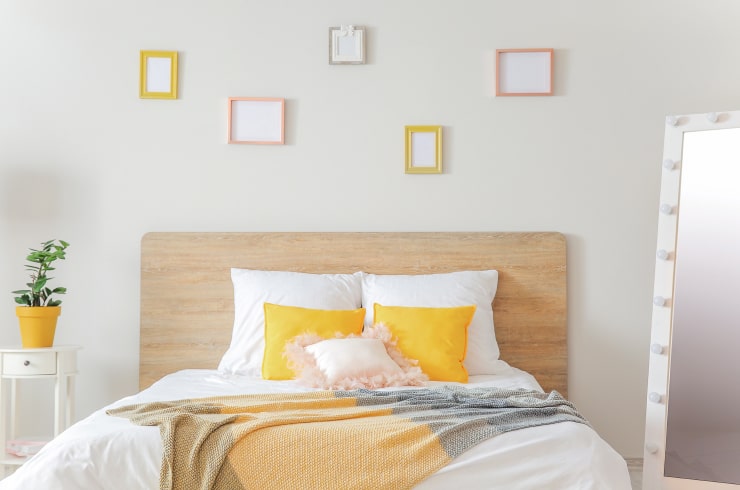 Dark
Darker shades in a bedroom design will not necessarily shrink the space, making it visibly smaller; they can actually do the opposite. The key aspect here is diluting the darker color scheme with soft neutral hues.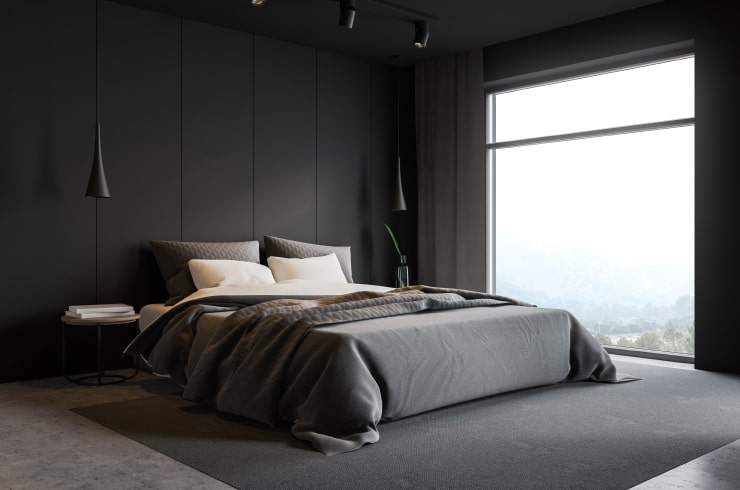 Vivid
You can also choose a vivid color to uplift your design, but be sure to not overdo it by mixing the leading color with the neutral hues.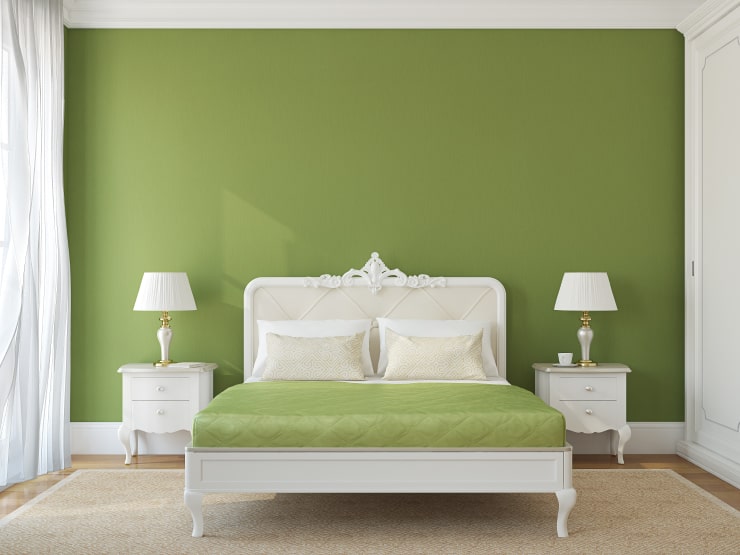 Start Experimenting
Now that you are familiar with various bedroom layouts, storage hacks and color tricks, you can start experimenting to create the most efficient design for your bedroom. But, before fully furnishing your space, it is essential to at least sketch the room layout. Given that this old-fashioned way of pre-designing can barely satisfy contemporary needs, this dedicated software can help you out.
In Live Home 3D, you can create a detailed floor plan with all the necessary dimensions, walk through your highly realistic bedroom and do way more, for instance:
These and other Live Home 3D features will definitely help to bring your bedroom design aspirations to life, so check them out!
Learn More About Live Home 3D for:
Revised: May 2023