Monochromatic Elegance
Whether traditional, modern or retro, a black & white bathroom is a simple yet infallible choice. Out of all of the most trendy ideas for black & white bathrooms, we will highlight a few interesting ones.
Striped Bathroom
A black and white vertical striped tile, flooring or both will definitely draw attention and make your bathroom look original. Splashes of your favorite color in decor will complement the look.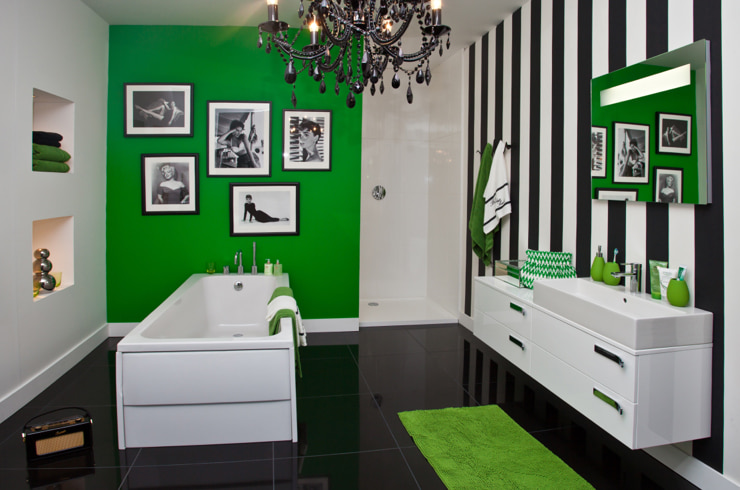 Geometric Pattern
Another trendy choice for a monochromatic bathroom is geometric designs. Again, this pattern can be a great solution for tile or flooring, but it's important not to overdo the "geometry." Pick a simple tile if you want to design your bathroom with an unusual flooring, or choose one-color flooring to highlight the geometric tile.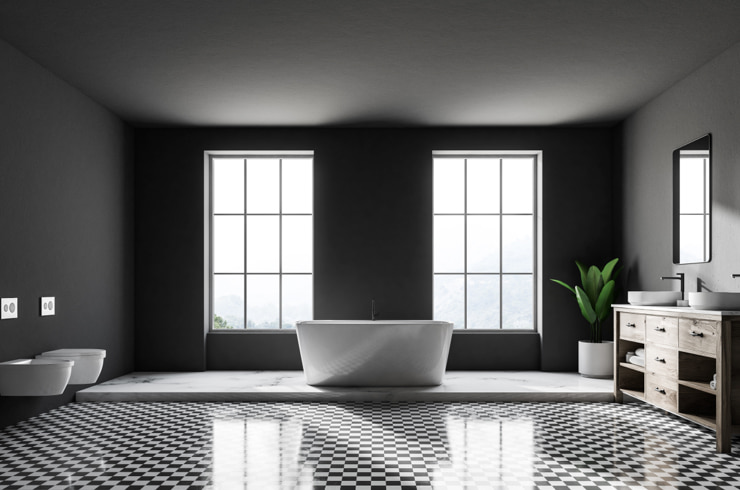 Monochromatic Illustrated Wallpaper
This stylish design choice is striking with its understated elegance. It enhances the minimalist interior, filling it with originality and creativity. This can be a simple and elegant choice for a black & white shower room.
Let the Natural Light In
The benefit of natural light sources in the bathroom is undeniable. Fascinating and functional—it's only right that we make use of it if there's a possibility to do so. Let's have a look at some most popular choices for this design option.
Making It All About the View
A large window can be a key element in your bathroom design. If you are lucky enough to have a stunning view from your house or apartment (like a city skyline or mountains, for example), it would be a crime not to accentuate it by placing a bathtub right next to the window. The bathroom interior itself can remain quite minimalist, as this design choice will do all the work for you.
Zen Terrace Bathroom
A terrace bathroom is another solution for those who want to admire the magnificence of the outdoors. Sliding doors can serve as a great bathroom ventilation. To achieve ultimate relaxation, we suggest choosing a Zen bathroom style—natural materials and clean lines combined with the botanical touch in decor will provide you with a feeling of tranquility and peace.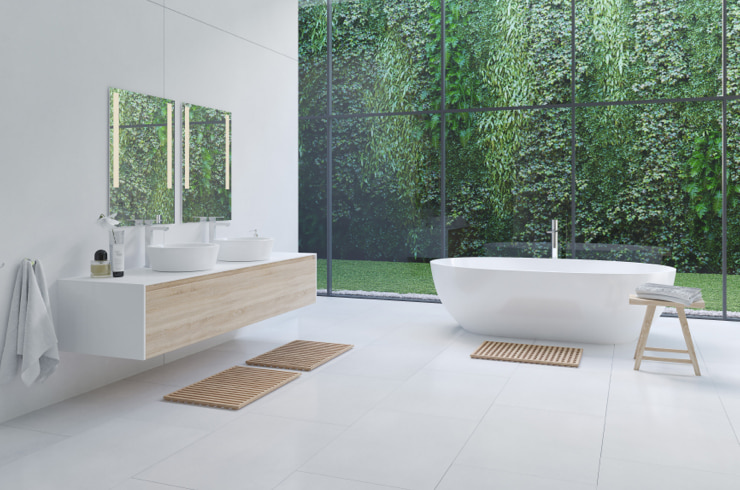 Keeping It Simple to Stand Out
Minimalist tendencies currently prevail in the most trendy design solutions. Well, doesn't the idea of achieving more by putting in less seem alluring? Here are some ideas for a simple, minimalist bathroom.
Manifest Your Favorite Color
Sticking to one color is a great option for a minimalist bathroom, especially a small one. It will give your design a tasteful look with minimal effort. Have a look at this purple-themed bathroom to get inspiration.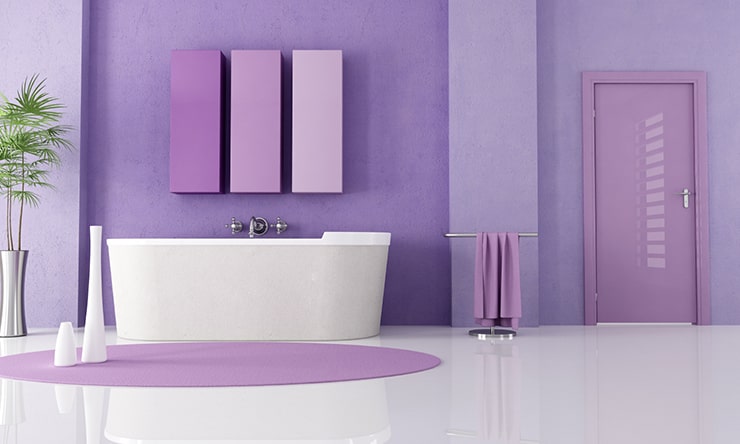 Creative Bathroom Essentials
Artificial lighting can elevate your bathroom design just as natural light does. Make your bathroom unique with original pendant lights that suit your personal taste. If pendant lights don't match your taste at all, you can incorporate lighting into a wall panel or put it behind the mirror. Also, adding multiple mirrors of an unusual shape will be an interesting and fresh solution for your bathroom design.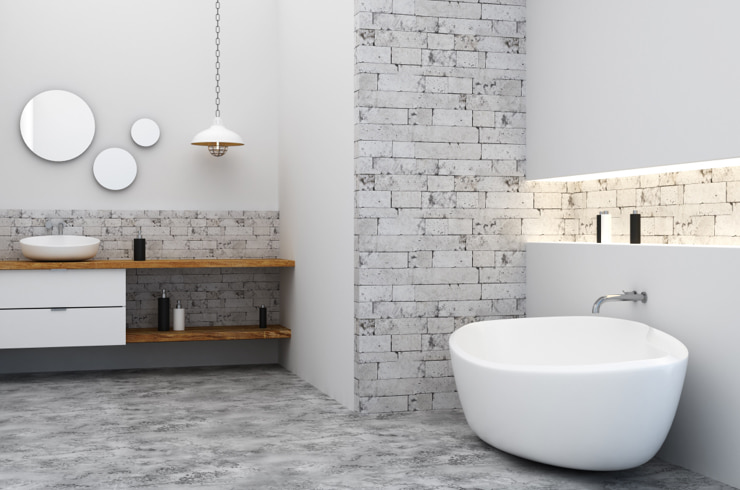 Luxury Aesthetic
Not all of us are admirers of simplicity and understated interior designs. Your bathroom is the place where you can relax and pamper yourself, not only with handmade perfumed soaps and scented candles, but also with the majestic surroundings of luxurious bathroom design. The aesthetic of luxury exists in various types to fit personal needs and satisfy different tastes in interior style. Let's consider some options we have for luxury lovers.
Dark
Elegant and sophisticated—a dark bathroom is definitely a statement and a bold option for a large bathroom. The most prominent dark bathroom interiors include black marble as the major design element. Unfortunately, its mesmerizing look is quite difficult to maintain. Black porcelain tiles with a marble effect can be a sustainable solution here. Wisely chosen lighting sources and decoration along with white ceilings will help to dilute the effects of the overwhelming dark atmosphere.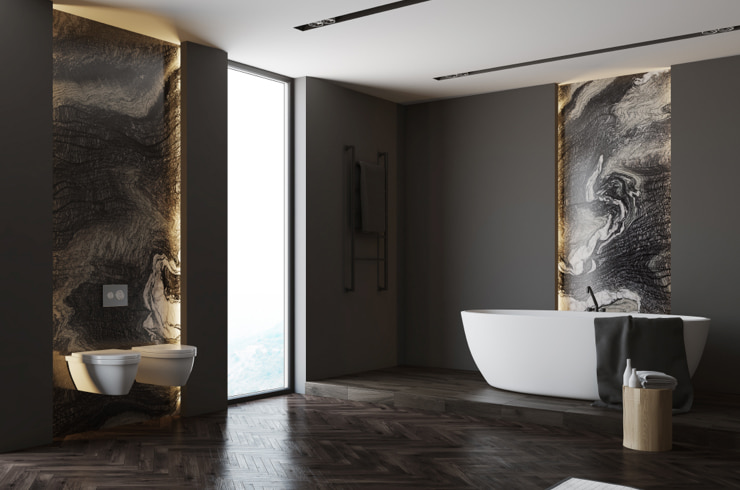 Spa-Like
As opposed to the strong and bold style of the dark-themed bathroom, a spa-like bathroom fascinates by exuding light and calm. Mix and match different tiles and be sure to incorporate wooden materials into your design. Resort to shades of brown, white and cream to get a luxurious flair. Placing a large bath on pebbles is a popular trend that will work perfectly with the overall spa bathroom design. You can choose a combination of a wet room and a bath if there's enough space to have both. Oh, and this bathroom design style cannot exist without greenery, so be sure to add some plants. Depending on the size of your bathroom, it can be vertical planters or even little gardens.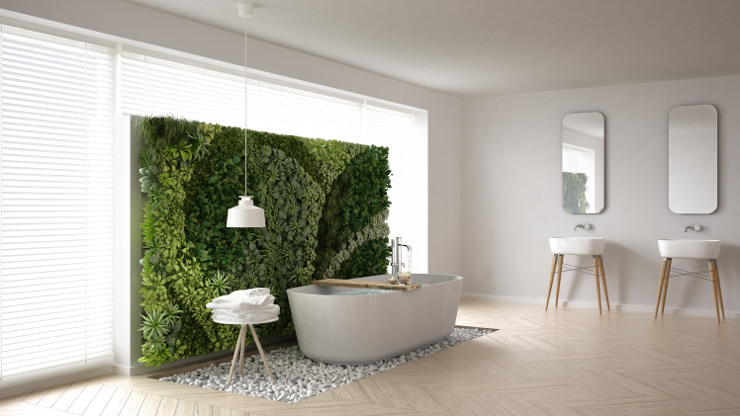 Glam
There is absolutely no difficulty in making a small bathroom look elegant and chic. Choose softer and lighter tones for both tiles and furniture to create dimension. Maximized shelf storage will help to maintain functionality and prevent cluttering. Golden handles and pulls, combined with some glass decor, will add to the luxurious vibe. If you are designing a large bathroom with this style, you can also create a sitting area by adding an appropriate chair or a sofa to your glam bathroom.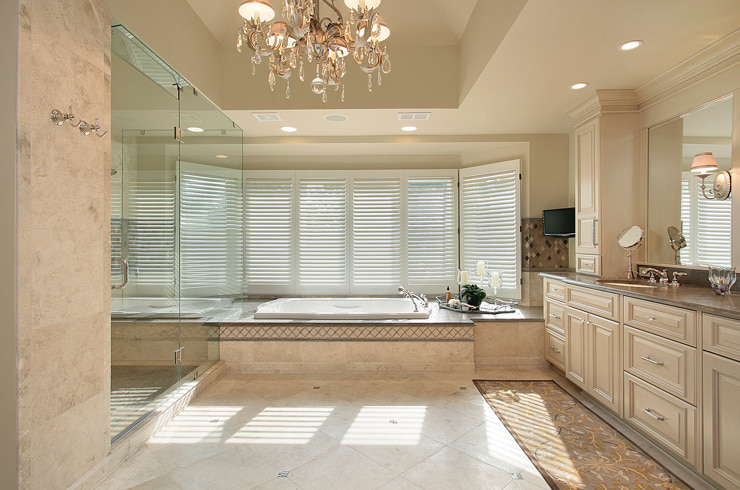 More Bathroom Solutions
The variety of bathroom designs is endless, and it's so easy to completely get lost in this sea of ideas. Nevertheless, you can hop on one of these three boats down here to safely and successfully reach the shore of your creative choice.
Creating a Mood with a Vivid Wallpaper
Some might be still wondering whether it is a good idea to design a bathroom using wallpaper, but it definitely is! A bright floral, tropical or animal-print wallpaper can elevate the whole look of your bathroom. You can put wallpaper on all of the walls or just one of them; just be sure to pick ones that are non-porous and resistant to water and humidity.
Vintage Touch
Vintage style bathrooms exist in a plethora of variety: art deco, retro 60s, mid-century modern, 19th century antique, country chic and many many more. But, it is undoubtedly one of the most popular trends in bathroom design. Along with its iconic elements—pedestal sinks with a deep basin, this style also stands out with its use of clean lines, wallpaper and eye-catching colors.
Industrial
If you are not a fan of rich colors, but rather gravitate toward a more neutral, gray or monochromatic palette—the industrial bathroom design is just for you. Its typical use of raw materials, like exposed brick or wood, can be combined with other design styles, like modern and contemporary, to achieve a specific stylized look that has gained popularity in recent years.
A typical industrial bathroom is spacious with a high ceiling and a large window, but that doesn't mean that you cannot recreate this design in a small space. Just keep it trendy by resorting to materials like cement or brick tiles, exposed pipes and neutral (preferably gray or black & white) color schemes.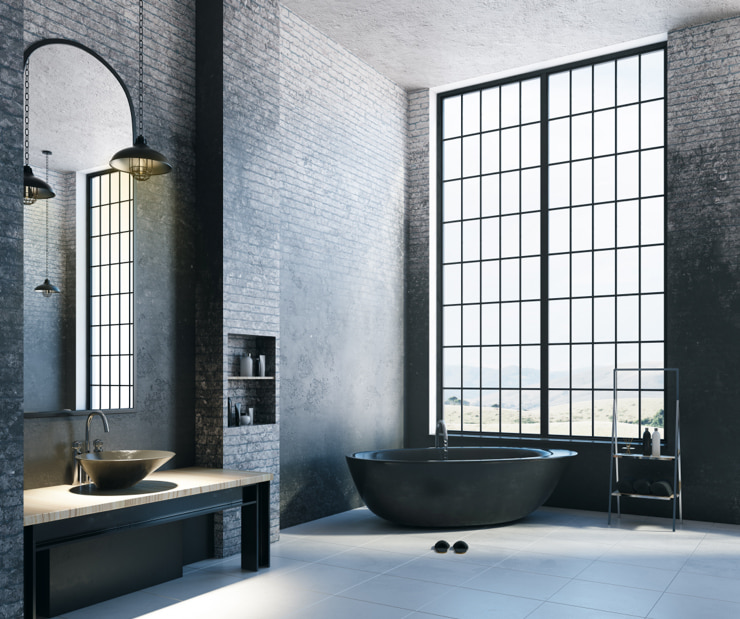 Time to Start Creating
The bathroom design creation process is just as authentic as the process of designing any other room in the house, so don't be afraid to mix and match different styles and add your personality to the project. Dive into the sea of creativity right now with Live Home 3D!
Learn More About Live Home 3D for:
Published: May 2021